Welcome to Your Weekend Project, featuring how-tos and ideas from our archives for an organized and inspired home.
Lauren Singer is an advocate for the zero-waste movement who leads by example—and by very engaging videos ("DIY deodorant," "What do you do about toilet paper?"). She herself has only generated a single Mason jar of garbage in the past five years. She also manages to waste very little time: At 27 the New York University grad (environmental studies) is the founder/owner of Brooklyn's Package Free Shop, purveyors of plastic-free living essentials; The Simply Co., chemical-free bulk laundry soap sold in refillable glass containers; and the blog/YouTube channel Trash Is for Tossers.
"Zero waste for me means not sending anything to the landfill," says Singer, who swears life has only improved since she started living this way. She began by doing entirely without plastic, and her role model, Bea Johnson, is a longstanding hero of ours too: See 10 Ways to Live with Less from Zero-Waste Home and The Zero-Waste Challenge (and read Michelle's unforgettable New York Times profile of Johnson). Back in 2012, Johnson and Singer were voices for what was considered a very fringe concept. They've since inspired scores of others all over the world—and the rest of us are starting to catch on. Here at Remodelista we like to think we're attuned to sustainability, and yet there's a garbage-filled difference between our habits and Singer's. And so we turned to her for how to change our ways. "Do easy, accessible things that will give you confidence and make you want to continue," she advises. Here's how to start in the kitchen.
N.B.: Featured portrait of Lauren Singer by Kwaku Alston from Experience Life magazine.
1. Say no to shopping bags.
Instead tote all purchases in reusable bags: Carry lightweight string market bags with you so you're always prepared. At this point, we all know to do this, but too often we accept the packaging that's proffered; instead put everything, including that new Instant Pot and flea market teapot, in your own bag. And when stopping for coffee, hand over your reusable travel cup.
2. Buy food package-free or in bulk.
Singer advocates dividing your shopping between the farmers' market and the grocery store. At the former, everything is fresh and sold loose. At the supermarket, zero in on items sold in bulk or available free of packaging, such as heads of lettuce (instead of those organic greens sealed in plastic). Steer clear of the shop's throwaway plastic produce bags too: Bring your own bags and containers. You can easily put together a shopping kit from items you likely already own (glass jars, for instance). For more details and inspiration, see Blisshaus: Bringing Back the Old World Pantry, One Kitchen at a Time and 8 Rules for Decanting Dried Goods.
And if you're thinking that buying food this way is expensive, that's true—but it's also better for you. And Singer saves elsewhere: She lives in a streamlined apartment, buys just about everything secondhand (that includes all her clothes except for underwear), and makes her own beauty products.
3. Use dish towels and rags instead of paper towels.
This is a step that's easy and inexpensive, and yet somehow hard to fully commit to. We know. Our solution is to wean ourselves of paper towels by keeping them out of sight, such as hung from a tension rod inside a cupboard, or mounted on a cabinet door under the sink—see more on pages 66-67 of Remodelista: The Organized Home.
4. Discover that cloth napkins are for every day.
We take inspiration from blogger Carmella Rayone, who lives with her family of five in a 665-square-foot cabin, and keeps cloth napkins rolled up in initialed metal rings in a basket for every meal: "Each is used until it's dirty; then we swap it out." See Carmella's 7-Step Plan for Clutter-Free Living.
5. Store food in glass or metal containers. And ban baggies and plastic wrap.
Covered-glass refrigerator containers predate Tupperware and are easy to come by on Etsy. They're but one of the many good alternatives to plastic; see 7 Favorites: Classic Glass Pantry Storage Jars.
In place of plastic bags, use cotton (see above; many versions are also sold on Amazon). And in lieu of plastic wrap, discover reusable beeswax-infused cotton, such as Bee's Wrap and Abeego—it really works. So does covering a bowl of leftovers with a plate or a Stainless Steel Dome; $5.19 from restaurant supplier Lion's Deal.
6. Use dish scrubbers and cooking tools made of wood or metal instead of plastic.
These are no longer hard to find or expensive—Amazon, Williams Sonoma, and Sur la Table—all stock what you need. So the next time you're faced with a big-box selection of plastics, realize there are nicer looking alternatives that are recyclable. Our sink-side favorites are the same as Singer's; for more, go to 10 Easy Pieces: Editor's Essential Cleaning Tools.
7. Make your own dish soap—and more.
One by one, as Singer ran out of products, from skin cream to cold medicine, she started concocting her own simple versions: See her 5 Easy Beauty DIYs, for instance, and her Three-Ingredient Nontoxic Cleaner. "It's really not hard, and I get to customize everything to my liking," she says. In the kitchen, start with Homemade Dish Soap, as our own Justine did.
Singer's ultimate goal is a paradigm shift in how goods of all sorts are packaged: Everything, she says, should be sold with reuse in mind, as in the old days, when bottles were cleaned and put back into circulation."Single-use packaging should be obsolete," she says.
8. Compost (even if you live in an apartment).
Gathering your scraps in a container is (almost) as easy as tossing them in the trash. If you don't keep your own composter or live in a place that offers compost pick up, do as Singer does: She gathers her leftover onion peels and coffee grounds in a metal bowl that she stores in her freezer. On weekends, she empties the frozen—odor-free—contents into a doubled cotton tote and carries it to the compost receptacle at her farmers' market.
9. Analyze your trash.
Size up the contents of your garbage bags and consider ways to cut down. For instance, is your recycling bin brimming with plastic takeout food cartons? If that's the case, come up with an alternative: Start bringing your own reusable containers to your to-go source; better yet, vow to cook big batches of food on Sunday that can take you through the week. Singer, of course, advocates for recycling but doing it conscientiously—"it still uses tremendous amounts of energy."
Anything that's still usable should be donated rather than tossed. As for wasteful but unavoidable items, such as contact lens solution plastic bottles, Singer notes that TerraCycle of New Jersey "will recycle anything—even diapers and cigarettes"—and the company's many free programs help make this viable for individuals and communities.
10. Take note of what you've done.
"Trying to go zero waste in a day, a week, or even a month is like trying to lose forty pounds overnight. It means making lots of little changes in your routine," says Singer. "To me, it's all about baby steps—and these should be celebrated. Small wins add up."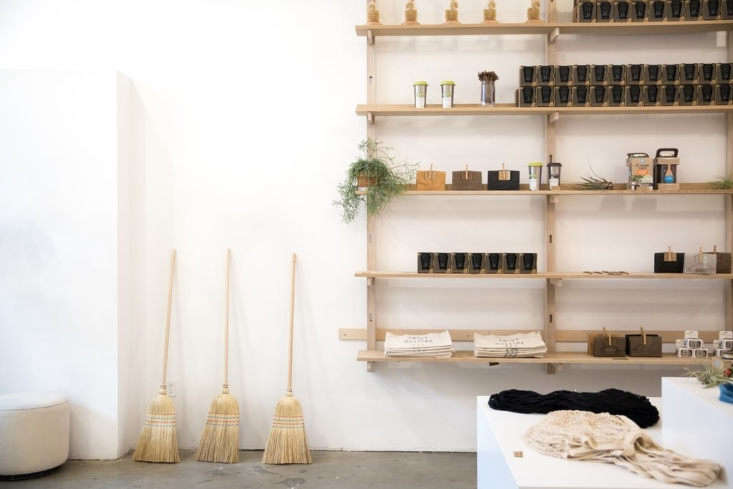 N.B.: This post is an update; it was first published on Remodelista on April 13, 2018.
Browse more of our sustainable living content: