I have to admit, though my Swiffer is ugly, it really is handy for the dust bunnies under the bed. But for years, I worried about the environmental impact of all those disposable dusters. Enter the Cuban Mop. Used widely throughout Latin America and parts of Europe, as both a wet and dry mop, the Cuban Mop has only recently come to the attention of US consumers.
I first "discovered" the Cuban mop a few months ago, and have since become a quick convert of this simple and effective tool. (See: The Cuban Mop: The Near Perfect Cleaning Tool You've Never Heard of (and How to Use It).) For me, the beauty of the Cuban mop is three-fold.
1. The Cuban mop is green.
Unlike Swiffers and other plastic mops, Cuban mops are made from biodegradable, natural wood. Plus, they work with reusable clothes, not disposable. You can even use organic rags, instead of the polyester Swiffer dusters. When the cloth is soiled, simply throw it into the washing machine—and use it again and again.
2. The Cuban mop is versatile.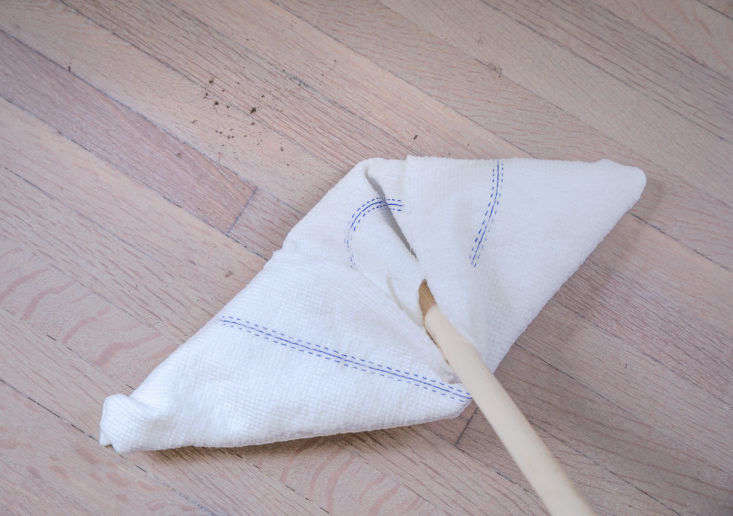 As a minimalist, I've always preferred multi-purpose tools over specialized gizmos and gadgets. The Cuban mop definitely fits the bill as a versatile work-horse. Here's why:
Cuban mops can be used either wet or dry. My test comparison found it to be as good as Swiffer when used dry and better/hardier when used wet.
Cuban mops work with the cleaning cloth of your choice, from hand towels to micro-fiber dusters, so you'll never again have to run to the store looking for custom parts. Just make sure the cloth is larger than the 13″ mop head. (For our 5 favorites see: Object Lessons: The Humble Cotton Cleaning Cloth.)
Cuban mop cloths can also be used for other cleaning projects, like dusting or polishing furniture.
3. The Cuban Mop is attractive.
While performance is key with cleaning products, there's no doubt that natural, nice-looking tools make this chore more enjoyable.
More on the art of cleaning: