How do food photographers—professionals who likely have far more ceramics, glassware, flatware, textiles, cups, and trays in their studio kitchen than the rest of us—corral their kitchen tools and keep them neat and organized for easy finding?
We asked photographer Erin Scott, who recently created a fully functional studio kitchen in her backyard shed in Berkeley, California, how she keeps her large collection of tableware and kitchenware organized, accessible, and artful. Turns out, her secret is to use props to store her props, nesting flatware within loaf pans and repurposing grocery-store berry containers. Here are nine ways to shop your cabinets for inspired kitchen storage.
Photography courtesy of Erin Scott.
1. Invest in a rolling rack.
After the one-room kitchen studio was completed, Scott bought a rolling Metro rack for extra storage. As a photographer, she needed flexible, movable storage during shoots: "What's on the rack is ever-changing," Scott says. "During a shoot, it can be filled with props, or be used as pantry space for my food stylist's gear." The same principle applies to a home kitchen, where a rolling cart provides multipurpose extra storage—and can even be wheeled from pantry to kitchen during food prep.
2. Put baskets and paper sacks to good use.
Scott employs vintage baskets and paper sacks as props in her photo shoots, but, when not in use, they serve double-duty as storage for textiles, napkins, and twine. Her Moroccan baskets are from Elsie Green, and the small fabric sack (pictured above, center of the fourth shelf from bottom) is by Essent'ial, sourced from Merci in Paris ("a prop-lovers dream shop," Scott says).
3. Save egg cartons and berry containers.
An unlikely storage opportunity: egg cartons and paper berry baskets from the market (pictured above on the third shelf from the bottom). "I collect berry and egg cartons in all different colors for props," says Scott, who also uses them to hold small kitchen bric-a-brac.
4. Give drawers from unwanted furniture a second life.
To corral (and conceal) items in the open shelving in her office area, Scott slid in wooden drawers from an old bedside table. "I no longer like the bedside table, but I love using the drawers!​ So many things can be repurposed," she says. Before getting rid of a piece of furniture, consider whether the drawers could take on new life as storage boxes or bins.
5. Repurpose takeout containers.
Another unlikely storage idea in Scott's studio: small wooden takeout boxes, saved from San Francisco restaurant Boulette's Larder. ​"I'm obsessed with these little boxes, but I have no idea how to get more," Scott says. "I use mine as bins for wood and brass flatware." For something similar, source disposable (and inexpensive) wooden tableware, like these Compostable Wooden Trays.
6. Use ceramics to organize flatware.
Another instance where kitchen tools can be used to store kitchen tools: On Scott's kitchen shelf, ceramic vessels corral flatware (according to type, for easy access). Try something similar by surfacing pretty ceramic jars, canisters, and mugs from the back of the cabinet and giving them a new purpose. (See 10 Ways to Store Your Flatware, from Improvised Solutions to Hyper-Organized Systems for much more on this topic.)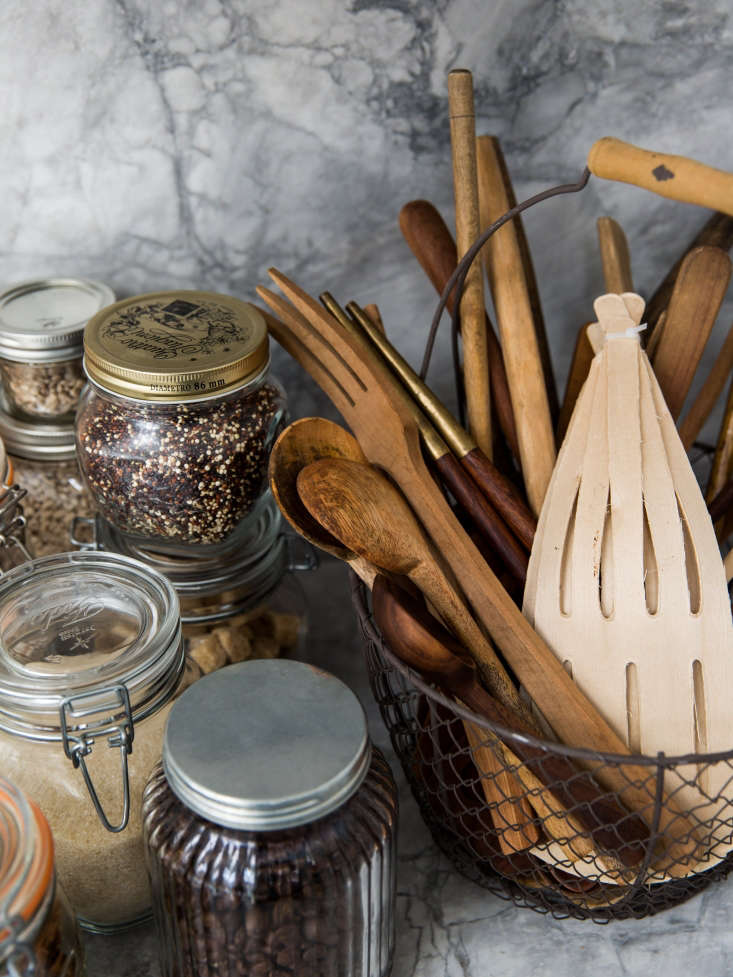 7. Clean and repurpose glass food jars.
No need to buy all-new, matching glass jars: Scott stores dried goods and flours in repurposed, mix-and-match jars from her cabinet. (See The Organized Pantry: 8 Rules for Decanting Dried Goods for our tips.)
8. Make oft-used tools easy-to-tote.
In a studio kitchen, props and tools need to be easy to move from one place to another. Steal an idea from Scott, who keeps her most-used wooden cooking utensils in a handled basket, so the whole lot can be easily lifted into (or out of) a shot. At home, this means that the tools can be carted next to the stove while cooking (or easily picked up for cleaning underneath).
Above: Unexpected storage from the baking aisle.
9. Put old loaf pans to use as storage bins.
A perfect solution for the loaf pans idling in your cabinet: Scott scored a few vintage pans for 50 cents each at a local junk shop and uses them to store small kitchen items like paring knives, scrub brushes, and clothespins. The pans are lightweight, and their length makes them good drawer dividers too.
For much more on smart storage in the kitchen, see: