The editors of The Organized Home, on the whole, tend toward the OCD side of the cleanliness spectrum. We like our spaces and our things to be neat, fresh, and sparkling. And, for the most part, we prefer cleaning with natural products and/or ingredients we already have on hand. Between the germaphobes and the neatniks on our staff, we have myriad housekeeping secrets and hacks to share—all tried and tested by us.
Here, our team's best scrubbing, cleaning, washing, stain-removing, disinfecting, deodorizing secrets.
N.B.: Featured photograph by Matthew Williams for Remodelista: The Organized Home.
Kitchen
Stains on marble: "My best tip is to use a cornstarch/water poultice to draw stains—oil stains and yellow—out of marble," says Michelle, who was able to rehabilitate a grease-stained marble backsplash using this method. Read her confession for details.
Spots on stainless steel: "When I was a waitress, we used to clean stainless steel surfaces with seltzer water from the soda fountain, and it worked like a dream," says Christine.
Meredith, meanwhile, rubs olive oil on with a soft cloth, then wipes off with a soft cloth dampened with white vinegar.
Erin uses a similar method. She writes, "There are lots of products on the market for this purpose, but a teaspoon of coconut oil is by far the cheapest, easiest, and most effective. Use a clean rag to apply a small amount of coconut oil directly to the steel. Work the oil into the appliance until streaks and stains disappear. Give one last wipe down with an oil-free rag and step back to admire the gleam."
Mildewy grout: "Basil is a natural antiseptic with anti-fungal properties. I dilute a few drops of basil essential oil with water and use it on grout and tile; plus it's a great scent for the kitchen," says Alexa. (Go here for everything you'll ever need to know about grout and caulk.)
Dried food splatters in microwaves: Fan places water in a glass bowl (about a cup's worth) in the microwave, sets it on high for about three minutes until the inside gets steamy, then keeps the door closed for a few minutes more as the steam does its magic. "By the time you open the door, all that caked-on grime has been loosened and it's easy to wipe clean," she says.
Stinky garbage disposals: "After I squeeze a lemon half into a salad, I'll chop it four ways and toss it into the sink and run the disposal whenever it could use a scent reset," says Alexa.
Soap scum and mildew in dishwashers: Justine likes to give her dishwasher a monthly maintenance clean by pouring two cups of vinegar onto the bottom of the empty machine and running a sanitize or hot cycle. Go here for her tips on how to really deep-clean the dishwasher.
Stuck-on food on pots: "Fill the pot with water and simmer on the stove for a few minutes, then scrub in the sink," recommends Margot. "The heating really loosens things."
Stuck-on food on cast-iron pans: "I am forever worried about losing the seasoning on my cast-iron pan so am always anxious when it comes to washing it. Pouring a layer of salt and using that as the scrubbing agent, though, really cleans the pan without stripping it. Employ a cleaning rag, a dish towel, or paper towels to rub the salt into the food bits to dislodge them," says Fan.
Dirty refrigerator drawers: After seeing so many images—including our own—of refrigerator drawers lined with cloths or paper towels, Fan finally decided to give it a try. "I don't know why I never thought to do it. Lining my vegetable and fruit drawers means I rarely have to deal with cleaning the drawers. I just have to swap them out every now and then for a clean layer." (Make sure to read Steal This Look: An Organized Refrigerator, Plastic-Free Edition.)
Bath
Mildewy caulk and grout: "Make a poultice of baking soda and water to clean pesky mildew from shower caulk and grout," says Annie. "Mix it up (a few tablespoons of baking soda, and just a bit of water for a pretty thick paste); smear it on (I like to use an old toothbrush—it's small and perfect for nooks and crannies); and let it sit for a half hour or so. Then, scrub with the toothbrush and rinse! It's particularly useful for the ring of caulk around the edge of the tub."
Dirty bathroom surfaces: "Oil cleans hard-to-reach spaces better than any surface spray I've tried. (Think Ayurvedic oil-pulling for your house.) For a non-aerosol option, put a little room temperature oil in a spray bottle and use in the bathroom (works great for the bathroom sink). Then finish with a round of soapy water," recommends Alexa.
"I attach a standard spray nozzle to an old glass vinegar bottle. Fill it with a few tablespoons of Castile soap, 10 drops or so of tea tree oil, and enough water to top it off. I use it for everything from wiping down counters and sinks to cleaning up spills," writes Erin.
Clogged toilets: "Pour a ton of dishwashing liquid into the toilet bowl, then wait. And wait. I usually give it an hour or so. Then flush, and your toilet will work again the way it was intended to," says Fan.
Laundry
Yellowed clothing: "I have a couple of white cotton shirts from Japan that I have had forever. They have worn well but started to yellow on the collar. I dabbed them with lemon juice, then let them sit in the sun to bleach. The yellow disappeared," reports Sarah. (Want more laundry tips? Read Expert Advice: 5 Ways to Make Your Clothes Last Longer.)
Mildewy laundry: "Ever left wet laundry in the machine for a day or so by accident? Rewash the load with a couple of tablespoons of vinegar, which will combat the mildew smell," says Janet.
Musty-smelling towels: Izabella uses the same approach for her towels: "Wash towels in hot water with one to two cups of distilled white vinegar now and then. Keeps them fresh and mold-less."
Oil stains: Fan uses dishwashing liquid to spot-treat oil stains on clothing. Afterward, toss into the washer for a regular cycle.
Blood stains: "Castile Soap is really good for getting blood off of things," says Kristina. "You're normally supposed to dilute it, but I just use it directly on the item and it works like magic."
Miscellaneous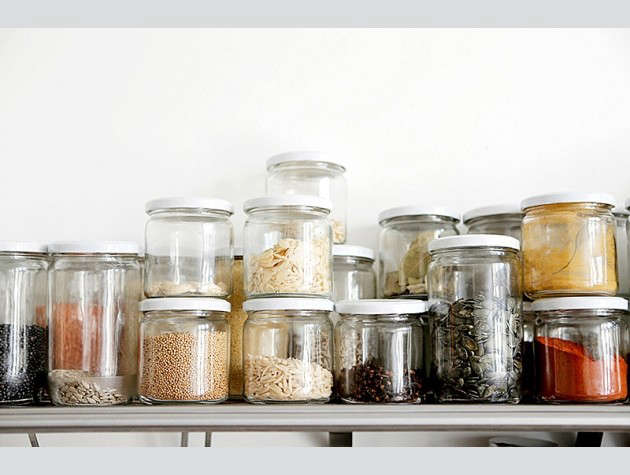 Sticky residue on glass jars: Meredith uses oil to remove the sticky label residue on glass jars: "The homemade Goo Gone recipe in 3 DIY Cleaning Recipes for a Healthy, Happy Home really works. The smell of Goo Gone is nauseating to me. All the DIY recipes say coconut oil, but I've always used canola oil because it's what's in my fridge and it's cheaper than coconut oil; this is a cleaning product, after all. It works brilliantly every time." (Also see How to Repurpose Old Food Jars for the Pantry (Plus, How to Get the Sticky Labels Off.)
Moths: "To keep moths from infiltrating clothes and linens, I reinforce the cedar blocks in closets with a few drops of cedar essential oil every month or so. If you don't do this, they dry out. The moment you no longer smell cedar, they no longer deter pests. I didn't know this, and had to learn it the hard way," says Alexa. (Find more natural ways to deter moths in Expert Advice: How to Moth Proof Your Home, 5 Natural Deterrents.)
Dust, lint, and pet hair on upholstery: "A rubber pet brush works is awesome for removing fur, dust, and lint from couches and other upholstered furniture," says Fan.
Tarnished copper: "I clean my copper with lemon and salt. Cut the lemon into wedges, dip in salt, then rub on the copper. Rinse quickly in cold water and dry well with a soft cloth," says Sarah.
Tarnished silver: Margot uses toothpaste to shine silver—"especially small pieces, such a rings, necklaces, and spoons." She adds: "It must be a paste, not a gel (something with a bit of grit); I've found that classic Crest works well."
Wine stains on carpet: "Pour salt on a wet red wine stain in the carpet, then leave it overnight before vacuuming it up," recommends Christine.
Finger smudges on walls: "When I still had baby wipes in the house, I would go from room to room looking for toddler-height finger smudges to erase from our white walls. It wasn't hard—neither finding the smudges nor getting them off," says Fan. (Got white walls? Read 10 Things Nobody Tells You About Painting a Room White.)
Find more eco-friendly cleaning tips here:
N.B.: This post is an update; it was first published June 2020.