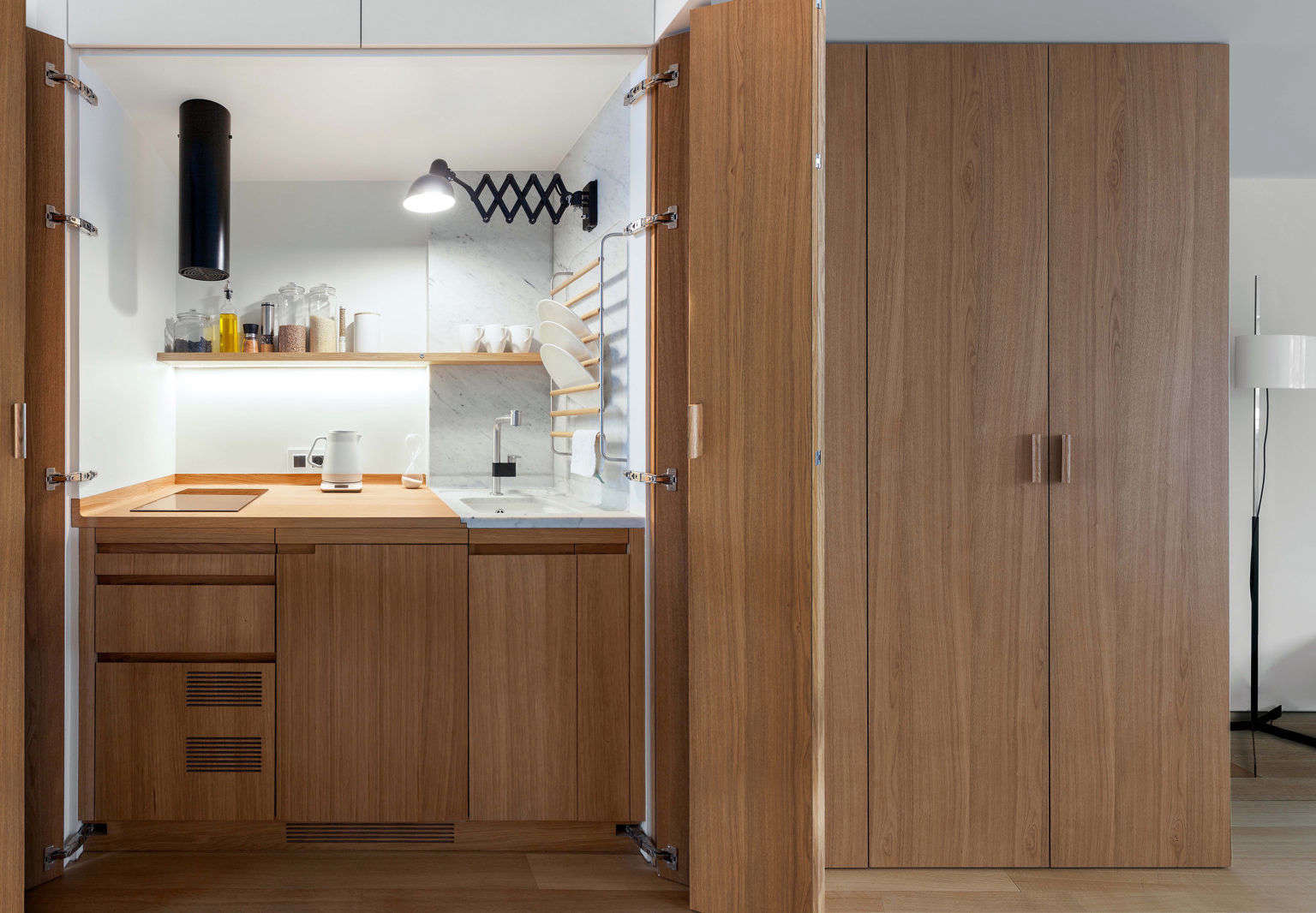 When I was little, I was fascinated by Transformers, the toys that metamorphose from something seemingly mundane (like a car) into an action figure and back again. Lift a flap, pull down a tiny lever, snap down a pointy piece, and there you have it: Something that wasn't there before, through a genius of design and concealment, is now before you. I couldn't have cared less about the before (the car) or the after (the action figure), but I was transfixed by the process of transformation, and I made my parents buy me one so I could study how it worked, piece by piece.
Recently we found the apartment equivalent: a 355-square-foot apartment in Moscow by Studio Bazi that has ingenious storage and entire rooms that unfold behind a series of doors. I'm particularly in awe of the seemingly run-of-the-mill hallway that transforms, on one side, into an efficient under-stairs closet and, on the other, perhaps the most compact and ingenious kitchen and laundry room we've seen. (It's befitting of the Transformers' tagline: "More than meets the eye.") I've been poring over the photographs all weekend to find out how it works. Here's a closer look at its hidden compartments.
Photography by Polina Poludkina.
The Living Room
The apartment is home to a bachelor, who wanted to maximize the space and efficiency of his tiny flat in a historic building in the center of Moscow. The solution? Plenty of built-ins and ingenious hidden storage, designed by Alireza Nemati, founder of  Studio Bazi. Now, the studio has two main rooms—a living room and a bedroom—connected by a wide hallway.
The Streamlined Hallway
The Unfolding Kitchen and Laundry
On one side of the hallway: two sets of oak doors which, when closed, conceal more than you might think.
In the kitchen unit, from left to right: a tiered set of built-ins under the range pulls out to reveal a cutting board, silverware drawer, a produce storage bin (with ventilation), and a deep hatch for extra pots and pans; next to that is an under-counter refrigerator, a pull-out trashcan, and a slim spice rack. The laundry unit has a deep pull-out drawer and removable drying racks. Between the kitchen and laundry units are two skinny doors: one houses utilitarian goods like brooms and the vacuum, the other stores a curtain that can be pulled across the hallway on a ceiling track to close off the bedroom and bathroom from the living area and kitchen.
The Concealed Closets
On the other side of the hallway, beneath a set of stairs that leads down from the small entryway, is a series of small doors, cleverly built in beneath the stairwell.
The Bed and Bath
On the other end of the hallway: a simple, streamlined bed and bath.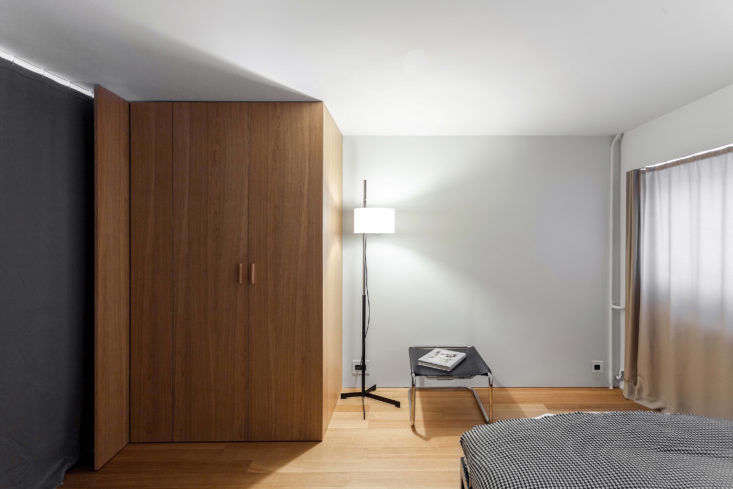 N.B.: This post is an update; it was first published November 4, 2019.
This is in the running for one of the most efficient tiny spaces we've seen. Take a look at some others here: