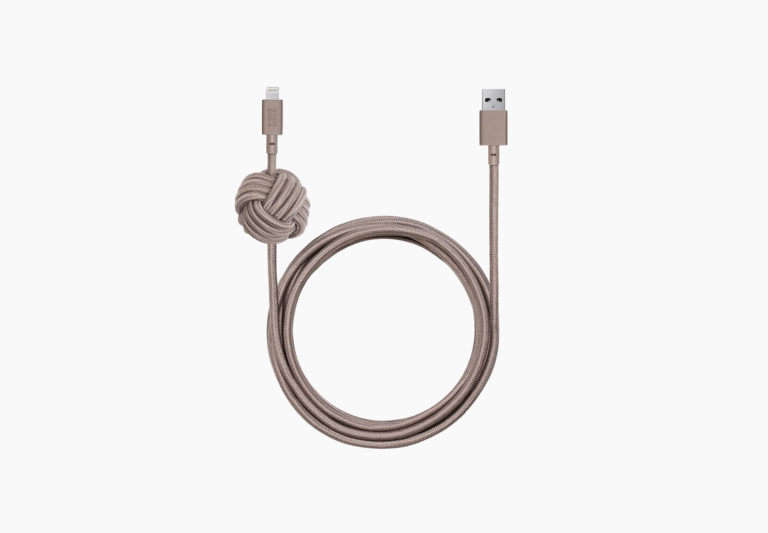 Seems like every retailer these days is following the age-old advice of investment advisers everywhere: diversify, diversify, diversify. Traditionally fashion-only brands like Zara and H&M now have home sections (go here and here for our top picks from those two stores). And recently J.Crew expanded into home decor as well—which means you can now shop for pillows and towels while searching for your favorite rollneck sweater. But what really intrigued us here at The Organized Home was the "phone and tech accessories" portion of J.Crew's newly anointed home section. It's stocked with stylish and smart products that solve some of our most pressing tech issues. Have a look:
A Charging Wire that Stays Put
Above: That knot isn't just for aesthetics. It's a sliding weight meant to anchor the wire to any surface you wish—meaning no more fishing around for wires that have slipped off the nightstand or desk. The Night Cable by Native Union is $40 and comes in natural and black.
A Phone Case that Functions as a Wallet
Above: The leather Clic Card Case for iPhone XS Max streamlines what you need to get out the door. A single pocket will hold your transit card, credit cards, and and IDs; $50. It's available in blue, pink, and black (not shown).
A Wireless Charging Station
Above: How about no charging wires at all? Two great options for wireless charging, both by Native Union—the Dock Wireless Charger ($80) for stand-up charging and the Drop Charger ($60) for flat charging.
A Portable Speaker
Above: These may just be the cutest portable speakers we've ever seen. Designed by Danish brand SACKit, the WOOFit Go Speaker is pocket-sized and comes in nine pretty colors (shown are dusty blue and rose); $80 each.
For more ways to organize your tech, see:
You need to login or register to view and manage your bookmarks.