When Sarah Lambert and John Dolan bought their 1940s ranch house in the hills of LA's Studio City, it was the lofty setting, not the structure itself, that sold them. The place was a warren of poky little rooms that lacked a connection to the magnificent yard, and the couple planned to get to know the place before righting its wrongs.
That test drive ended up extending for nearly a decade, during which the couple (she's a pastry chef who gives private lessons; he directs films and commercials) had two sons, now 8 and 9. When they finally took the plunge, they summoned a small army to help them give their ranch a full Hollywood-style makeover. Architect Barbara Bestor and team tackled the structural remodel. David John Dick and Krista Schrock of DISC Interiors came in three-quarters of the way through construction and worked on a clean-sweep of all the furnishings. And Judy Kameon of Elysian Landscapes fully integrated indoors and out, movie-star-worthy chaise big enough for the whole family included.
Photography by Laure Joliet.
Above: No longer looking its age: Bestor Architecture reimagined the single-story, 3,100-square-foot house, creating an open-plan living space with interior and exterior flow (and full outdoor living room and kitchen under a canopy—read about the setup on Gardenista).
"Everything was opened up and connections were made with oversize glass windows in the front and back," says Bestor. "We literally took the roof off and went up a foot and a half to make it more spacious, and then we added these great clerestory windows over all the interior doors, so light really moves through the space." All glazing was made by Fleetwood.
Above: Sarah and John's main wish was to have a roomy, efficient kitchen in place of their vintage setup, which had an apartment-size fridge and, says Sarah, "so little storage that I kept most appliances and baking supplies in the garage."
The upgrade required surgery: The ranch's fireplace was removed and the kitchen, dining, and living room were reconfigured as one shared space. The floor is engineered oak and the Bestor-designed cabinetry is detailed with Douglas fir. "Sarah is a serious chef," she says, "and the kitchen reflects her intensity."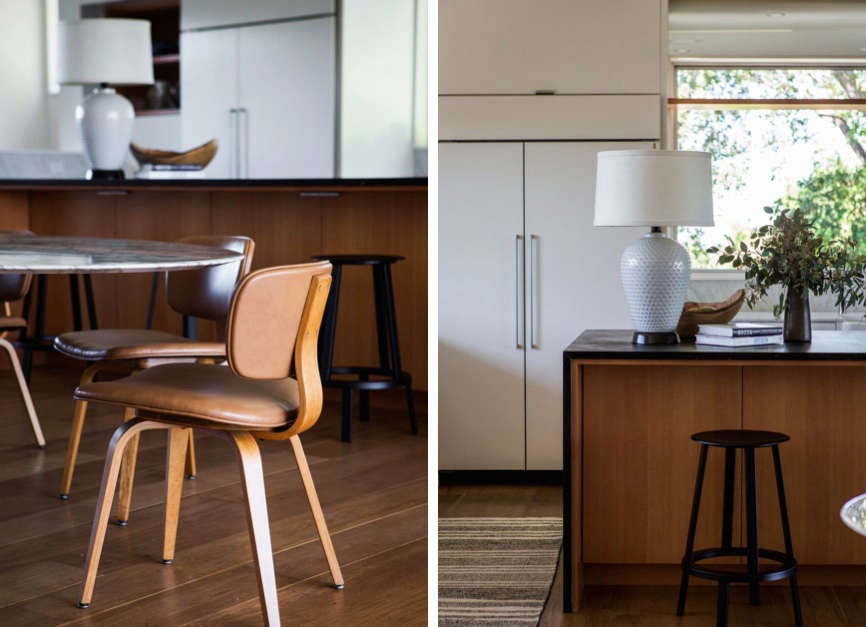 Above L: David John Dick surrounded a vintage Saarinen table with Thonet chairs upholstered in pleather—"easy maintenance and cleaning for kids." Above R: Positioned between the kitchen's two sinks, double-door cabinets conceal the refrigerator and freezer. The four-by-12-foot island is soapstone and incorporates a Gaggenau induction cooktop. Dick selected Hay's Revolver Stools "because they're austere and work with the architecture—and we love how they swivel."
Above: "Our goal was to blend classic midcentury elements and contemporary design, to blur the lines between modern and vintage," says Dick. "Modern and elegant but not precious," adds Sarah. The bubble light is Jason Miller's Modo Chandelier from Roll & Hill.
Above: The sofa is a custom DISC design with a white oak base and a textured woven fabric from Romo. The aerial light is the Hennen Cross by David Weeks and the Wrapped Rope Bulb Stool is from Palachek.
Above: Bestor designed the console and wall units as companions to the kitchen millwork. The vases are by LA ceramic artists Mirena Kim and Heather Rosenman.
Above: The room opens to the master suite and hall leading to the kids' rooms.
Above: A second seating area is hung with pieces from the couple's longstanding art collection, which Dick says inspired the choice of seating and textiles. He designed the daybed for the space; the cocktail table is the WC1 by Ash NYC.
Above: "For the master bedroom, we layered texture on top of texture, and kept the colors neutral except for a vintage sofa that we recovered in deep blue velvet," says Dick.
The couple found their canopy bed on Etsy—it's by Tennessee woodworker Lee Bauman of Solid Cherry Heirlooms with Coyuchi linens.
Above L and R: Jason Koharik's Vertical Glass Geo Pendants dress up the space and free up the nightstand surfaces (the hanging lights are supplemented by Ledtube reading lights above the headboard). DISC lined the back wall in linen grass cloth, a salute to the house's heritage that "brings warmth and depth to the room."
Above: In the master bath, Bestor paired four-by-12-inch subway tile with Eight Point Star concrete tiles, currently marked down from $12 to $6 per tile at Imports from Marrakesh. The fixtures are unlacquered brass by Newport Brass.
Above: In place of a patio the width of a regular sliding glass door, a pergola with retractable sunshade extends out from the living area.
Above: Room to spread out: The customized chaise and other furnishings are from Judy Kameon's Plain Air collection. Fully explore the exterior on Gardenista.
Above: The new plan didn't add much square footage, but Bestor was able to fit in an additional bedroom, bath, and powder room.
Two more projects by Bestor:
And take a look at a Spanish Colonial Home Transformed by DISC Interiors.
You need to login or register to view and manage your bookmarks.