"We bought the flat when I was heavily pregnant with our first child," says architect Emma Perkin of the top-floor 538-square-foot London apartment she once shared with her husband and fellow architect, Ross. "We optimistically imagined we'd be living there for years—even if a second baby arrived."
Because the Perkins—who together run the architecture firm Emil Eve—intended to stay awhile, they put their energy and money into remodeling the flat to make it work for their young family. When they arrived, the bathroom was too narrow, the kitchen dysfunctional, and there was no storage space in the bedroom. Moreover, unnecessary walls made the already-small apartment feel even tinier. On a limited budget, the Perkins hired out the heaviest lifts (like moving walls) and did the rest themselves, including redoing the kitchen. After the remodel, says Emma, "We had to be pretty organized and everything had its own place, but it worked well for the three of us."
When a second baby announced its arrival, though, the space finally proved too tight for the Perkins. "We were very sad to leave as we really loved it," says Emma. "We called it the 'bird's nest,' as it felt like such a cozy and welcoming space up above the rooftops."
Here are seven lessons from the Perkins' adventures in making it work (while it lasted).
(N.B.: This home is now for sale on The Modern House! Go here for the listing and to see the updates the Perkins have made since this post first published.)
Photography by Mariell Lind Hansen, courtesy of Emil Eve.
1. Install cabinetry all the way to the ceiling.
The Perkins resorted to off-the-shelf cabinetry to fit their budget, but Emma notes that a limited range of sizes often means wasted space above. Since they had relatively high ceilings in their petite abode, they managed to fit two Ikea wall cabinets on top of each other to the left of the open pantry wall, and turn the leftover space above into a cabinet of its own. "This looked very clean and gave us masses of storage at a high level," says Emma.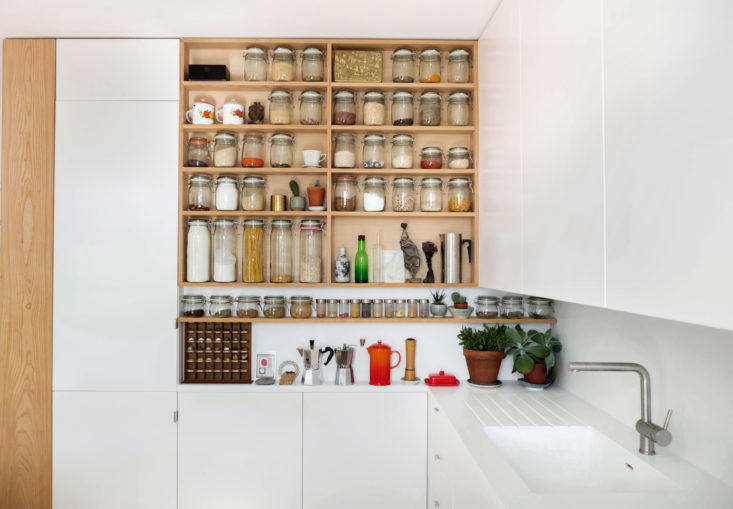 2. Open shelving can be a time saver—even for non-neat-freaks.
I asked the architect if she would recommend open kitchen shelving only to the most organized among us. "We're not particularly tidy people," she says, "so we had reservations about it. But we found it useful for quickly seeing what you have and don't have, and really liked it."
3. Save space (and cleaning time) with an integrated dish drainer.
"Corian is an amazing material, as it enables the counter, sink, and backsplash to be formed as one piece," she says. "There are no junctions and joints which can collect water and get nasty."
4. Keep appliances to a minimum.
The family opted for a dishwasher and a compact range, but no microwave. They hid a narrow fridge behind Ikea cabinet doors to keep the kitchen looking cohesive and streamlined.
5. Remove nonstructural walls.
The previous owner had removed a wall off the entryway to create one large room for the kitchen, living, and dining, and the Perkins took the idea even further: "The first thing we did was establish which walls were not structural," so they could reorganize, says Emma. They added storage space in the master bedroom, a tiny hallway cupboard for laundry, and widened the bathroom to make it usable for two people. "It was like a puzzle figuring it all out."
6. Trade furniture for breathing room.
Emma learned an important lesson while outfitting the home: "While storage and shelving is essential, it's also important to have areas which can breathe a bit," she says. "We started with extra furniture—a coffee table, for example—but removed these to try to keep this area as decluttered as possible."
7. If you're handy, custom furniture leaves no wasted space.
The parents designed and fabricated a small seat and desk with bookshelf to fit their daughter's room exactly: "As it was such a tiny room, we knew that anything we bought 'off the peg' was not going to work well," she says. The cushioned seat was designed to be adapted into a single bed, which their daughter, now several years older, still sleeps in.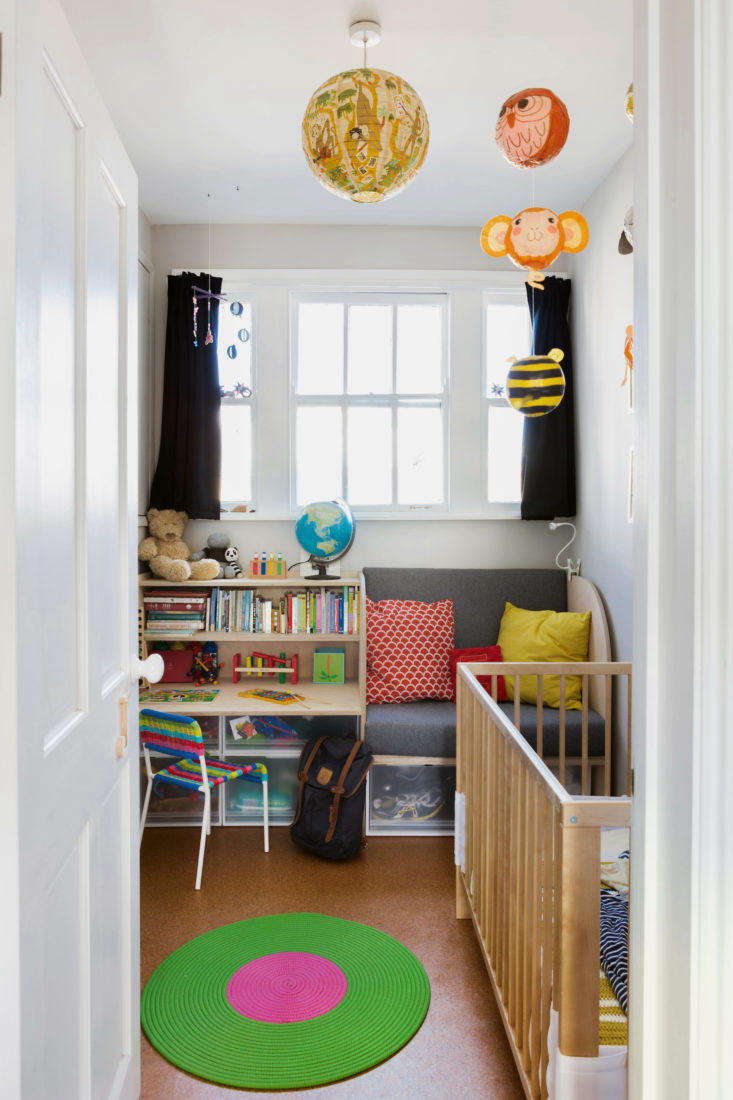 For more small-space tips across our sites, see: