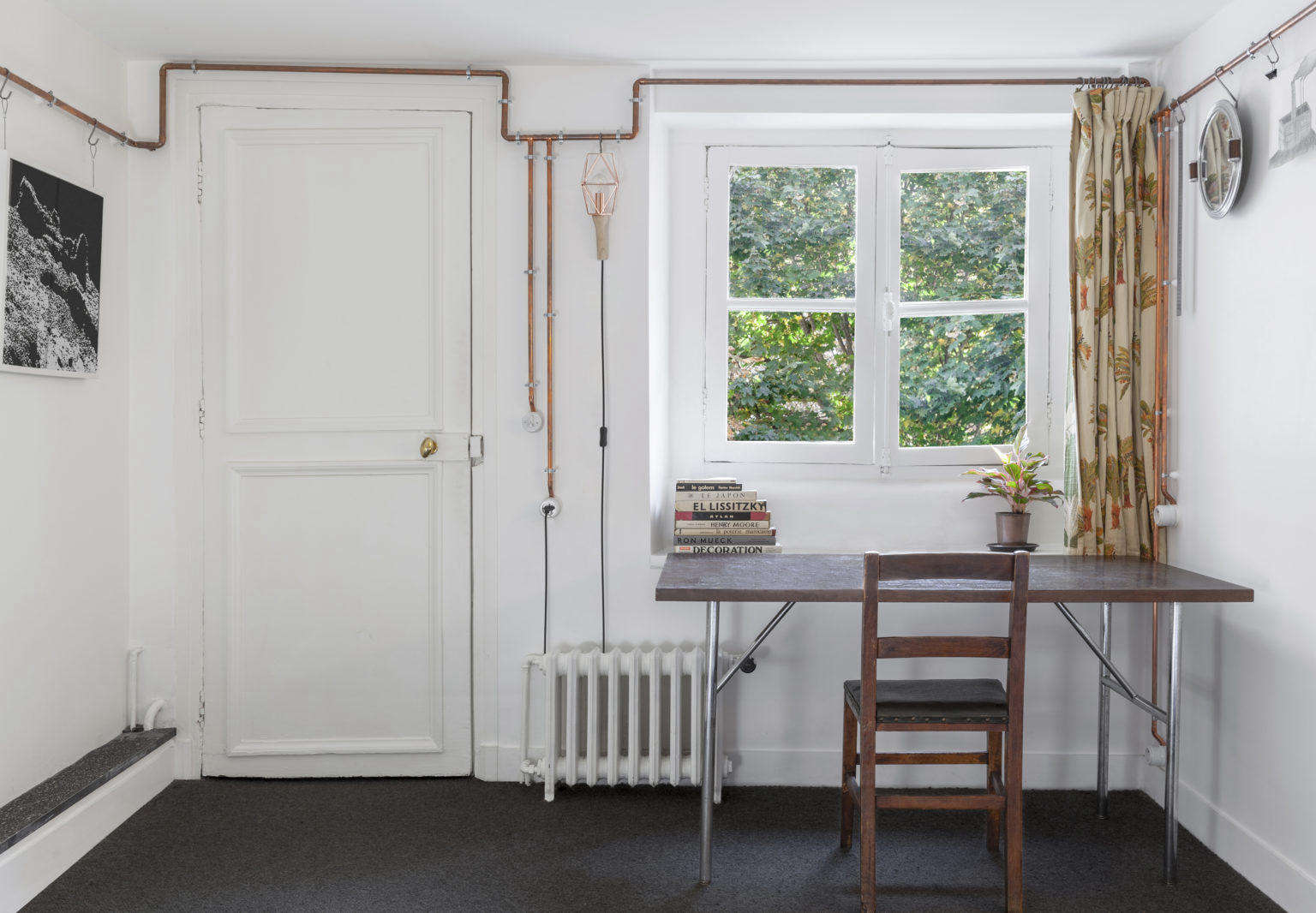 If you asked me to pick the most ingenious, versatile, transformative storage tool of all time, I'd say the Shaker peg rail, hands down. This may be due to my well-documented obsession with Shaker style, but I'd guess that most editors on The Organized Home team would say the same. (Just see all our posts on the subject.)
But one thing we'd never thought of: using copper pipes the way the Shakers used their peg rails. Both pipes and planks of wood are simple and innocuous on their own but, when wrapped fully around a room, become all-purpose places to hang clothing, artwork, lights, kitchen essentials, mirrors, and anything else you can think of. We spotted this new iteration in a tiny, 236-square-foot flat in a 1666 apartment building (once inhabited by Gustave Eiffel) on the banks of the Seine. The flat's owner, a retired professor, sought out young architect Ariel Claudet to turn it into a more usable space—and make it stand out on rental sites. Claudet took inspiration from (where else) the Shakers, stocked up on standard, inexpensive copper plumbing pipes, and got to work.
Consider this our latest, beautifully simple but totally transformative obsession. Take a look.
Photography by Cyrille Lallement, courtesy of Ariel Claudet.
The design started from a problem: "After 350 years of successive alterations, the apartment had neither a straight surface nor two parallel walls," Claudet says. There was also the issue of needing to conceal the electrical wiring. Claudet needed a solution that could work with the uneven walls, hide the wiring, and provide beauty and functionality.
Enter copper plumbing pipes, relatively inexpensive and "very easy to find, handle, and install," Claudet says. The pipes carry wiring around the flat to outlets and switches and—an added bonus—serve as endlessly functional, Shaker-inspired, space-saving storage as they wrap around each room.
"Copper has the poetic quality of showing off its history as it ages," Claudet says. To add to the charm, "I made sure the construction workers did not wear gloves. At completion you could tell the history of the construction thanks to dark fingerprints where workers held the pipes."
Claudet also says that, like the Shakers, he designed the system so that everything would hang without touching the walls. "They are positioned in a way that leaves one-eighth inch for future users to arrange them freely, without leaving any trace on the walls," he says.
N.B.: This post is an update; it was first published May 2018.
More Shaker-inspired storage solutions: