Karin Montgomery Spath of Auckland, New Zealand, is one of those designers whose name gets bestowed from one person to the next. We heard about her work from her son Matthew Williams (he's the Brooklyn-based photographer who shot all of the images in our book, Remodelista: A Manual for the Considered Home). Formerly a manufacturer of fashion textiles in Italy and Japan and founder of a bed linens company, Karin has an innate knack for pulling together rooms. Friends who admired her own house started asking her to reinvent their own quarters, and a new career was born.
Karin has designed projects in New Zealand and New York and a few points in between. While getting ready to overhaul a 1910s Auckland house, the owners, an ad exec and artist couple, had started looking for a place to decamp during the nine months of construction. "I suggested that I could make a loft apartment above the two-car garage for them to live in during the renovation, and that it wouldn't cost much more than a rental," says Karin. "They're busy people, so they told me to proceed and invite them to view it once finished." Here's what she unveiled.
Photography by Matthew Williams.
Above: The studio is housed above a still-in-use two-car garage that Karin says was likely built in the 1970s, and was conveniently appointed with a peaked roof, finished walls, two windows, and two skylights. After securing building permits, Karin installed the loft floor, which is 32 square meters (approximately 344 square feet). A column-like wall in the center is fronted by the kitchen, and divides the bedroom from the living space. Note that the setup looks orderly because of its controlled palette: "It's so small that I felt a very simple, clean Scandinavian look would be the way to go," explains Karin.
Above: Stairs made of recycled kauri, a New Zealand timber, lead to the apartment, where a small Artek Table and Stools, both Alvar Aalto classics, serve as "the dining area–if you pull out the table, it can seat four," says Karin. The pale floor is matai, another NZ wood. The space, including cabinetry, is painted "a soft, misty white" in a matte satin finish (Quarter Tea from New Zealand company Resene–see more in 5 Boutique Paint Companies from Down Under).
Above: The custom-built kitchen is equipped with a Corian counter and "small but fully functional appliances," including a stainless steel sink with a faucet by Methven of New Zealand and an under-the-counter fridge by Fisher & Paykel (another NZ company) concealed behind a cabinet door. The white tiles are leftovers that the clients had held on to from a previous house. Storage cupboards on the wall next to the stove hold pantry goods and tableware. 
Above: "A low futon bed was the obvious answer to cope with the lack of height by the wall under the pitched roof." Tolomeo Lamps provide adjustable bedside lighting. A full-size clothes closet stands at the foot of the bed (and adjacent to the kitchen). No crouching necessary in the space–the center of the room is about 13 feet tall.
Above: The bathroom has a full-size shower lined with beige square tiles that Karin bought on sale from a tile shop for $1 NZD (about 88 cents) a square meter.
Above: "There's no feeling of being petite," says Karin of the bathroom, which she appointed with a Duravit sink and toilet. The bathroom's skylight is part of the original garage. Under it, Karin inserted streamlined storage cupboards custom built from a compressed chipboard and hand painted: "I prefer hand-painting cupboards rather than spray painting–spraying gives a shine I am not happy with."
Above: The custom painted-wood cupboards continue in the main room where they make masterful use of the low space along the perimeter (and are thoughtfully detailed with storage for suitcases; a cabinet even holds a pullout ironing board). They have reveal openings instead of hardware "to look like the walls, so that they disappear," says Karin.
Above: A pair of Artek Alvar Aalto 406 Armchairs with bentwood frames and webbing face a television tucked inside a cabinet. The lamp is the Italian Tzio Small Classic Table Lamp.
Above: The designer, photographed by her son. "I am so surprised more people don't do this with roof space," she says."it's so easy and makes not just another bedroom but a whole living space."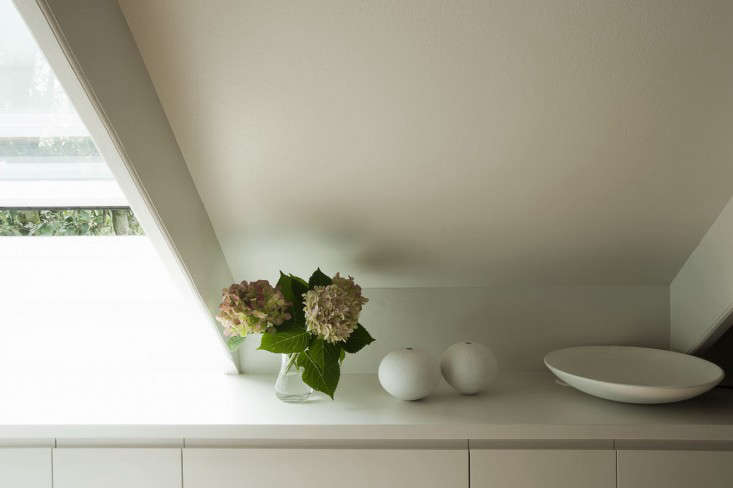 Above: The owners of the garage lived in the loft while their house was being remodeled, and it now serves as their guest quarters–"although they did say that they wondered why there were doing up a big house as the loft is all they really need," Karin says.
N.B.: This post is an update; it was first published June 2015.
For a similar project, see: