The overflowing medicine cabinet. The stingy towel bar that accommodates precisely half of your family's needs. The tub that's overrun with bath toys. Sound familiar? At some point we've all had to live within the confines of the tiny bathroom. Fortunately, there are easy ways to make a boxy space work better—and feel bigger. The key is to get organized, edit out the excess, and consider these storage tips.
1. Ditch the towel bar.
First and foremost, when maximizing the minimal bath, you need to take advantage of available wall space. In tight quarters, towel bars are space sucks. In my last apartment, a single three-foot towel bar on the one exposed wall was supposed to accommodate the towel needs of two adults and two tots. Replacing it with a row of Shaker hooks not only quadrupled our hanging capacity but also created a nice-to-look-at detail. Another bright idea: Hang collections of antique hooks at varying heights to create a wall installation. (True, hooks don't allow towels to dry as readily as bars, but in most climates, the trade-off feels worth it.)
Above: Yellow Simple Waffle Towels hang from the wall of a Brooklyn guest bath (left); photography by and courtesy of Kate Sears, styling by Kate S. Jordan, from The Sentimental Minimalist: A Young Architect's Bed-Stuy Townhouse Makeover. In lieu of towel bars, a couple opted to have two towel hooks next to the shower and one on the door; photograph by Jessica Comingore for Remodelista, from Steal This Look: A Barbara Bestor–Designed Master Bath in LA.
2. Deploy the S hook.
Say your landlord is so unimaginative that he or she will not let you remove the towel bar—or your bar is built into the tiles on the wall. Then it's time to invest in some S hooks. (Or you could try a Q Hook.) Hang them over the bar, and in an instant you've created a much more useful row of hooks.
3. Install a running shelf.
A characteristic feature of any bath designed by my Aunt Sheila is a shallow ledge that runs the length of the wall, usually around the entire bathroom. This Shaker-style architectural detail is relatively simple in construction and easy to install yourself.
4. Soar to new heights.
When it comes to maximizing storage, many people forget to look up. Consider installing an open shelf over the door (it's so much less cluttered looking than hanging one of those shoe caddies). Attractive boxes and a few artful objects lend a minimalist appeal.
5. Edit right down to the toothpaste.
Organization expert Marie Kondo, author of The Life-Changing Magic of Tidying Up: The Japanese Art of Decluttering and Organizing,advises doing away with anything that does not "spark joy." This small-living maxim can be applied to everything, toiletries included. First, buy only what you need. Second, ignore the marketing blare. Separate his and hers body wash? Select an unscented neutral. Hair gels, mousse, straighteners, and leave-in conditioners? Narrow your products to one favorite. And so on.
Then invest in beautiful things that you actually like to look at. Toothpastes (see 10 Toothpastes for the Style Obsessed) and creams in lovely containers can be collected together and displayed (or stowed in a displayable box). Swap out bad packaging for good; my grandmother used to store rubbing alcohol in an antique apothecary bottle.
After you've culled your holdings and moved select items to open storage, organize your remaining unsightlies: Delilah has some great advice—see 5 Tips for Under-the-Sink Organization.
6. Hang up baskets and bags for extra storage.
Add even more storage to your hooks by introducing hanging bags. See Marine Canvas Water Buckets as Bathroom Storage and Design Sleuth: Mesh Market Bag as Bath Toy Storage.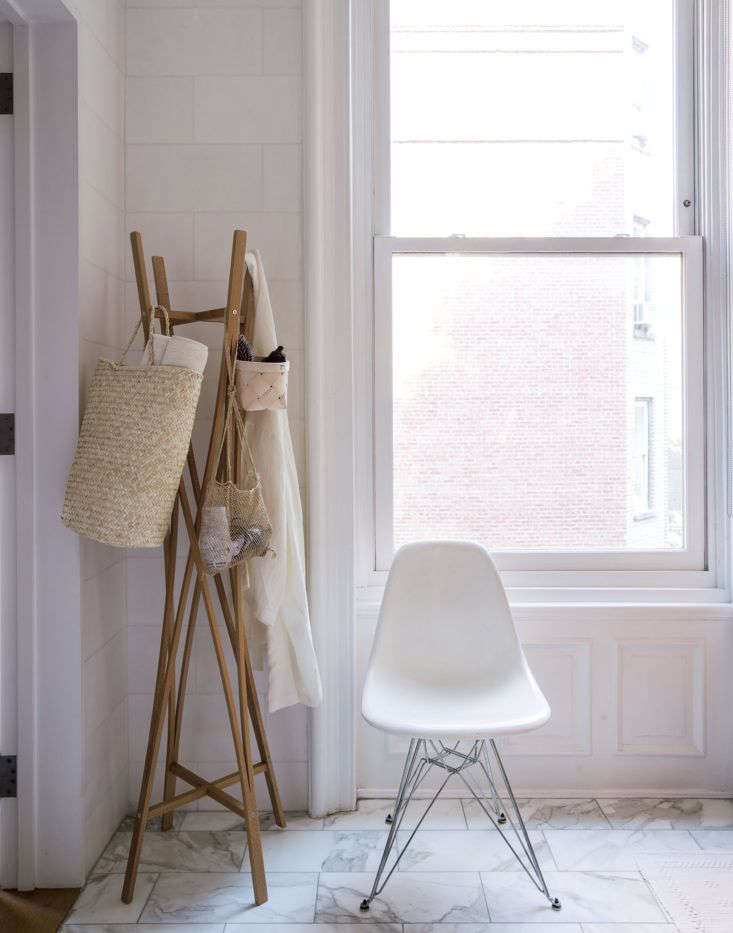 Want more advice for making the most of your bath? See:
And read about how a family of five shares a single small bath in Carmela's 7-Step Plan to Clutter-Free Living.
N.B.: This post is an update; it originally ran on July 7, 2015.