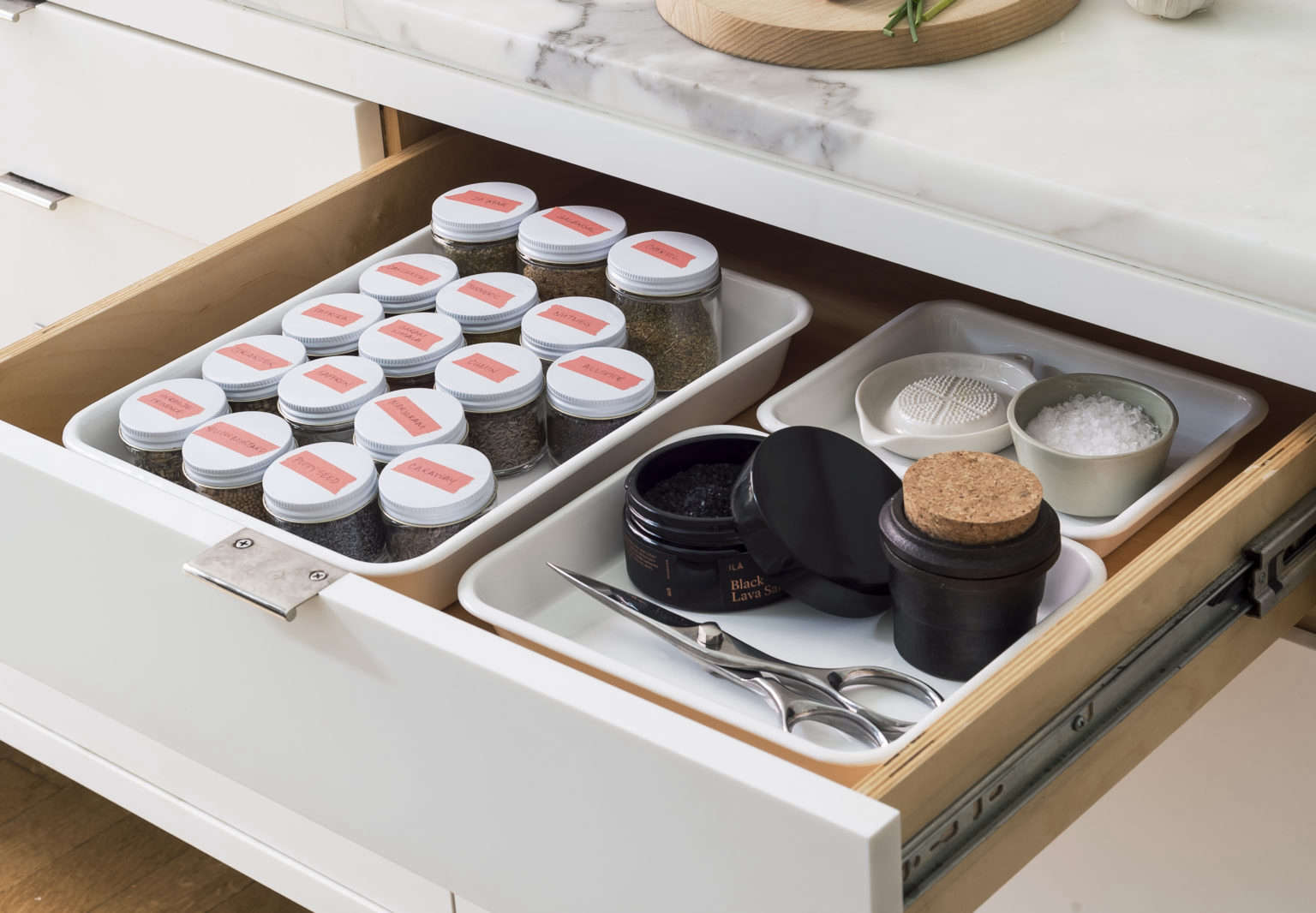 For the second installment in our series on decanting we're attacking the spice drawer, a place where unidentified thimble-sized bags entangle with spillable packets and random jars. Arm yourself with uniform jars and effective labeling this weekend, and whip your kitchen spices into shape. Here are 8 rules to get started.
N.B.: Next, tackle dried goods and grains with The Organized Pantry: 8 Rules for Decanting Dried Goods.
1. Choose your jars.
If you cook often, opt for two sizes of jars—smaller for specialty spices, larger for the favorites. Decide on glass or tin, clear or opaque, and make sure they're airtight.
2. Clean and dry your jars.
It's crucial to keep everything very dry. Wash your jars and make sure they are completely dry (air dried post-dishwasher) before filling. If you're using a funnel, a spoon, or DIY funnel (rolled up piece of paper), make sure that's dry too.
3. Buy in bulk or decant what you already have.
Find a grocery store that offers bulk spices and dried herbs or visit a specialty spice store. Consider the size of your jars when stocking up, so as not to end up with excess. (Some stores will use tare weight to fill jars directly and cut down on paper or plastic.) Decant the spices you already have—goodbye, plastic McCormick bottles—into new jars for uniformity.
4. Label containers.
Find a labeling system that brings joy (bright washi tape, anyone?) and creates ease. Chef David Tanis, for example, stores clear jars of spices upside-down: "That way I can see what I've got, and I don't have to bother with labeling the jars." And Heidi Swanson keeps her milk glass spice jars labeled with bold sharpie and bright tape.
5. And mark the date.
Whole spices have a shelf life of up to 2 years, while ground spices are good for 6 to 9 months. Check in on the contents once a year to clean out, refill, and swap for fresh spices.
6. Pick a drawer, a shelf, a rack, or cabinet.
Keep spices out of direct light (paprika, parsley, and chives are especially light-sensitive) to avoid colorless—and flavorless—straw-like dried herbs. Select an area of the kitchen away from sources of heat, which can also deplete flavor, and humidity (steam), which can cause ground spices to cake up.
7. Commit to an organization strategy.
Cook often with cumin? Keep it up front. Or organize your spices and herbs by category: type of cuisine, grilling, baking, whole/ground, specialty. Think about what spices are in your kit, how you use them—and go from there.
8. Keep everything in sight.
Take up two kitchen drawers if you need to, but don't fall prey to stack-it-and-forget-it syndrome. With two layers of spice jars, you're likely to lose track of the spices in the back lower corner and end up buying duplicates.
For more ideas on pantry and dried goods storage see: