Here's an inspirational project for ambitious DIYers: a rustic, solar-powered weekend retreat outside Melbourne, Australia, designed with Branch Studio Architects and built by the one of owners (a carpenter) himself.
The couple were originally seeking a shed for housing a water pump and some farm equipment, as well as for camping out in during their weekend trips to visit their horse, George. After many discussions with their architect, Nicholas Russo of Australian firm Branch Studio Architects, they evolved their plan: from lowly shed, it became an exercise in constructing an affordable, easy-to-build structure with low running costs. The results? A funky, off-the-grid combination tree house and club house that makes us want to grab our own hammers and saws. See the finished results here:
Photography by Lakshal Perera via Gizmag.
Above: Positioned next to a large dam, the wood-framed structure is clad in metal sheeting. 
Above: The interior is entirely paneled with plywood, with glass walls in the front and back. From the living area, the owners can view their horse, George, grazing in the paddock right outside.
Above: In addition to sliding glass doors, the living room has a horizontal window cut out of the plywood, offering tree-house-like views of the surrounding greenery. The wood stove heats the small house.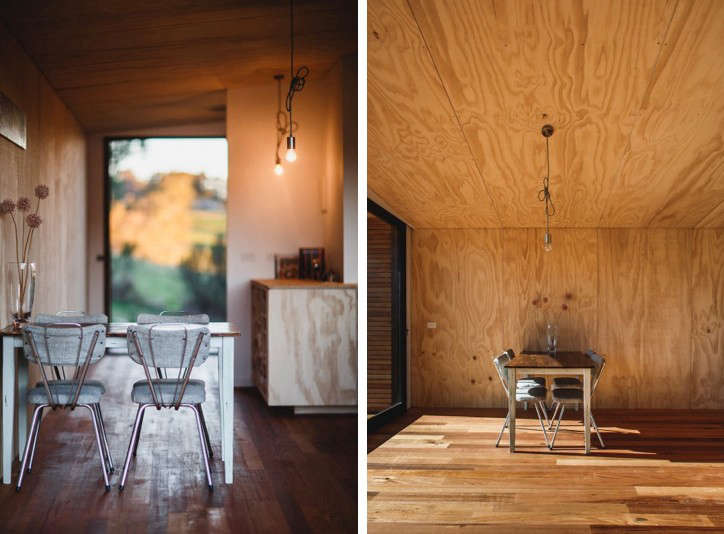 Above L: The project evolved from a simple shed to a small house with a kitchen, but the interiors retain the unfinished quality of a shed. Above R: An exposed bulb pendant hangs above the dining table; the owners adjust its height by simply tying up the cord.
Above: A large wall-to-wall window in the kitchen/dining space brings expansive views into the small house.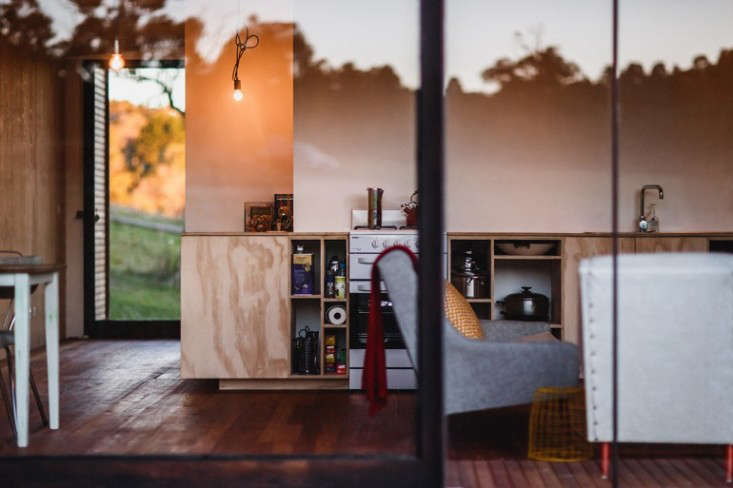 Above: A balance of open and closed plywood cabinetry provides casual storage in the kitchen section of the living area.
Above: A variety of opening sizes in the cabinetry allows the owners to organize their tableware efficiently. Thinking of building shelves? See Fill the Void: A DIY Plywood Bookcase in which Remodelista's Meredith explains how she designed and built her plywood bookshelves in her SF rental apartment.
Above: There is little division between indoors and out. Bright and bold colors in the bedroom complement the plywood sheets on the interior and wood planks on the exterior.
Above: Whether you're in the bedroom or in the living area, the great outdoors is on view.
Above: The house was placed on stilts to avoid flooding; the resulting space beneath is convenient for storing logs.
Above: Completely off grid, the house relies solely on solar power, rainwater tanks, and a wood-burning stove for all of its energy and fuel needs.
Plywood is like marmite: you either love it or you hate it. We happen to love it; see why in 10 Favorites: The Unexpected Appeal of Plywood. And have you ever considered a plywood floor? See Remodeling 101: Painted Plywood, The Best Budget Wood Floor.