Each year my family spends part of the summer on an island in Maine. With no running water or electricity, it's a complete back-to-nature experience. At first, worried that the kids might be bored, we brought lots of toys, but we soon found that our children gleefully played the whole time with rocks and sticks. Now the only "off-island" entertainment we import are ample art supplies and loads of books. I consider it proof that all children really need is a place to explore and use their imagination.
When not immersed in nature, there are a few toys that every toddler needs. But even on the mainland, the "sticks-and-stones principle" remains; simple, Waldorf-style toys that spark the imagination are still my go-tos.
Building on our baby list (see The Minimalist: The Only 10 Toys You'll Need for Baby), here are the top 10 toys for curious toddlers and their minimalist parents.
1. Sturdy Push Wagon/Cart
Fostering physical development as well as the imagination, push carts will take your child a long way, from toddlerhood to well into the preschool years. New walkers can get a little extra support from sturdy push carts, while older tots might engage in more imaginative play by using them to take their dolls for a stroll or haul a heavy load of freight.
2. Doll
As early as their first birthday, tots will begin to practice their social skills with dolls and/or anthropomorphized animals friends, feeding them or taking them out for walks. Older kids might enjoy dressing their dolls or playing house with them. Plush dolls and animals are best for cuddling at night.
3. Blocks
When it comes to fostering the imagination and cognitive development, it's hard to beat blocks. They can be stacked into castles or spaceships, arranged into mazes or whole worlds. They help baby engage in problem-solving and 3-D design. And they can be knocked down with abandon only to be reborn again. Choose blocks with varied but basic shapes that can be built into anything. Babies prefer simple, colorful squares. But now that your child is older they might enjoy more advanced sets with columns and arches.
4. Ride-On
Toddlers love to speed around on scooters, never realizing that this gross-motor action is actually helping to develop the balance and coordination they will need later when playing sports, dancing, or performing other physical activities.
5. Board Books
Childhood development experts are unanimous about the benefits of reading as much as possible to children. A step up from baby's cloth books, tough board books with simple graphics will engage your child and help develop a lifelong reading habit. Choose books that play with language and rhythm, such as rhyming books, or those with tabs, flaps, and tactile textures that will engage your child on multiple levels.
5. Fat Crayons
Not to get too far ahead of ourselves, but most of today's leaders in business agree that creative thinking will be the most essential skill set needed for tomorrow's workers. For now though, art is simply a wonderful way for your child to engage in his or her world. Along with fostering creativity, big crayons help kids develop their fine motor skills.
6. Planes, Trains, and Automobiles
One of the best things about raising tots in Manhattan was all the vehicles. Fire trucks, subways cars, cranes, and planes galore. Once, there was even a pile driver working on a building next door. Oh, the hours we spent gazing from our 15th floor window onto this transportation bounty!
Even if you don't live in the city, kids living in a modern world quickly develop a love of anything that rolls, flies, or floats. And when they can't see the real thing roaring down the street or overhead, they'll want to recreate the excitement in their home. At this age tots will appreciate a few movable parts such as dumps and hooks. Simple trains that connect together will also help with fine motors skills.
7. Play Figures (Animals and Humans)
Children are naturally attracted to animals and, after a trip to the zoo or farm, will want to play with their own set at home. These, along with small wooden people, will help your child populate imaginary worlds in which to explore social dynamics. Small play figures are also highly portable, making them useful for toddlers on the go. Finally, these toys enjoy a long life, as your children will continue to play with them well into their elementary school years.
8. Shape-Sorting Box
Like nesting cups or stacking rings, shape-sorting toys encourage cognitive development and problem-solving. Tots delight in putting things in and watching them disappear (and then taking them out again)—all while learning basic shapes and colors
9. Puzzles
Puzzles help kids with fine motor and cognitive skills. Plus, they're just fun. Choose age-appropriate puzzles (just a few pieces) with chunky pieces that are easy to grasp.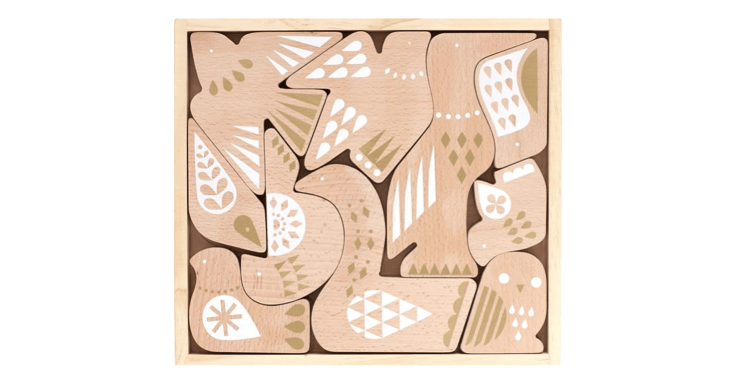 10. Pail and Shovel
A bucket and shovel are musts for any toy arsenal. Whether in the sandbox, at the beach, or in the bath, water and sand experiments abound with these simple tools.
Honorable mentions:
Rubber ball:  If you have only a fabric ball for baby, now's the time to upgrade to something that bounces. Choose a medium-size ball that can be both kicked and thrown.
Set of Rainbow Silk Scarves: Silk scarves fuel all kinds of imaginative play, from babies first red superhero cape to a deep blue on which to sail one's boat.
Musical Instruments: Kids love to experiment with rhythm and noise (a.k.a music). The only reason I didn't include these on the list is that you don't need to invest in a specific toy to encourage a baby garage band. Pots and pans or an old baby rattle will do. My son used to bang on upturned water jugs, which he also used as push toys.
N.B.: Featured photograph by Matthew Williams from Room to Play: The Ultimate Urban Bunk Room by Workstead.
N.B.: This post is an update; it was originally published on February 19, 2018.
Find more kid-friendly ideas here: