When my husband decided to go meatless more than a decade ago, I bought him Mark Bittman's How to Cook Everything Vegetarian. I was not a fan of vegetarian meals in general, and I figured that Bittman's doorstop of a book (it features more than 2,000 recipes!) would include at least a handful that I liked.
My instincts were correct. It is an exhaustive collection of recipes, from soups and salads to sauces and sweets, and I found dozens of dishes that made us both happy. One of them—the Basic Lentil Soup—has even made our rotation, a feat when you consider we live with two kids who each have their own very specific food hangups.
What I particularly love about this recipe is its versatility. Bittman shares the basic recipe, an easy weeknight meal, but also tells you how to jazz it up if you have more time. Here's a guy who gets that weeknight cooking needs to be delicious, yes, but also fast and simple.
And now with Dinner for Everyone: 100 Iconic Dishes Made 3 Ways: Easy, Vegan, or Perfect for Company, he's endeared himself to me even more. You see, my husband is still vegetarian (and threatening to go vegan), and our kids and I are not. This book makes me feel seen.
What other kitchen dilemmas can Bittman solve? I asked him some burning questions:
Photography by Aya Brackett, courtesy of Mark Bittman, unless otherwise noted.
Q: Are there any packaged basics that are as good as the homemade versions—like broths, tomato sauces, canned beans, dry pasta, etc.?
A: You've tapped the iconic list of common pantry items. And I have strong feelings on all, so let's talk about them in order. But first, an important item you didn't mention: frozen vegetables. Some types are better than others, but many are absolutely acceptable in soups, stir-fries, frittatas, and pastas. I don't bother with things that are easy to prep fresh like broccoli or cauliflower. But seasonal or time-consuming things like peas, corn, or winter squash are super-handy in a pinch. In fact, Dinner for Everyone has a recipe that actually calls for frozens: Beef Fried Rice with Frozen Vegetables.
Broths: If I don't have homemade stock handy, I prefer water over packaged products. It's easy enough to flavor quickly with other ingredients added to the pan or pot—like rinds of Parmesan cheese, soy or fish sauce or a few mashed anchovies, aromatic vegetables, fresh herbs, simple bay leaves, smoked or dried not-too-hot chiles, ground cinnamon or ginger, fermented black soy beans or olives, miso, Worcestershire sauce, mustard, or a splash of booze.
Tomato sauces: This is one I've never understood. You can cook down a chopped onion and some garlic and dried or fresh thyme or oregano, open a can of crushed tomatoes, and make your own sauce in 15 minutes. (If you're willing to invest 10 more minutes, you can start with even more flavorful whole tomatoes for a more rustic texture.) Faster still, you can toss pasta with butter and lots of Parmesan and some of the pasta cooking water and have the quickest dinner ever.
Canned beans: Why not, right? Sometimes you've just got to.
Dry pasta: I rarely make fresh pasta. Dried is a totally different, equally appealing product that is the gateway to an almost infinite number of lightning-quick dinners. Some examples from Dinner for Everyone: Classic Spaghetti Carbonara, Macaroni and Cheese in a Pot, Pasta with Use-What-You've-Got Bolognese.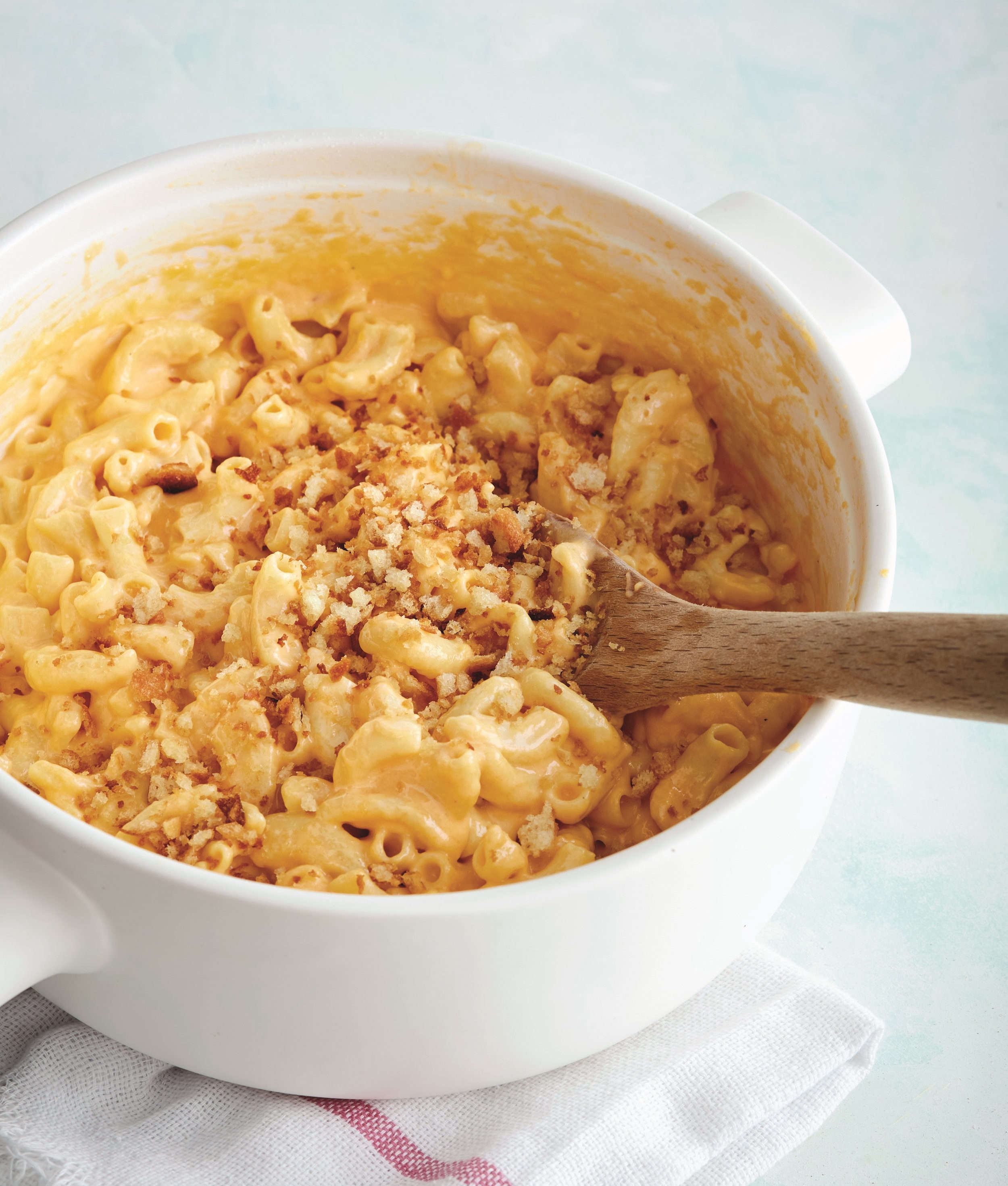 Q: What do you think about buying rotisserie chicken, pizza dough, etc., and adding homemade touches?
A: The only approval anyone needs is from the people they're cooking for. My mission is to help people eat more meals together at home with the people they love. If sometimes you need a head start with a prepared dough or already baked chicken, then so be it; just try to get it from someplace where you know someone took the time to make it. Then all you have to do is follow a recipe that calls for pizza from scratch or pre-cooked chicken and pick it up halfway through.
Q: Any suggestions for super-quick dinners? What are your go-to meals-in-a-minute?
A: A great trick is to repurpose leftovers, especially if you cook fairly regularly. You can make a frittata or fried rice out of virtually anything—bits of stir-fries, roasted or grilled vegetables, simply cooked meat or chicken. Shrimp can go from the freezer to a skillet of olive oil sizzling in garlic. And then you've got to keep the pantry and fridge stocked with the ingredients we discussed above—especially eggs!—as well as quick-cooking whole grains like steel-cut oats, quinoa, and farro. And remember to have some key spices and blends like curry, cumin, coriander, and smoked paprika.
Q: Any other shortcuts?
A: Once a week, make a plain pot of beans (a pound or a little more) or a pot of grains (2 or 3 cups raw). The following week, make whatever one you didn't do the week before. I guarantee you'll use them for packing lunches or as a main component in countless dinners. And if by any chance something is left over, freeze it. The easiest thing is to plan for leftovers: anytime you cook, make extra for the fridge or freezer. It takes just as long to roast two chickens or pork loins as one, for example, and hardly any extra time to double the recipe for soup or chili.
Q: My kids have recently discovered the joys of adding hot sauce to everything. What other condiments/flavoring should we try?
A: Try mustard—Dijon or whole-grain—in places where you least expect it. I'm also quite keen on soy and fish sauces. And a squeeze of lemon or lime is always welcome.
Q: Any tips for faster cleanup?
A: Try not to make so much mess to begin with. This is why stir-fries are so ideal: After starting a pot of plain rice or boiling water for noodles, you cook every component super-fast in rapid succession over relatively high heat. So the protein is seared, the aromatics have melded, and the vegetables are cooked crisp tender. Then you're left with some tasty brown bits in the bottom of the pan. Add some water and maybe soy or fish sauce, a squeeze of lemon or lime, and when it's bubbled away into a sauce, you toss everything back in. The rice or noodles are ready at the same time, and you've got a whole meal in about 30 minutes with two pots to clean. Other examples: soup, one-pot pasta, sheet-pan dinners, eggs or fish poached in sauce, and anything off the grill.
For more on streamlining your cooking routine, see: