I don't know when I started regularly reading Jenny Rosenstrach's blog about cooking for her family, but I do know why I started. She had me at the name of her blog—Dinner: A Love Story. Could there be any better way to describe what making dinner means to so many of us? It's tedious, it's maddening, it's exhausting, but it's also an incredible act of love. And with her posts, most of which are accompanied by a recipe (healthy but not in an off-putting way, simple enough to pull off for a weeknight dinner but not basic), she's telling us that she gets it. She understands what a feat it is to shoehorn in a home-cooked meal after a long day, between various carpools, while providing homework support and letting the dog out and checking work emails. And most important, she reminds us that gathering the family around the dinner table to regroup and refuel is worth the effort.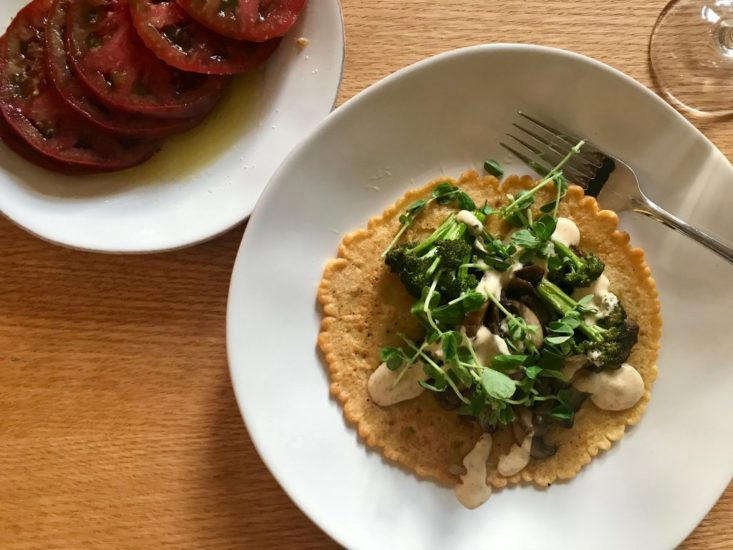 If you haven't read her blog before, you're in for a treat. Jenny—who is the author of three cookbooks, Dinner: A Love Story; Dinner: The Playbook; and, most recently, How to Celebrate Everything—answers our questions about which kitchen gadgets and cookware are worth bringing into your kitchen and which you should just borrow from a neighbor.
Photography courtesy of Dinner: A Love Story.
Best Novelty Tool
"I am not a gadget person. I learned this the hard way—when I was teaching myself how to cook everything that looked exciting to me. A silicone tube that could remove garlic skin? A monster vegetable peeler that had a big grippy grip? A bagel cutter that took up only as much counter space as a food processor? I knew nothing, and these inventor people were obviously geniuses. I bought everything. Two decades later, only one of these purchases still remains: The Spoonula. (Don't click away! Bear with me!) The spoonula, as you might've guessed, is what happens when a rubber spatula marries a serving spoon. I use it exclusively for scrambled eggs, which I eat at least four mornings a week. (Have you ever tried to scoop eggs from the pan with a regular rubber spatula?)"
Best Cookware for Eggs
"Speaking of scrambled eggs, I bought the Bialetti Aeternum Fry Pan after Carla Music, Bon Appetit's food editor, swore by its nonstick abilities with eggs. As an egg lover, this had been a persistent niggling problem of mine. (I know, everyone should have my problems.)"
Kitchen MVP
"By far, my eight-inch Miyabi 400fc. It's pricey, but if we are talking value/cost-per-use, it's by far the biggest bargain in my kitchen. I never put it in the dishwasher because I can't seem to go five minutes without it, and also because I worry about it like it's one of my children when it's out of my sight. I really believe that a good chef's knife is such a personal thing and you have to hold it to know if it's right. A good knife has to have heft, but also be light enough to maneuver easily. I describe this one as an extension of my own arm."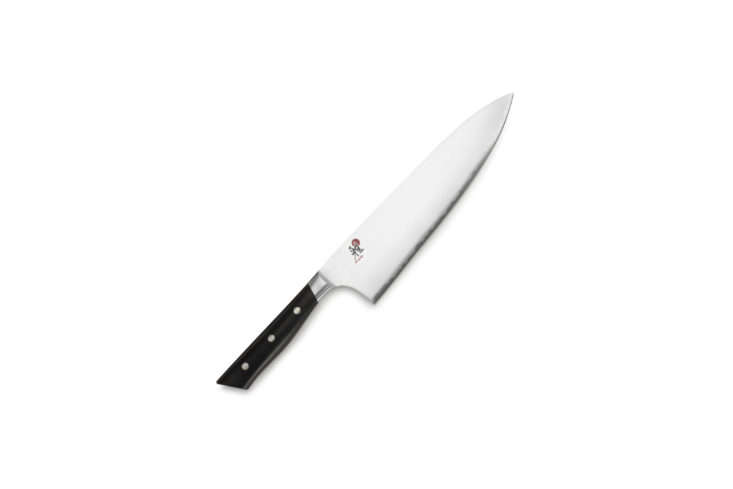 Worth-It Small Appliance
"I resisted getting a standing mixer for so long. I didn't like the idea of something that big living on my counter. Plus, I have never been a confident baker so I thought of it as an indulgence, something people with a fleet of piping tips own, not people like me, who never bake a batch of chocolate chip cookies the same way twice and never care to figure out exactly why either. Plus, I had a regular hand mixer and that had always been good enough for my mom, who I'm pretty sure still owns the mustard-colored one I grew up with. Well, my husband finally decided I needed one and bought me a Breville as a birthday gift. I took to it right away. For starters, it made me a better baker almost instantly. So much of my baking handicaps are in the patience department, and a standing mixer, which allows you to walk away and check your email while the butter and sugar cream together, eliminated many of those issues. And, also, even though I wasn't a terribly good baker, I really do enjoy it, so it's fun to have such a legit piece of equipment. Plus, my two daughters are super into baking (best purchase for them ever: Momofuku Milk Bar cookbook), so we're definitely getting our money's worth."
Not-Worth-It Gadget
"Everyone told me once I had an immersion blender, it would change my life. Not the case. I use it in the winter to blend soups in the pot, but otherwise…meh. What am I missing here? Please enlighten." (N.B.: Same here.)
Someday Splurge
"I don't know what I would do without my 5 3/4-quart Dutch oven, which we received as a wedding gift 20 years ago. It's on the cover of my first book Dinner: A Love Story for a reason: Because whatever is cooked/braised/oven-roasted in it makes the house smell like a home. Because if a pork shoulder ragu does not shout LOVE LIVES HERE, I don't know what does. But I will say, now that the kids are getting bigger and eating more and I seem to be entertaining way more than I did 20 years ago, I dream of upsizing to the seven-quart-er. They are so expensive, though, I just can't seem to pull the trigger."
Want to hear from more experts? See:
You need to login or register to view and manage your bookmarks.