Does small space living come down to three things? We're beginning to think so: 1) a genius floor plan, 2) pocket doors, and 3) clever storage solutions. This 1,000-square-foot three-bedroom apartment in Sydney, Australia (home to architect Jason Gibney and his family), checks all the boxes, with minimalist style to spare.
Located on the top floor of an Art Deco building, the apartment includes an attic space that Gibney (he's an architect with Tobias Partners) turned into a sleek master bedroom, a kitchen that can be instantly transformed into a dining room, a small office, and more.
Photos by Justin Alexander via Houses Awards.
Above: All kitchen appliances and necessities are hidden behind a series of doors.
Above: A minimal Vola faucet keeps the fixture profile on the down low.
Above: The kitchen becomes an instant dining room with clutter hidden out of sight.
Above: Hallways and transition areas can be opened up or closed off thanks to sliding pocket doors.
Above: In the living room, all electronic equipment and toys are concealed behind custom cabinetry.
Above L: A narrow staircase leads to an attic bedroom. Above R: A small office space features custom bookshelves and a cantilevered desk.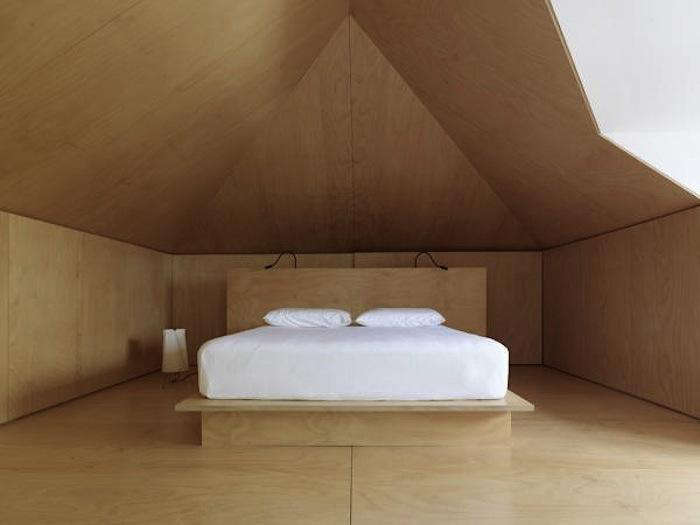 Above: Gibney turned an unused attic space into a master bedroom.
Above: The origami-like master bedroom is clad in plywood.
Above: Minimalism at its best; note the integral shower drain in the floor and the recessed shower head above.