Renovating a kitchen is a constant calibration between what you desire and what you can afford. Some upgrades or added features, though, should rest squarely in the "worth it" column—chief among them storage upgrades.
For proof, check out the recently remodeled kitchen of Clare McCamy and Harrison Miller, the Mill Valley, California, neighbors of Remodelista editor in chief Julie Carlson. The new space feels fresh, organized, and entirely uncluttered thanks to thoughtful storage features throughout. Here are 10 storage upgrades from their kitchen that every homeowner should consider before embarking on a redesign.
Photography by Andres Gonzalez for Remodelista, from Kitchen of the Week: A New-Build Kitchen in Mill Valley, CA, the Six-Month Check-Up.
1. An Under-Sink Pullout
The space under the sink can be a Bermuda Triangle of sorts. Store things there at your own risk. A pullout drawer is a great solution for keeping this normally chaotic part of your kitchen neat and orderly.
2. A Trash and Recycling Pullout
You may think you don't need this feature. After all, you likely grew up with a standalone trash can or one stored under the sink—and you turned out fine! But here's what's so great about having this custom pullout: One, all you need to do is pullout the drawer to throw away something (as opposed to opening up a cabinet door, then pulling out the trash can). And two, the drawer does an exceptional job of keeping odors contained.
3. Custom Drawer Organizers
Sure, you can always buy drawer organizers a la carte, but having them integrated into the design and customized for your needs will feel like a necessary luxury.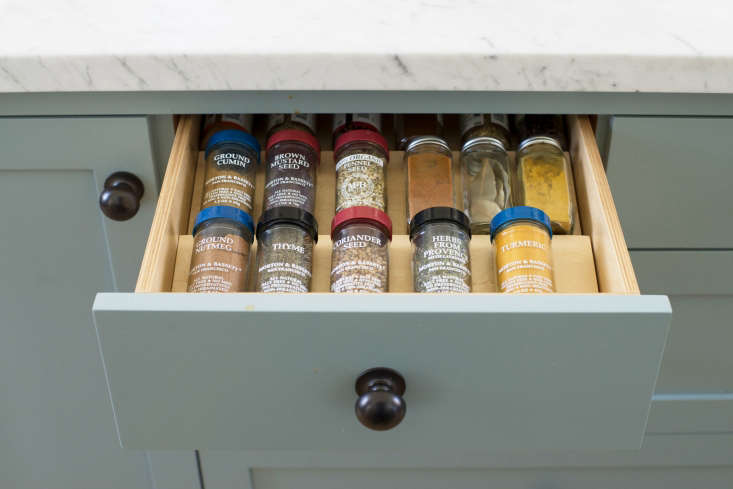 4. Under-Counter Kitchen Island Cabinets
Remember: A kitchen island isn't there just to provide more seating. Its primary function, in fact, should be to offer more counter and storage space. With larger islands, there will likely be room for storage on every side, even on the side where the stools go, so be sure to take advantage of every square inch of potential storage space.
5. Appliance Drawers
If you have a small household or your kitchen is seriously tiny, you may want to check out space-saving drawer appliances instead of the standard full-size versions. (McCamy and Miller chose theirs in addition to standard appliances because they have four children.)
6. Open Shelves
Okay, this isn't technically an upgrade since it doesn't cost more to add open shelves. In fact, it costs less—and that is precisely why every homeowner should consider them.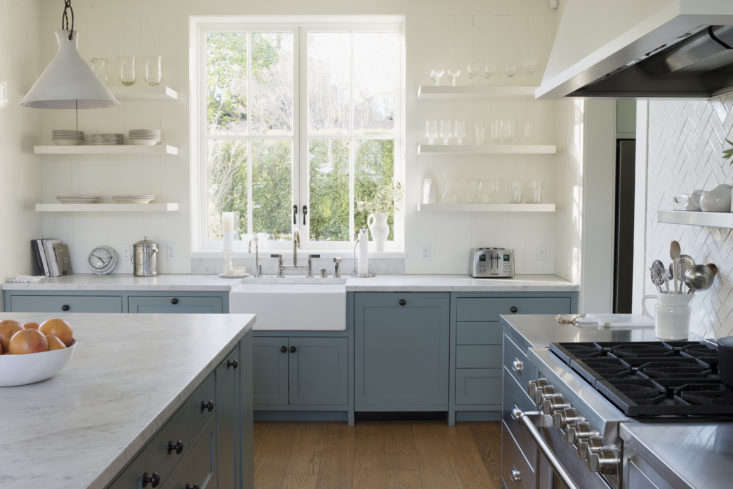 7. A Warming Drawer
This may seem like an extravagance, but if you have multiple kids with different activities, having a warming drawer will make scheduling dinner times much easier.
8. A Walk-in Pantry
Not everyone has room for this, but if your kitchen is blessed with space, a walk-in pantry is a worthwhile investment.
9. A Coffee Station
If you're a java fiend, this is a must-have. Once you've determined where your coffee station will go, make sure there will be enough outlets for your brewing needs.
10. A Utility Closet
If you have the space and are on the fence about whether to include a utility closet in the kitchen design, think of this: The kitchen is a room that you need to clean nearly every day. Why not keep brooms, mops, and other housekeeping essentials nearby?
More kitchen design advice awaits: