A few weeks ago, we dropped in on Clare McCamy and Harrison Miller, the Mill Valley, California, neighbors of Remodelista editor in chief Julie Carlson. More than a decade ago, the couple bought a house on a large, flat lot near the city's downtown, and lived there with their four children while dreaming of their "someday" home on the same lot. A couple of years ago, they took the plunge, calling on another neighbor, architect Ken Linsteadt, to come up with a plan.
Their favorite part of their new house? The light-flooded, centrally located kitchen. Now that they've had six months to test it out, let's take stock of what's working and what's not.
Photography by Andres Gonzalez for Remodelista.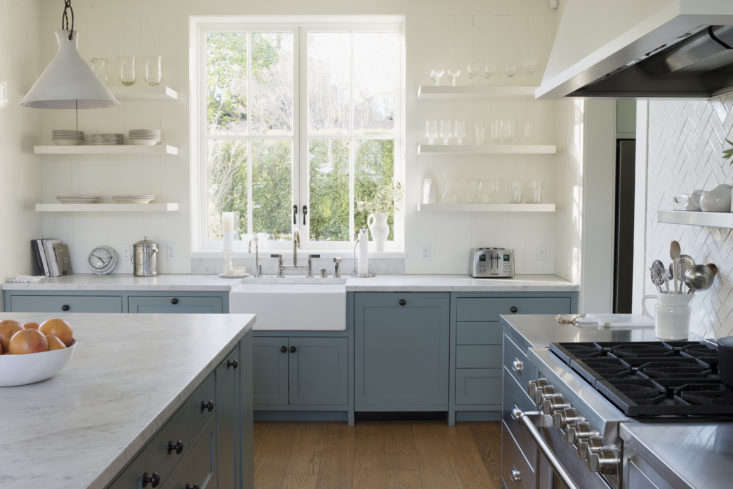 Remodelista: What do you like most about your kitchen?
Clare McCamy: The main things we love are that it's easy, functional, and spacious but not overly large. It's uncomplicated, airy, and full of light from sunrise to sunset. It's cheerful, and everything has a lovely tactile quality: from the glossy tiles to the honed marble and the surprisingly warm stainless steel cabinets that are a pleasure to touch. What more could we need or want? It lives well.
RM: Has upkeep been a challenge?
CM: The materials are simple and not fussy—as are our dishes, glassware, and the few decorative objects—so it isn't actually hard to maintain. There's not a whole lot to worry about, which is exactly how we'd hoped to live. A clean kitchen has great appeal, but devoting a great deal of energy to maintenance seems a very poor use of precious time.
RM: How would you rate your appliances?
CM: We adore the U-Line refrigerator drawers, which we use for all things breakfast. They give us just enough extra cold storage for a family of six. The Wolf range is fantastic, and we love the warming drawer as well; with the kids' conflicting schedules, we use it almost every night (too often, however, we leave it on since there's no indicator that it's warming when it's closed).
The Fisher & Paykel dishwasher drawer is simple and incredibly useful for all the overage and for tall glasses and large pots; I can see us using it as our primary dishwasher when our children are gone, we've grown old, and leaning over isn't as easy as it once was. We love the concept of our steam oven, but you do have to commit to learning how to use it early on or you'll simply forget about it. And finally, we had no desire to build in a microwave when we knew it would be dated in just a few years. We just tossed a freestanding one on a shelf in our pantry.
RM: What's your favorite storage feature?
CM: The open shelves, including the small stainless steel one above the stovetop that holds all kinds of cooking items. Also useful are the deeper drawers for pots and pans, the narrow drawer for placemats, and having the trash and recycling bins in one easy pull-out cabinet. The island is also a wonderland of storage; we took advantage of every bit of that space.
RM: What have you learned about living with an open-plan kitchen/living/dining space?
CM: We prepare dinner while guests are here—the open design means the chef need not be lonely. Harrison does cook more (though I love being in the kitchen, I've little to no interest in cooking).
RM: How would you rate your countertops?
CM: I absolutely love the look and feel of the Calacatta marble, but when the light shines on it in the morning, I am a bit dismayed by the rings and the etching. Not so much that I regret the decision, though; I'd do it again.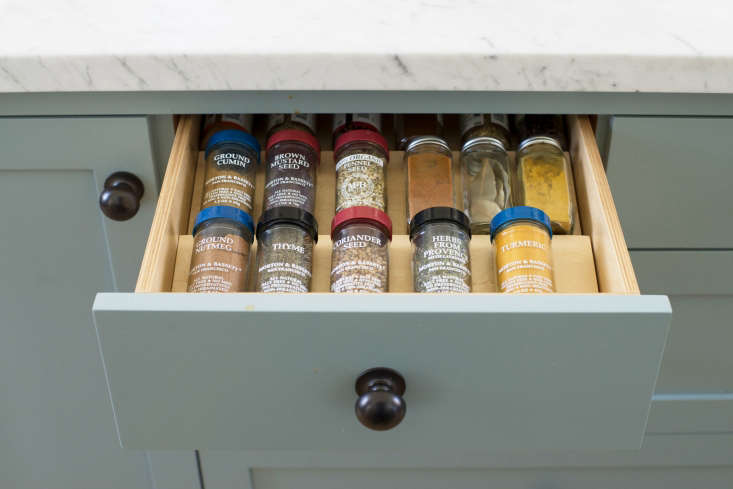 RM: Is there a favorite feature you were on the fence about?
CM: The instant hot filtered water dispenser. I was reluctant to give up my beloved electric kettle; the kettle was easy, but the dispenser is instant gratification. I'm almost always running late and making a mad dash for the door in the morning. The only downside is I think I've tripled my tea consumption.
RM:
Are your color choices wearing well?
CM: Very. The simplicity of the white is endlessly pleasing to me, especially since it's hand-mixed and catches the light in lovely ways that change throughout the day. I've loved blue from childhood, and the Farrow & Ball Oval Room Blue feels timeless. I like the way it interacts with the flecks of gray in the marble, too (and if the surfaces get chipped over time, repainting it will be an easy enough fix).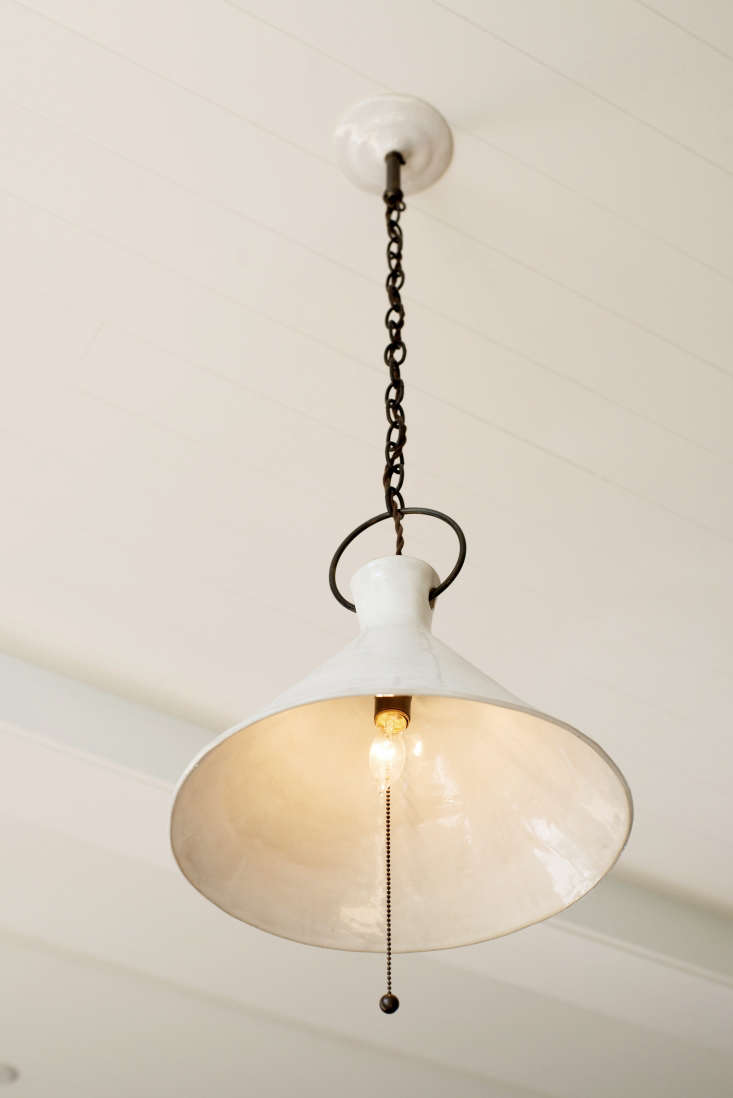 RM:
How would you rate your lighting choices?
CM: The Natalie Page pendant lights over the island suit us; we like the shape of them against the herringbone pattern of the backsplash tile. One socket was flawed when the lamps arrived—the part that attaches to the ceiling was initially made incorrectly—but since all of it is handmade by one person in her studio as a weekend passion project, we think it was worth the wait. The recessed ceiling lights are important for after-dinner cleanup and for the kids to study at the counter.
RM: Any tips for keeping costs down?
CM: I visited stone yards myself rather than asking our architect's designer to do it, so I was able to shop around, choose exactly the slab I wanted, and compare pricing. It wasn't nearly as expensive that way. In addition, I chose open shelves for aesthetic reasons, but not surprisingly, they're a lot cheaper than cabinetry.
RM:
Did anything turn out to be an unexpected economy?
CM: We went for an intelligently designed Viking fridge that was a huge cost savings over the Sub-Zero—it also doesn't stick in that infuriating way when you open it twice in rapid succession.
RM: What's your favorite storage feature?
CM: I love our walk-in pantry; it's not too big, but has plenty of shelving and storage. Ken's designer, Jeffrey, did a near-perfect job of hearing us out about what we have and what we wanted and giving us just slightly more storage than we need. Nothing feels cramped, but we also don't have an overly large kitchen that requires a lot of extra time to put things away.
RM: Are there any storage details that drive you crazy?
CM: Nope. We have a step stool in our handy dandy broom closet, so otherwise unreachable spaces are accessible easily enough and we fill them with non-essentials. The empty shelves feel kind of indulgent to me in a good way; not too much, but there when we need them.
See all our Kitchen of the Week posts
here
.