Lisa and Chris Goode, NYC green-roof designers and cofounders of Goode Green, undertook a top-to-bottom renovation of their shingle-style house in the Hamptons. Having designed many projects, including Brooklyn's Eagle Street Rooftop Farm and the meadow atop New York's Crosby Street Hotel, they decided to save money by acting as their own general contractor.
An avid cook who likes to be joined by a crowd, Lisa envisioned an island–but not just any: "An island is the one place where everyone congregates, so I wanted an overhang on two sides where we could pull up stools. This island had to be perfect and I needed to find someone to design it." Tight on time, Lisa began an initial search on the Internet and soon found herself, via Etsy, on the home page of Siosi Design & Build, a two-woman furniture workshop in Bloomington, Indiana, 860 miles away. "The image on the company's opening page had the exact aesthetic I was looking for," she says. "From the first email and throughout the process of dimensioning and pricing, I came to really trust owners Ivy Siosi and Audim Culver. Even though I hadn't met them, I could tell they were talented and professional craftspeople; they were the ones I was looking for."
On the same day that the Goodes moved into their newly renovated place, they received their wood-topped island–hand-delivered by Ivy and Audim, who had driven 14 hours to get it there. It's now the heart of the kitchen–and the home.
Top Tip: The Web is smaller and more personal than you think. "When it comes to pulling the trigger on final decisions, online research is incredibly useful for comparing costs and finding discounted items, not to mention talented designer-builders." Read on to see all the kitchen elements Lisa sourced on the Internet.
Photography by Lisa Goode.
Above: The Goode's custom kitchen island sits in the elbow of their L-shaped kitchen. As Lisa envisioned, it has a butcher-block top and two overhangs so that people can congregate around one corner, leaving the other corner free for her to cook and move around.
Above: The Goodes incorporated shiplap paneling on the walls to match the vernacular of historic houses in the area. The walls and ceiling are painted in White Dove by Benjamin Moore. Learn more about interior shingles in Expert Advice: The Enduring Appeal of Shiplap.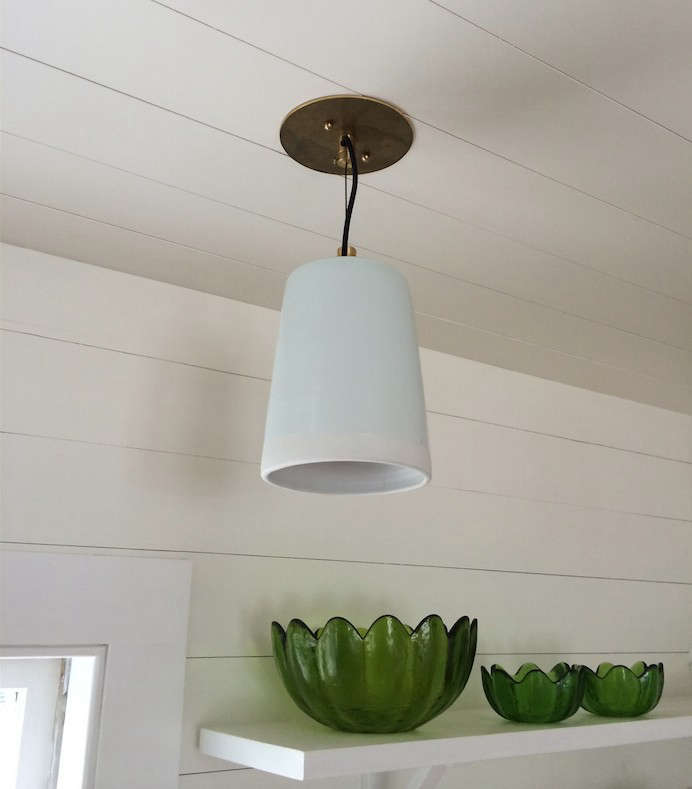 Above: "The pendant lights are by my friend Michele Quan of MQuan who makes beautiful ceramics and jewelry," says Lisa. "The lamps are celadon-dipped porcelain and the metal finishes are brass." Quan also makes Ceramic Bells Inspired by Japanese Temples.
Above: The countertop is Alberene soapstone, which Lisa bought directly from a quarry in Alberene, Virginia. "Sourcing the slabs from images at a distance was difficult, but I persisted because of the large cost saving," she says. "The slabs were shipped to a local fabricator, and I worked with him on setting up the patterning and seams. I love the waxy, warm feel of the stone, and this particular soapstone has a slight veining that adds depth and character without becoming too much of a pattern." Later today, see our Remodeling 101 primer on soapstone countertops.
Above: The carpenters who renovated the house also built the kitchen's wood cabinets and painted them Midnight by Benjamin Moore. "I designed the cabinets with lots of drawer access–I think it's easier," says Lisa. The existing Douglas fir floors weren't salvageable and were replaced with new Douglas fir. "Although the new Douglas fir doesn't have the color variation of the older wood in the rest of the house, the Bona Traffic matte lacquer that we used does a great job of pulling it all together."
Above: The island has two drawers and a powder-coated metal base of open shelves. "There are several items that I use every time I cook, and I love being able to access them so easily. Also, the metal is so easy to clean," says Lisa.
Above: The island's butcher block is called ambrosia maple; the sink side is detailed with a continuous grain waterfall edge achieved with a miter joint. The wood is named for the ambrosia beetle that burrows in maple trees, causing the darker coloring. Lisa's everyday plates, purchased as part of an auction lot, are easily accessible.
Above: On the inside of the island drawer, a spline-reinforced rabbet joint in contrasting wood tones is an example of Siosi's ability to, in Lisa's words, "take a common joint and make it into a beautiful and defining design element."
Above: "Working with Audim and Ivy was a definite highlight of the project, and having them show up at my door with the island after several months of emails and phone calls was like having long-lost friends appear for dinner," says Lisa. "Anyone who has done construction knows that there are often mishaps and frustrations. Having something go so well is worth taking note." Reluctant to see the duo go, Lisa commissioned them to design and build something else–a small writing desk for a corner of the kitchen.
Above: "I knew I wanted a spot in the kitchen for my laptop and for flipping through cookbooks," Lisa says. "Sometimes the island works for this, but it's also nice to have a chair with a back when you've been on your feet." The chair is part of a set of eight that Lisa sourced on 1stdibs. "They're Willemer Stuhl chairs from 1958 that German artist Markus Friedrich Staab painted in 2013."
Above: "The desk is in constant use as a place to plug in electronics," says Lisa. Contemplating your own remodel? See Remodeling 101: Where to Locate Electrical Outlets, Kitchen Edition.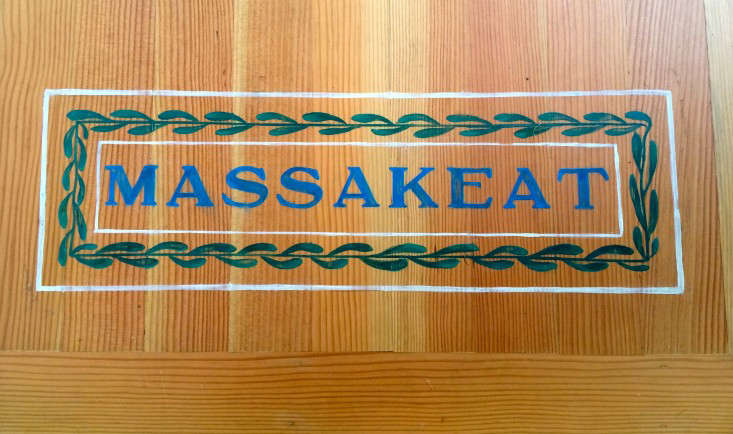 Above: The original owners named the house Massakeat after a character in The Maid of Montauk, a 1902 story by Forest Monroe. "The name was painted on the floor at the entry to the kitchen," says Lisa. "We just recently had it repainted where it originally was."
Before
Above: A decidedly different kitchen with a table in the center.
Above: A look at the walls that the Goodes removed to open up the space.
For more island inspiration, see:
On Gardenista, have a look at Brooklyn landscape architect Julie Farris's Rooftop Meadow, and read Michelle's domestic dispatch on The Unused Kitchen (for all that she wishes she'd known when she remodeled).
This post is an update; the original ran on June 25, 2015.