It all started when Alexa sent around an email with the subject line, "Have a favorite French cleaning tool?"
As the editors replied with their picks (you can see all of our selections here), I found myself reminiscing about the bittersweet year I spent in Paris, working as an au pair in the city's Seventh Arrondissement, living in an eighth-floor walk-up, desperately homesick but charmed by the tiny ways French everyday life was just a little bit more romantic than what I was used to. Women really did wear lipstick to pick up their kids from school. And for an afternoon snack I was supposed to bring the kids a fresh-baked pastry from the boulangerie, not a granola bar.
Sometimes these tiny differences only magnified my homesickness. (I kept returning to the line in Adam Gopnik's memoir Paris to the Moon: "This can shake you up, this business of things almost but not quite being the same. A pharmacy is not quite a drugstore; a brasserie is not quite a coffee shop; a lunch is not quite a lunch.") But they also started to show me that everyday rituals, with some care, can feel special.
Nowhere was this more apparent than—yes—at lunch. Once in a while, on Wednesdays, the two kids I cared for and I would be invited to their grandmother's house for lunch in her grand, full-floor Hausmannian apartment with period furnishings, gilded mirrors, and an Ikea kitchen. Even on weekdays—for a nine-year-old, ten-year-old, and myself, a woefully out-of-place nanny—the grandmother served three courses: a soup, followed by a slow-cooked chicken or a stew, followed by dessert (good cheese from the fromagerie or a box of chocolates). Lunch was served on a linen tablecloth, on the good china, with real silverware and silver candlesticks.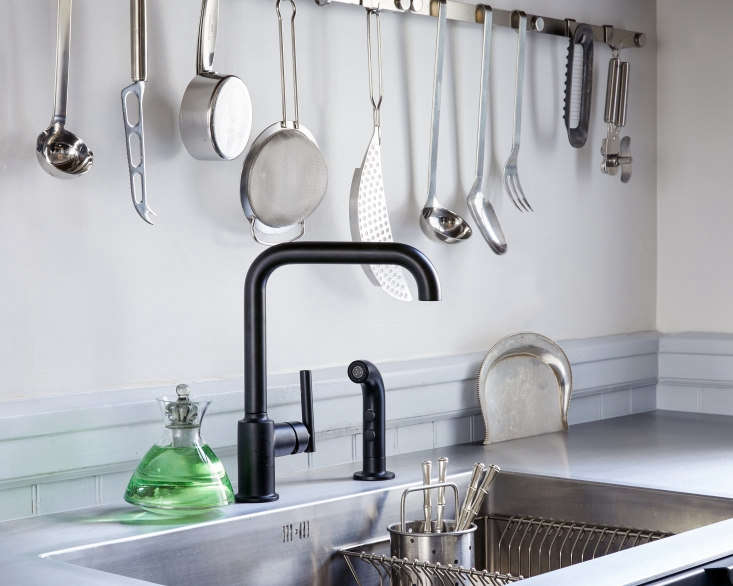 But the real ceremony happened between the meat course and dessert. The grandmother would briskly clear the plates and the silverware from the table, and from a sideboard procure a tiny silver crumber. With a flourish she'd whisk it over the table. The kids would watch in wonder as baguette crumbs seemingly vanished from the tabletop, and, voilá, the tablecloth would be clean and tidy, ready for a fresh setting, and for dessert. It was a moment of theater—and left a few moments to pause before the next course. An over-the-top and fastidious gesture for a weekday lunch with kids, sure, but it was also an example of how a humdrum chore could, with the right tool, become a charming little ritual.
Crumbers and sweepers come in many designs, from tiny pans and brushes to wheeled devices that roll over the table. They needn't be fancy; the French grandmother's was a silver heirloom (vintage varieties are plentiful online), but I prefer the slim, pared-back waiter's version, available for only a few dollars from online restaurant supply stores. And they needn't be French; in fact, according to this rather in-depth history, the curved metal table crumber was invented in the US, but has long been "part of an ancestral service tradition seen in French gastronomy." Now I'm ordering a crumber, at long last, to transform slap-dash weeknight dinners in my apartment into something a little bit sophisticated.
Here are a few I like, from least expensive to most.
Five to Buy
N.B.: Should you wish to buy in bulk, look to the Baltimore-based company that continues to manufacture The Original Table Crumber from the designs of the first U.S. patent. They also have these handy tips for use.
More (charming, old-fashioned, affordable) finds for the kitchen and table: