Like many conventions, we needn't think about entertaining in a binary way: either a fully tricked-out fancy dinner party that requires wedding-level execution or a super-casual gathering that has the vibe of a Super Bowl shindig. There's room for a bevy of other types of parties, and, to me, the sweet spot resides in that in-between area.
Below, hacks, tips, and ideas, from entertaining experts we've interviewed over the years, on how to throw a gathering that's beautiful and festive—but not fussy and stressful. It's advice we can all use—but especially if you're hosting Thanksgiving this year and aren't as prepared as you'd like to be.
1. Keep the centerpiece simple.
Don't forgo decorating the table in an effort to minimize the work of entertaining. But you don't need to do a whole lot to create an arresting tablescape."Start with the basics and a clean palette and then add a layer of interest that ties into the season or the meal in a simple, unfussy way. Lots of greens for spring or a feather on each setting for Thanksgiving. There are very simple ways to create beauty on the table. Rethinking textures for a new use is one of my favorite things to do—a vintage wallpaper as a table runner or a cheesecloth to wrap a gift or a newspaper to create a menu," suggests Karen Mordechai of Sunday Suppers. (See her wisdom in 10 Summer Entertaining Tips from a Hostess Extraordinaire.)
2. Mix high and low, new and vintage.
It's easy to get hung up on feeling like you need a complete set of fine china for your holiday table. Not owning fancy plates, though, shouldn't dissuade you from hosting a dinner party. When it comes to tableware, do what restaurateur Michelle Mannix does in her Cook Space Culinary Studio, a cooking school designed to look and feel like a stylish home kitchen and dining room: Source utilitarian everyday pieces, like glassware and plates, from Ikea; intersperse with a statement piece or two. In her studio, "most of the plates and bowls come from Ikea. The platters are a mix of vintage, from yard sales to ABC Kitchen & Home. The glassware is a mix of Ikea and vintage." (See The Effortlessly Cool Chef's Apartment: 9 Ideas to Steal from Cook Space in Brooklyn for pictures of her highly organized kitchen studio.)
3. Skip the wine glasses.
You know what else you don't need? Enough wine glasses for everyone. Maxine and John Gilbert, owners of the Parkside Cafe in Stinson Beach, California, rely on classic Duralex bistroware from France. "In addition to being nearly unbreakable and well-priced, these glasses are not as obtrusive on the table as traditional stemware (and their size keeps quantities sensible)," Sarah wrote in her story on the Gilberts' entertaining style, 10 Tips: How to Create a Laid-Back Thanksgiving, Northern-California Edition.
4. Serve bread on a tea towel.
Bread basket, begone. More sage advice from the Gilberts: "Linen is good for wrapping bread and keeping it warm and absorbing the heat moisture. Plus, it holds all the crumbs and looks so nice," says John.
5. Make a roast.
Take it from an expert, go for a roast. "I would say that a good roast is a great way to feed a crowd. It can often be left alone in the oven for hours and the sides and accompanying dishes are not as difficult to execute," says Mordechai.
6. Serve dinner buffet style.
There's certainly a place for formal sit-down dinners, but who wants to be responsible for serving the food? Certainly not you. After cooking and preparing for the event, you should be rewarded with the head-of-the-table seat to enjoy the company and food, not standing and serving. Opting for a buffet cuts out the need for hired help—and encourages mingling among guests. Win-win.
7. Set up the night before.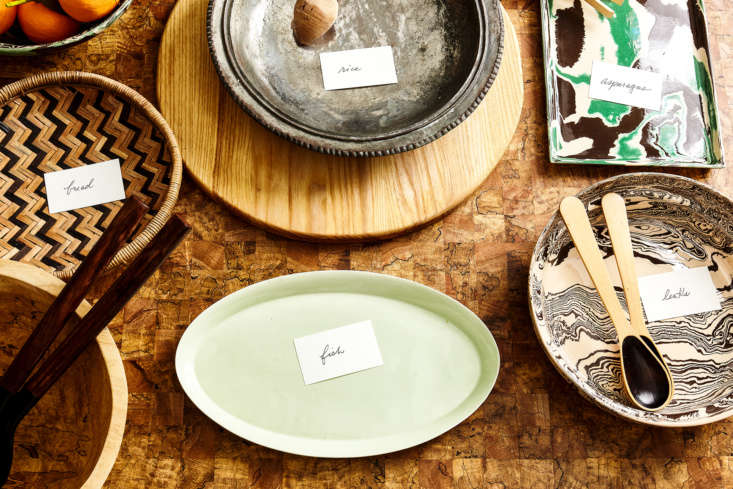 Here's party-planning advice from celebrated event designer David Stark: Label platters and serving dishes the night before. "I started doing it when we began doing big events and had to set up giant buffets. It's a great Thanksgiving trick," he says. "You're not running and hunting and gathering platters at the last minute. It's also a good task to assign to friends and family who want to help; it makes them feel like they're contributing. Just make sure you clean the platters in advance if they've been gathering dust in the pantry."
8. Embrace last-minute cooking.
It's inevitable: The guests have arrived, and there's still the whipped cream you have yet to make, the salad that needs to be dressed, the sauce that requires reheating. "I do as much as possible in advance. But when that is not possible, try not to fret. Guests love to join in the prep and help out. I feel it creates a lighter environment for all," says Mordechai. Frequent dinner party host George McCalman agrees: "There' s a real fraternity that happens when people come together to cook. Guests get very comfortable with one another right away. What I find with more formal dinners is that people are always holding their breath until they sit down for the meal. In my version, people are comfortable right away."
9. Clean up as you go.
Says Nadine Redzepi, renowned chef and cofounder of Noma: "If you wash dishes along the way, it's much easier than when they are left there and get crusty. If you are having people over and they offer to help clear the table and wash the dishes, let them! Don't just say, 'No, don't worry about it.' Put them to work!" (See Expert Advice: Nadine Redzepi's Secrets to a Well-Ordered Home Kitchen.)
10. Prep your garbage bins.
That feeling when a guest tells you the garbage is full and you don't want to tell him where he can find more bags, because they're stored in the extra-messy pantry? You can avoid that by simply lining your trash bin with extra bags (or even easier, just place extras inside the bin, under the current bag in use). And remember to label your trash and recycling bins so that there's no confusion.
More inspiration for your Thanksgiving dinner just ahead:
You need to login or register to view and manage your bookmarks.