I am 45, and despite having my own family, I have never cooked a Thanksgiving turkey before. Shocking, right? When I was younger, my dad would roast the bird (some years, it was chicken, which better suited my parents' Asian palate). And since I married, my in-laws, who live close by and have a larger home, have regularly hosted the holiday. All of which is to say, I know nothing about cooking a turkey.
For those of you in a similar (gravy) boat, we present The Faux Martha's Melissa Coleman, who is here to tell us what we need—and nothing more—to roast a delicious turkey. Here, in her words, the five essentials for a killer bird.
Featured photograph by Melissa Coleman, courtesy of the Faux Martha. (Click here for her fail-safe turkey recipe.)
1. Kosher Salt
"Soaking your turkey in a salt solution, a brine, is an easy and inexpensive way to insure a juicy and flavorful outcome with very little work. You'll need a navy blue box of coarse kosher salt for this recipe. "
2. Brining Bag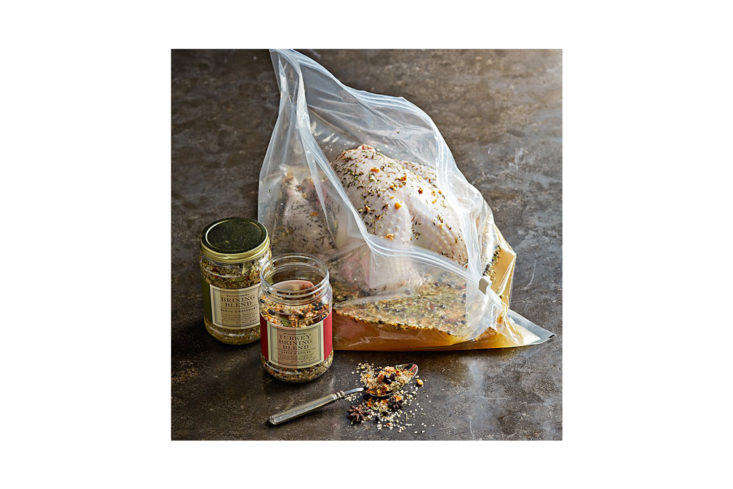 "In order to completely submerge the turkey in the brine, you'll need an extra large brining bag. Place the bag in a Dutch oven or large stock pot for easy transportation. Add the bird and then the brine. This is a two-person job. Carefully tie the bag closed, and soak in the fridge for 24 hours before roasting. I'm hoping by next Thanksgiving that someone will come out with a compostable brining bag."
3. Roasting Pan
"I've always opted for a disposable roasting pan for easy cleanup and zero storage. You can literally fold the pan in half and discard. However, I'm considering purchasing a reusable stainless steel roasting pan this year to lessen my trash waste. The leftover turkey carcass also makes for a delicious stock. Add it to a Dutch oven and top with water. As you cook Thanksgiving, save leftover food scraps, like the end of the carrot and onion, and add to the stock. Sprinkle with a bit of turmeric for added color. I have a simple recipe for this in my book The Minimalist Kitchen (page 107)."
4. Silicone Roasting Rack
"When I'm not roasting a large piece of meat, I use these roasting racks year around as trivets. They stack on top of each other for easy, minimal storage and wash clean in the dishwasher."
5. Leave-In Thermometer
"With a really good brine, there's no need to baste the turkey and lose heat energy from opening and closing the oven while cooking. For that same reason, you'll want a trusty leave-in thermometer to know when the turkey is ready. You can't trust the timer on this one."
For more from Melissa, check out:
You need to login or register to view and manage your bookmarks.