A few years back we featured the warm but streamlined Copenhagen kitchen of René and Nadine Redzepi (he, the renowned chef and cofounder of Noma). She, as it turns out, is a talented chef in her own right, employing restaurant techniques at home to craft meals that are elevated but attainable, "stylish and relaxed." In her book, Downtime: Deliciousness at Home, published, she deconstructs the ideal dinner party (a simple tip: "start with a potato," from homemade chips to potato skins with salmon roe, that guests can snack on while dinner's cooking), and reveals recipes both laid-back enough for a weekday dinner with René and their three daughters and sophisticated enough in case a chef friend drops by.
We couldn't help but wonder how the couple's home kitchen in the Christianshavn neighborhood of Copenhagen works for them, with its impressively clean countertops, lack of visible appliances, and artful curation. We asked Nadine to open her cabinets, so to speak, and share organizational tips for elevated cooking, how to maintain a well-ordered pantry, and where she keeps her most-reached-for tools. Here's what she said.
Photography courtesy of Garde Hvalsøe and Dinesen, except where noted.
Remodelista: What was most important to you in designing your kitchen?
Nadine Levy Redzepi: Space. I wanted a kitchen where there was enough room for a lot of people to be in the kitchen at once. We always had small kitchens before and I hated how the person cooking would get left out of conversations. Designing this kitchen, I wanted a place where everyone would fit, because when you have people over everyone wants to be where the food is.
RM: It looks like you keep your countertops impressively bare. What's your secret?
NLR: Really good storage space. The drawers and the cupboards have to function well. I designed my kitchen with a carpenter instead of an architect because the cabinets and countertops are wood, and we wanted someone who intimately understood that material.
RM: What's your rule of thumb for having a well-stocked kitchen that doesn't feel cluttered?
NLR: Have enough of what you need for your lifestyle. If you entertain a lot, you'll need more. But if you rarely cook for big groups, having a smaller set that you love makes sense.
RM: What organization principles from restaurant kitchens do you implement at home?
NLR: Restaurant kitchens taught me about how indispensable quality pots, pans, and knives are to home cooking. One piece of restaurant equipment I want to have at home, but don't own yet, is a Thermomix. Because they are essentially blenders that are temperature controlled, you can make mix almost any ingredients until they are completely smooth—I'd use one to make chili oils or herb oils.
RM: Any tricks for keeping the kitchen orderly when entertaining?
NLR: Clean up as you go. If you wash dishes along the way, it's much easier than when they are left there and get crusty. If you are having people over and they offer to help clear the table and wash the dishes, let them! Don't just say, "No, don't worry about it." Put them to work!
RM: Which unexpected tool in your kitchen gets a lot of use?
NLR: We have a Quooker faucet that pours boiling water straight out of the tap.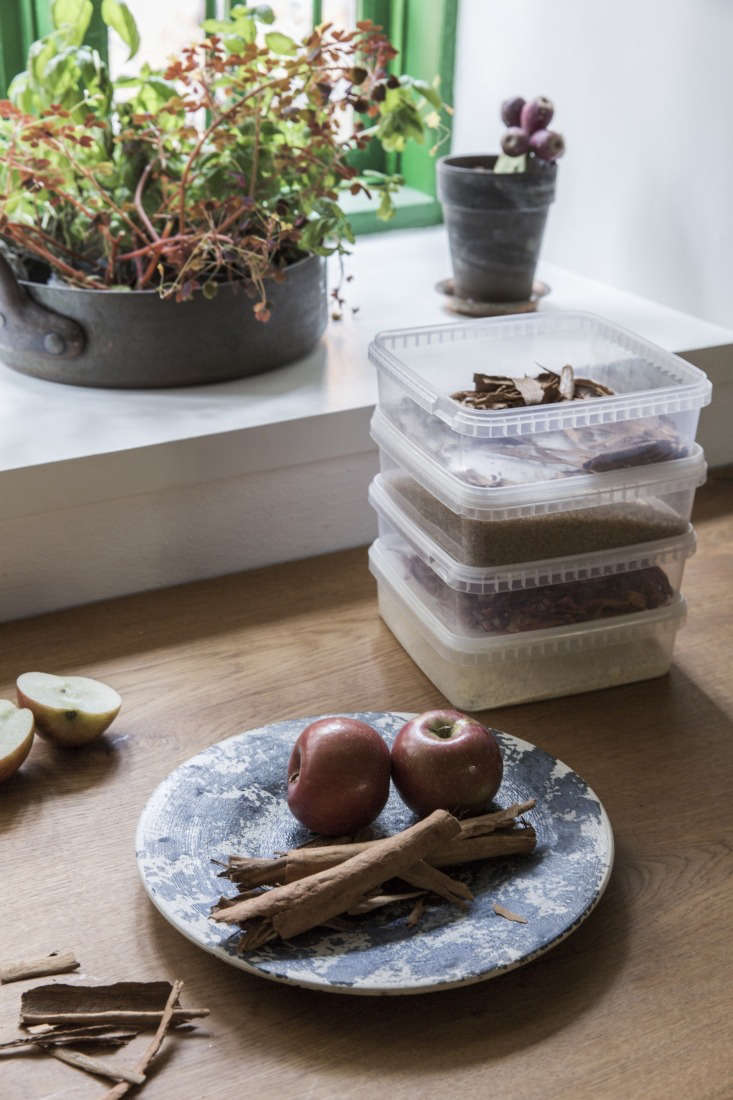 RM: What storage habit has transformed how you cook?
NLR: I use the same clear containers from Noma (similar to Tupperware) to keep ingredients organized. Because different ingredients like flours can look the same, I label the containers with the chalk-based marker to keep it all straight. Everything goes in those clear bins and gets a label on it.
RM: What kitchen tools do you find yourself reaching for the most (and where do you keep them)?
NLR: A frying pan, in a cupboard under the stove top. Rubber-tip tongs, in a ceramic jar on the countertop.
Above: Inside the Redzepis' well-ordered drawers.
RM: What's in your most-opened kitchen drawer?
NLR: I am always opening my knife drawer! It's in our kitchen island where we do all the chopping. I keep 10 to 12 knives. We have one Japanese knife that my three daughters use—my oldest is nine—because it's not pointy at the end.
RM: What is your favorite tableware? Where do you keep it for easy plating?
NLR: Next to the dining table, we use an old antique shelving system on wheels to hold our eclectic mix of ceramics. We have pieces that were created for the old Noma by Kasper Würtz. I also keep a set of tableware from each Noma popup; we have sets of plates from Japan, Australia, and Mexico. Just seeing them transports me back to the excitement and memories from those restaurants. (N.B. An added tip from Nadine in the book: Use small plates. "In general, I think very large plates are a bad idea. You shouldn't have to load the plate up to make it look full," she writes.)
RM: How do you manage the shopping?
NLR: I shop every day because I don't like to plan my meals ahead. What I want to eat changes daily, so I like seeing what I feel like, then going shopping.
RM: What about keeping your pantry streamlined?
NLR: My tip for an efficient pantry is to find storage containers you like and buy lots of them. Ideally they are stackable, which will make your life much easier.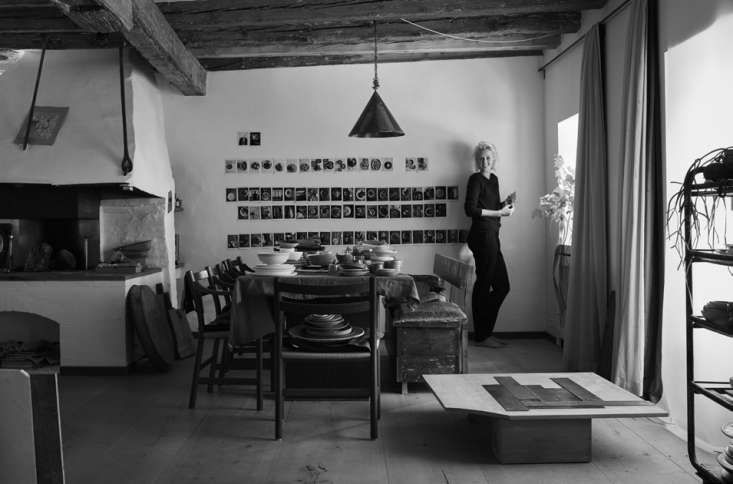 RM: What's on your kitchen wish list?
NLR: Thermomix and Pacojet.
"You might expect the home kitchen of a chef and his family to be tricked out with space-age appliances and all the latest high-end gadgets, but I've always believed you don't need a ton of expensive equipment to make great food," Nadine writes in the introduction to Downtime. "Until quite recently, we have always lived in rental apartments, with average appliances and not a lot of storage space for kitchen gear. … I have a very good oven, a few small appliances, and a handful of simple tools."
N.B.: This post is an update; it was first published on Remodelista on November 3, 2017.
More organizational ideas for the kitchen: