Welcome to Your Weekend Project, featuring how-tos and ideas from our archives for an organized and inspired home.
A few winters ago in New England, there was only one topic of discussion at any party or gathering: ice dams ("accumulated snow on a sloping roof that melts and flows down the roof, then refreezes, preventing snow from properly draining and resulting in roof leaks," according to Wikipedia). Specifically the extensive and expensive interior water damage they caused.
All fine for my painted walls. But what about those with wallpaper? Especially vintage wallpaper that cannot be replaced. Here I turned to the Internet. The consensus from several articles: Use bleach. I decided to give it a try.
Materials:
Bleach
Distilled water
Several rags and/or sponges
Measuring cup
Bowl
Dish detergent
Most "water stains" are not actually caused by the water itself but from the tannins in the wood behind the paper, which dissolve when they come into contact with the water. Often these can be eliminated with a little bleach mixed with distilled water. (For oil and grease stains, try a white eraser.)
One note: Because my wallpaper is so old, contacting the manufacturer was not an option. But the first step in any wallpaper cleaning DIY would typically be to ask the maker for recommended treatments.
Step 1:
If your walls are dirty, use a little dish soap mixed with water to gently clean the walls. Be sure to thoroughly squeeze any excess liquid from the cloth so as not to create more stains.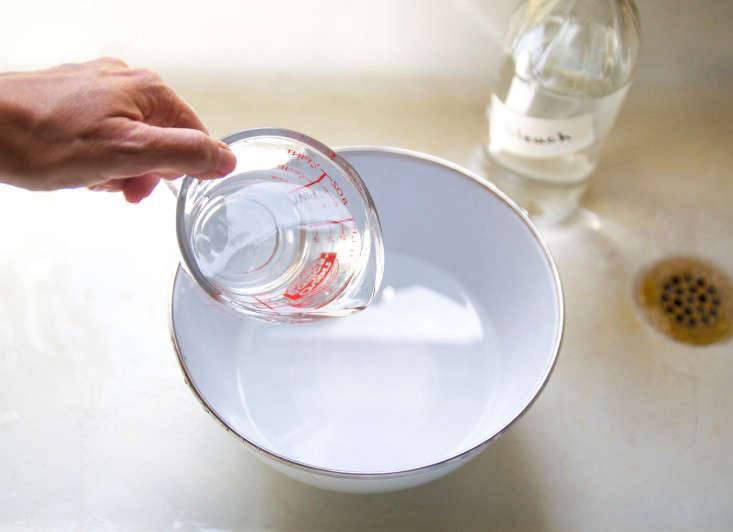 Step 2:
Mix one part bleach with two parts water.
Step 3:
Warning! Before you start wiping down a whole area, be sure to test a small spot that's not in plain view. Dip the edge of your sponge into the bleach solution (you may want to wear gloves). Using the edge of the bowl, squeeze out any extra liquid. Then gently dab the stained areas. You can also use a cotton ball or, for small areas, a Q-Tip.
Step 4:
Be careful not to apply too much water; you want the stain to disappear, not get worse. After applying the solution, dab with a dry cloth to prevent further staining.
Step 5:
Let the bleach solution rest for 5 minutes, then "rinse" or blot again with a wetted rag. Allow your paper to dry thoroughly before applying a second coat on any stubborn stains. (I had to apply the bleach solution twice on those dark stains toward the bottom.)
N.B.: This post is an update; it was first published on Remodelista on August 18, 2015.
Want more DIY cleaning solutions? Try: