Twenty-five-year-old architects Hélène Pinaud and Julien Schwartzmann met at the Strasbourg National School of Architecture and became not only a couple but collaborators. Taking inspiration from Japanese and Scandinavian simplicity, the two specialize in putting common materials to creative use.
Since graduation in 2015, they've been running their own Paris studio, Heju, where they design apartments, boutiques, and events. In between all of this, they dreamed up DIY projects, and, in seemingly no time, found themselves with so many winning ideas that Hachette published the collection as the book Design It Yourself: 35 Objets Design à Petits Prix et à Faire Soi-Même.
Hélène and Julien post their latest DIYs on the Heju blog, which is where we discovered them. They kindly agreed to share several with us, and this project—a metal mesh wall organizer that the duo designed for fashion brand Marie Sixtine (see The Chicest New Guest Pad in Paris)—is the first one we're presenting. The organizer was created with Marie Sixtine's office in mind, but it's a catchall that can work just about anywhere, from entry to kitchen to closet.
Photography by and courtesy of Heju.
Tools and Materials
Panel of perforated metal strong enough to stand up on its own. Hélène and Julien used a sheet of 100-by-60 centimeter (39.3-by-23.6 inch) gold anodized aluminum, €55 (approximately $67.25) from Leroy Merlin, that they had cut to 80-by-60 centimeters (31.4-by-23.6-inches). Find similar options for less, and in a range of patterns including circles and clovers, from Home Depot, Lowe's, and online sources such as Metals Depot.
Leather remnants. If you don't have your own supply (an old belt can work), Justin Boot Co. sells boxes of Oil-Tanned Leather Remnants on eBay for $14.
Circular cork trivet. Ikea sells Cork Trivet 3 Packs for $3.99 and World Market's Round Cork Trivet 3 Packs are $4.99.
Sturdy cardboard boxes sized to hold scissors, pens, and plant pots—or whatever you want. Recycle boxes, build your own from scraps, or find them at craft stores.
Thumbtacks, brass fasteners, and a gold binder clip, all available from stationery stores
Primer, paint, and paint brush
Box cutter
Small metal gimlet (a hand drill for making tiny holes). An all-metal French Set of 4 Gimlets is $19.95 from Lehman's. A red-handled Gimlet Set 4-piece  is $4.99 from Japan Woodworker.
Instructions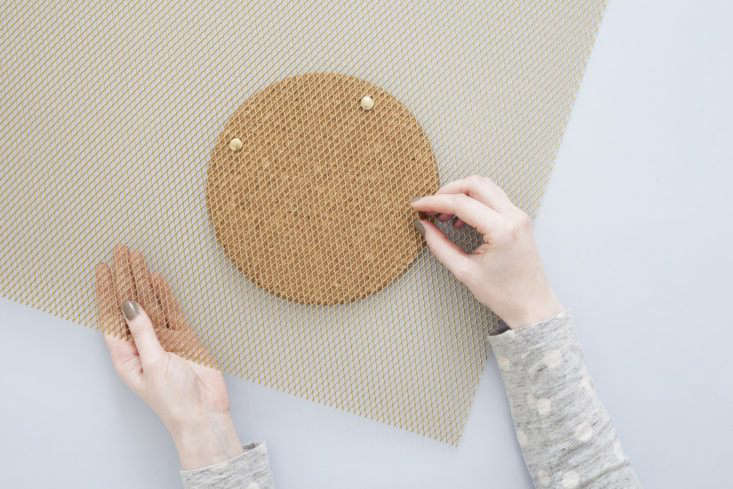 The Finished Look
Go to DIY to find more things to make. And for instant wall organizers, take a look at: