Spotted lately: wire baskets with a vintage vibe used as wall storage (in the bath, the kitchen, the nursery, anywhere where clutter collects).
Kitchen
Above: Create an instant pantry with wall-mounted wire baskets, via House & Home.
Above: Baskets as utensil storage at Brook Farm General Store.
Above: The wall-mounted Fintrop dish drainer frees up valuable counter space; $14.99 from Ikea.
Bath
Above: A wall-mounted wire basket as necklace organizer, via Smile and Wave.
Above: Towel storage via Hunter's First Home on AT.
Above: Toilet paper storage via Modern Frills.
Children's Rooms
Above: Wall-mounted storage in a nursery via Hello Hue.
Above: Toy storage via April and May.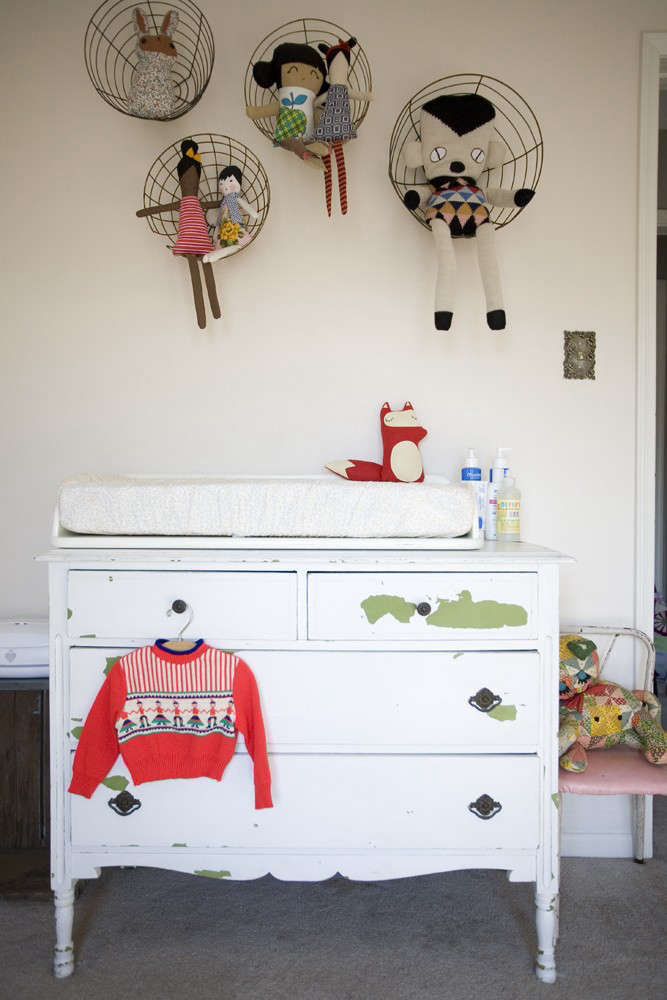 Above: Circular baskets as stuffed animal holders via Bleu Bird Vintage
Entry
Above: A Fog Linen basket from Father Rabbit in New Zealand hung in an entryway offers storage opportunities for mittens, gloves, hats, etc. For sourcing ideas, go to Down to the Wire: Baskets with Style.
For more storage ideas, see 7 Baskets as Wall-Mounted Storage and 5 Favorites: Leather Baskets Too Pretty to Hide.