Come summertime, I make it my mission to escape the steaming sidewalks of Manhattan and head to the coast of Maine, where I grew up, as many weekends as possible. But getting there quickly and cheaply can be a challenge, and I've recently discovered—after years of making the trek on the train, the bus, and driving in Friday traffic—that flying is the way to go: On a clear day, it's a 40 minute flight; as soon as you reach cruising altitude and put your seat back, the captain announces that it's time to prepare for the initial descent into Portland. And tickets can be a steal, so long as you book well in advance.
The only hitch? As with many airlines, the baseline tickets I booked for this summer allow only for a carry-on bag, unless I pay an extra fee. No problem, space-wise: For a weekend I need little more than a pair of running shoes, a swimsuit, and a good crime novel. But it was an issue vessel-wise: I come from a family where we throw our things into any old bag for a trip, be it a backpack or an oversized L.L.Bean tote bag. And so, a few weeks ago, with my first summer Maine jaunt only a few days away, I found myself woefully without luggage that both fit carry-on regulations and was sturdy enough for lots of use. (And, though I suspected my L.L.Bean bag would be in good company onboard, I doubted the airline would let it into the overhead compartment.)
So I went to my go-to for both expediency and price: Amazon. Turns out, their new AmazonBasics line has a surprisingly good-looking collection of hard-shell suitcases. I opted for the 20-Inch Hardside Luggage in black (at 14.4 by 9.2 by 21.6 inches, it was within the airline's carry-on guidelines) for $49.99, deliverable the next day with a Prime account. It arrived 24 hours later, and I packed my start-of-summer essentials and set off for the airport. How has it held up over three trips (and counting)? Read on.
The Review
When the suitcase arrived (the next day), it was compact and sturdy, with four spinner wheels (so you can pull it alongside or behind you). It's deceptively roomy: compact from the outside, but capable of holding even more than my few changes of clothes, a bulky sweatshirt, running shoes, and one too many books. No one questioned the carry-on size at the airport and, save a few scuff marks and scratches, the wheels have held up over curbs, subway grates, and cobblestones on my frantic quest to get to JFK.
My only qualm: the telescoping handle is slightly finicky, and sticks a little when I pull it into full extension. I'm keeping an eye on it.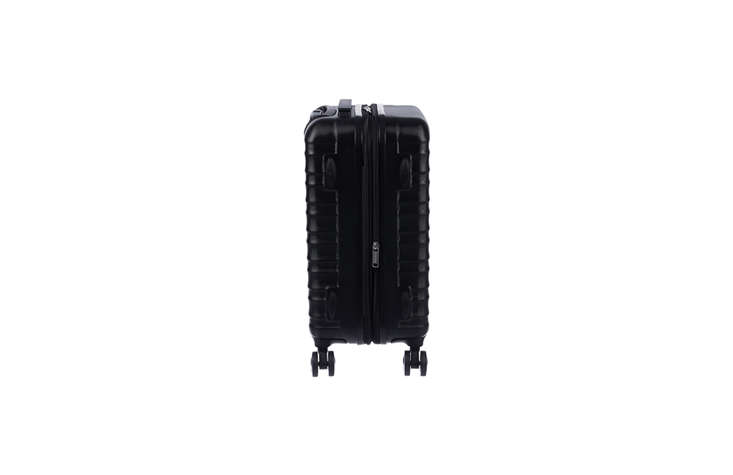 The Bottom Line
While I'm not sure this is the kind of luggage that will last a lifetime—like other, pricier versions might—this one is all I need for now, for price and ease of delivery. It's held up over three weekend trips already, and we're only midway through June—a successful summer, I'd say.
More luggage and tips for organized, streamlined summer travel: