We recently dropped in on culinary icon Alice Waters in Berkeley to take a tour of her kitchen. The occasion? Alice's daughter, Fanny Singer, recently launched Permanent Collection—a new line of home objects and women's clothing and accessories—so we asked Alice and Fanny to model pieces from the collection and show us around Alice's kitchen. Join us for a tour.
N.B.: Fanny will be at the Remodelista Holiday Market in San Francisco at Heath Ceramics this weekend; drop by to check out the collection and to say hi.
Photography by Daniel Dent for Remodelista.
Above: Alice wears the Agnes wool coat and Blunk Double Hoop Earrings, both from Permanent Collection. "Our moms look great in these clothes," Fanny says. "When my partner Mariah Nielson and I were trying to conceive of our customer, it became obvious that she was aged from 25 to 75. We've seen the clothes on an incredibly diverse mix of people, and we love that."
Above: Alice's kitchen is anchored by a vintage worktable. "I think there should be a whole lot of flexibility in the kitchen," Alice says. "Sometimes you just want to bring everybody around the kitchen table, or sit on stools, or just clear out everything and make it into a dance floor."
Above: Displayed on the island is a set of four white porcelain Blunk Cups from Permanent Collection, cast from originals made by California artist J. B. Blunk—father of Permanent Collection cofounder Mariah Nielson—between 1950 and 1990.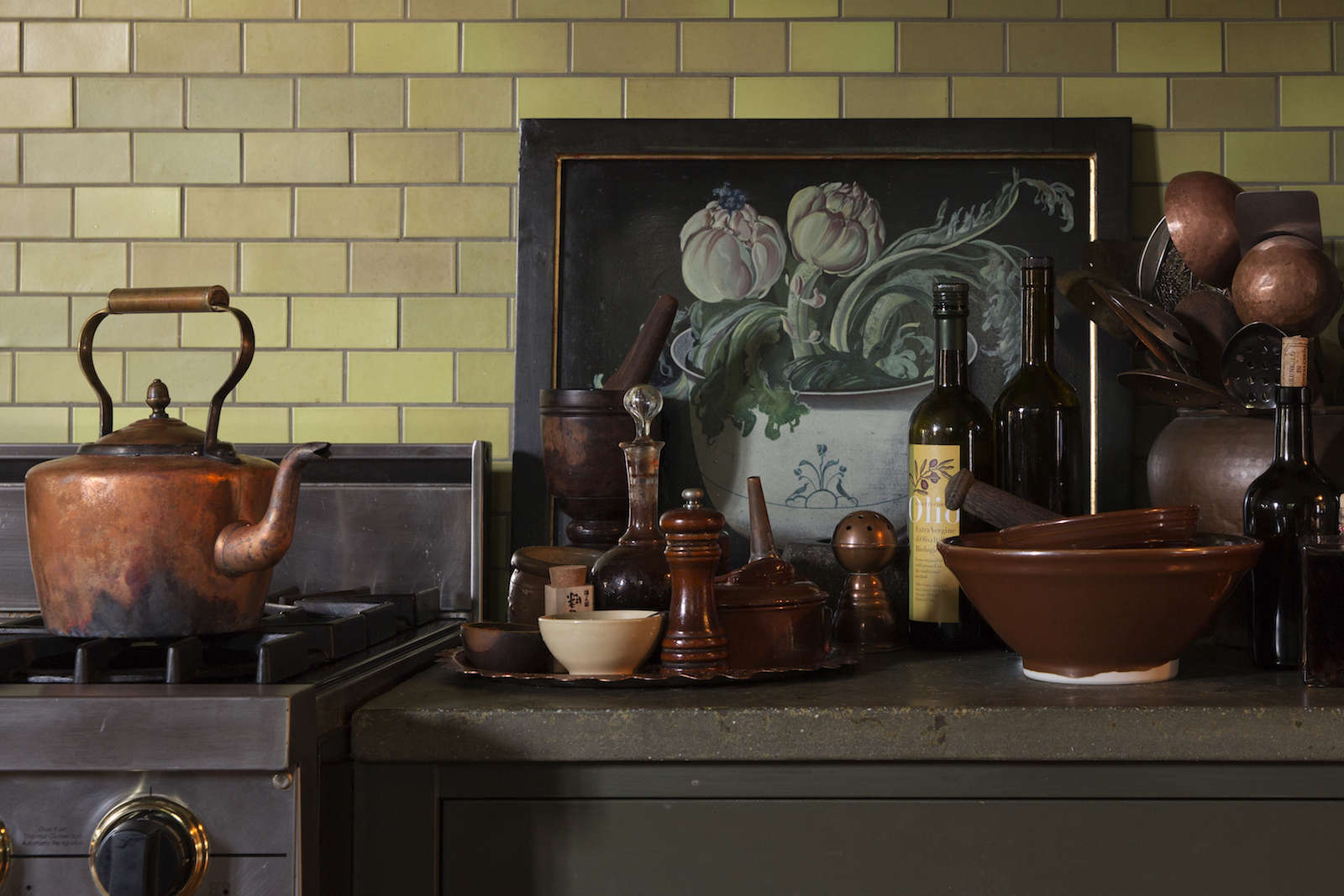 Above: Alice stocks her kitchen with antique tools and serving pieces she's sourced from around the world. "I really like that aspect of things being traditional and worn and used," she said. "I just love the charming irregularity."
Above: "I like to sort things according to color, and size, and use," said Alice. "I keep my wooden spoons together and my metal spoons in a separate container." Alice's kitchen backsplash is tiled in mixed green Field Tiles from Heath Ceramics.
Above: "I think it's important to have a big sink," Alice says of her copper trough sink. "It reflects back and makes you feel really good when you're working or washing dishes." The kitchen countertops are green stained concrete. "I don't like countertops that are so finished and polished that they're impervious to everything," said Alice. "It feels very strange to not have things used in the kitchen."
Above: Even the compost bin is beautiful: Alice tosses scraps in a copper pail and empties the contents as soon as it's full.
Above: Fanny at the fire, in a slate Sturtevant Belgian linen jacket from Permanent Collection, which has a Japanese-inspired silhouette. While she was growing up, Fanny says, her family cooked on the fire about three nights each week.
Above: "This is the legendary egg spoon," says Fanny (it's made by Alice's friend Angelo Garro of the Renaissance Forge in San Francisco). "My mom makes me an egg in it whenever I come home. It's like the seduction of the return." Alice makes a small oven of coals in the fire, cracks an egg into the spoon and sets it in the fire until the egg inflates like a soufflé. "I saw the technique in a book about the magic of fire," said Alice, "with illustrations of cooking in the fireplace around the world. I said, 'Oh, how beautiful—I can cook an egg in a spoon.'"
Above: Fanny admires Alice's vintage cranberry glass tumblers, found in an antiques shop in England. She estimates they're from 1890 to 1910, and may have been used for wine or tea. "It's really atypical I think for the Victorian era," she says, "for something to be so unadorned."
On Fanny's wrist: the Blunk Bangle from Permanent Collection, a limited-edition replica of a 1965 design by J. B. Blunk.
Above: Alice picks her favorites from stacks of cafe au lait bowls sourced over the years from flea markets in France. Those she collects were typically made between 1910 and 1930, says Fanny, by Digoin or Sarreguemines. When Cafe Fanny—her mother's second restaurant—was founded in 1983, "the idea was to have a very French, stand-up cafe, and it was one of the first American cafes to serve coffee in bowls," said Fanny. "Many of these are actual Cafe Fanny bowls."
Above: Alice's favorite suribachi Japanese mortar and its wooden pestle, her antique French cafe au lait bowls, and a copper ladle.
Alice says the mortar is "indispensable"—it's scored on the bottom to make quick work of garlic for vinaigrettes: She mashes the garlic with salt, adds vinegar, and lets it rest before adding olive oil. The wooden pestle was made for her by Bob Cannard, longtime farmer for Chez Panisse.
Above: A trick for keeping the kitchen smelling nice: Alice sears a rosemary sprig on her gas range and leaves the embers on a burner to smoke and eventually fade. The aromatic effect is heady and hospitable.
Above: Alice keeps a basket of ginger root, shallots, garlic, and herbs on hand at all times.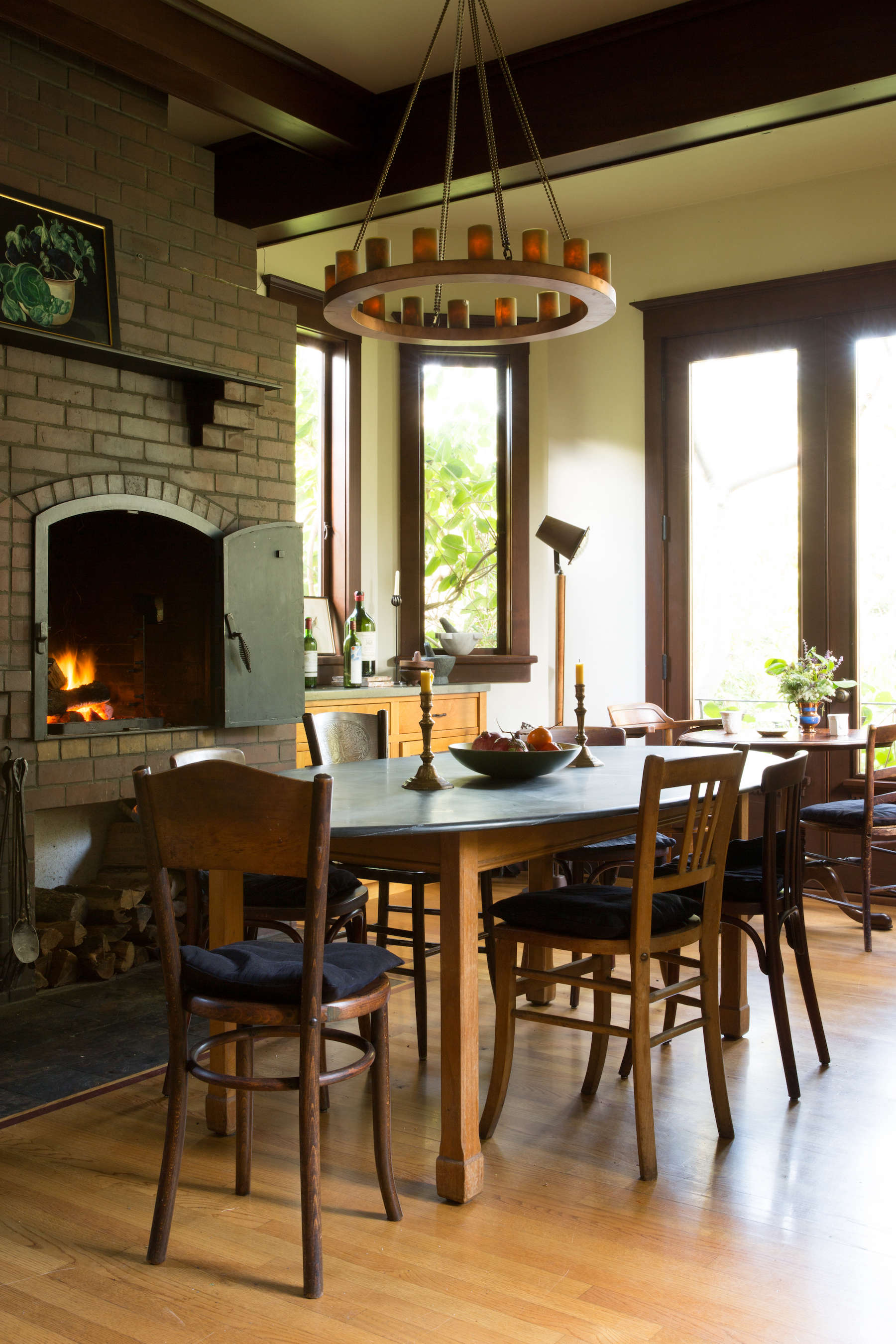 Above: The dining room (and fireplace with pizza oven) is an extension of the kitchen. The Scandinavian dining table is from The Gardener, the beloved Berkeley shop owned by Alice's friend Alta Tingle. "I wanted a table that wasn't square on the ends," Alice says.
Above: When Fanny is home, she and Alice have breakfast at the cafe table overlooking the garden every morning. Fanny composed the flower arrangement—"I could have a side career as a florist," she says—and cites as her formative teacher the legendary Chez Panisse florist Carrie Wright. Wright grew her own flowers and foraged for foliage around Berkeley to create such masterpieces that people would visit the restaurant just to see the flowers. "We take it for granted now that more flower arrangements look like that, but nothing did then."
Shop Permanent Collection in person at the Remodelista Market San Francisco, Saturday and Sunday, December 10 and 11, at Heath Ceramics, 2900 18th St.