The Little Duck Picklery, which opened in Dalston, East London, in December, is full of home-cooked aromas. A just-baked rhubarb, lemon, and ricotta tart sits on the vast concrete island that dominates this diminutive space. Raw Mediterranean ingredients—winter tomatoes, quinces, lemons—mingle on the island before getting tossed into rustic braises and pies. Patrons, who, in such tight quarters, can't help but get a close-up view of what's cooking, may feel more like a dinner guest at someone's home than at a restaurant—and that's exactly what the owners wanted.
This is the third eatery from the Little Duck team, founded by business partners Clare Lattin, Tom Hill, and Rory McCoy. "It seats just 28 people, so it's on a very domestic scale," explains Lattin. And its simple and inexpensive storage solutions are easy to replicate at home. Here's how.
Photography courtesy of Little Duck Picklery.
1. Hang pots, pans, and more from a ladder rail.
Sure, you can can buy a metal pot rack, but this solution is much more creative, charming, and economical. "Tom found this ladder on the street, and we painted it black and hung it up. We were going to build a steel structure, but this works perfectly," Lattin says. The overhead ladder loosely demarcates the open-plan kitchen and keeps colanders and pans, not to mention their homemade charcuterie, within easy reach.
2. Keep utensils and mugs on a pipe rail. 
Frugal and functional, copper piping is used to hang everything from charcuterie to homemade labneh at the Picklery. Here, a triple run of copper piping and S hooks encircles a corner in the kitchen to maximize storage opportunities.
3. Consider an open larder to store and display.
When what you're storing is actually quite beautiful, by all means, put it on display. The Picklery was conceived as an experimental kitchen that specializes in seasonal organic ferments, pickles, drinking vinegars, and kombucha. These are made and bottled on site and available for purchase. A vast grid of cubbies provides a way to store and display the kitchen's dry goods (lentils, beans, etc.), fermentation crocks, and jarred, pickled produce.
4. Corral produce in baskets.
Natural baskets are used in the Picklery to hold alliums and tubers. They are tucked under the concrete counter, which was set and cast on site by architect Seng Watson.
5. Maximize storage by adding shelves to windows.
The glass-fronted restaurant has two bay windows for tables of up to five people. Above each table, a copper piping shelving system, painted white, supports a minimalist display of products and ceramics.
6. Turn a broom into a Shaker peg rail. 
On one side of the interior, a row of shaker pegs breaks up the expanse of painted cinder blocks while providing crucial hanging storage (shown above). "The pegs were made by Seng from a chopped up broomstick handle," Lattin says. They are used in the restaurant to hang outerwear and upturned brooms. On the opposite wall (shown below), horizontal cladding painted a putty color and an old oak dresser (an eBay purchase) warm up the space.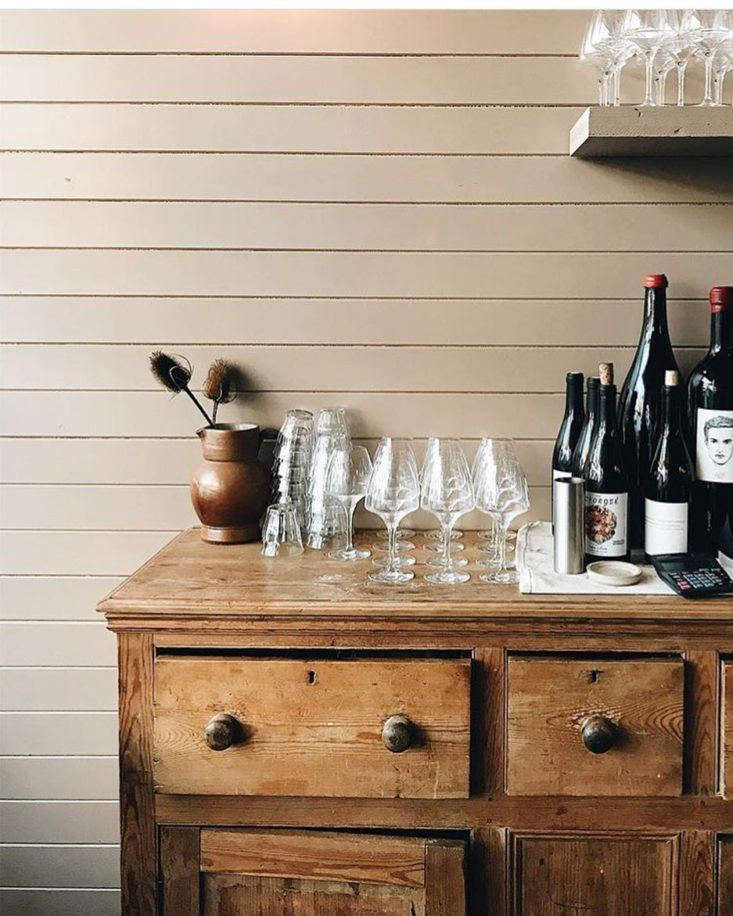 Inspired to organize your kitchen? Read on: