Around this time of year, when my sisters and I migrate home for the holidays, we become what my dad calls "fire gloms." We can't help it. My parents' house is never exactly toasty, and the roaring fire in the kitchen fireplace is the perfect spot for gathering. Enter the house during the winter and you'll no doubt see all four of us lined up, bums toward the fire.
Of course someone needs to keep the fire roaring, so a few years ago I generously gave my dad a log carrier to help him with the task.
Here's a roundup of 10 firewood log carriers, perfect for toting logs from woodshed to fireplace, without snagging sweaters or mussing rugs in the process.
Above: This is the Log Carrier I gave to my parents a few years ago. It's 19.5 inches wide by 43.5 inches long and made from twill and bridle leather; $88 from Filson.
Above: The Steele Canvas Log Carrier is on sale for $103.20 from Rejuvenation.
Above: The Shanty Man Log Carrier is made of waxed canvas and leather straps from dead stock WWII leather gun slings. Brass grommets lend an extra layer of support; 18 inches wide by 38 inches long and $142 from Peg & Awl via Etsy.
Above: The leather and canvas Firewood Sling is 21 inches wide and 52 inches wide and is $140 from Frost River.
Above: A less expensive alternative, the Log Carrier, is 18 inches wide by 56 inches long and is made from waxed canvas and wooden dowels; $80 from Frost River.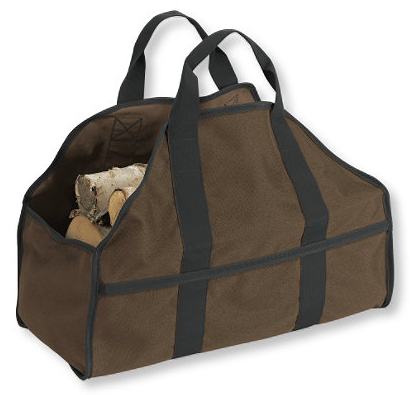 Above: A Dura-Tough Standing Log Carrier made of canvas  is $39.95 from L.L. Bean.
Above: I'm a big fan of Beckel Canvas tents and duffles, so no surprise that I love the classic canvas look of this Log Carrier made from 20-ounce canvas duck with 2-inch cotton webbing wrap; $32 from Beckel Canvas.
Above: The Canvas Firewood Tote is made from 18-ounce canvas and polypropylene and cotton webbing that's been triple-stitched for strength; $65 from Patzbag.
Above: Made of cotton canvas with a heavy duty leather handle, a Firewood Log Carrier is $59.95 from Duluth Trading.
Above: The Carrier Company offers an all-jute Log Carrier that measures 52 by 95 centimeters; £36.
Have a lighter load to carry? See A Bag for Kindling. Stay warm: see 10 Easy Pieces: Freestanding Wood Stoves.
N.B.: This is an update of a post published on December 4, 2013.