Let's be honest: electrical cords, power strips, and personal devices are not always appealing; particularly when they're snaking all over the house. Here we've rounded up the 10 best ways to regain control without completely sacrificing style.
Above: WrapWrap is an innovative wire management tool that brings an element of simplicity and craft to the task of taming electrical cords. Carved from walnut or oak, Wrap Wrap keeps your iPod or mouse cables under control. Designed by Naoto Yoshida for to.mo.ni of Japan; 2 inches long, prices range from $20 for the small to $30 for the large from Mjolk.
Above: An attractive storage option for laptop cords, the Restore Basket from Muuto is available in blue (shown), green, and light gray; $99 from Design Within Reach.
Above: The conceptual Bosco Cutting Board by Italian designer Andrea Ponti is made from Gingko wood and features a base that holds your iPad upright while using the cutting board; via Fast Company.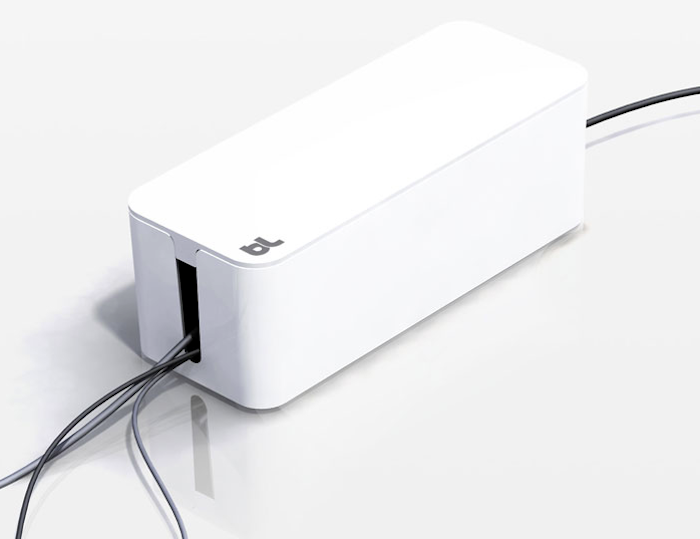 Above: The Cable Box Organizer allows you to store surge protectors, power strips, and coiled cables; available in white and black for $30 from A + R Store.
Above: Instead of leaving the phone on the ground or dangling from an electrical outlet, Drinn's Cell Phone Charger Wall Holder keeps your phone and wires neatly in place while charging; $9.12 from Amazon.
Above: The Felt Laptop Cover protects the MacBook Air perfectly, enveloping them in Swedish felt made out of recycled plastic bottles. The enclosure features a brass button and leather tie. It's available in dark brown, light and dark gray for €42 from P.A.P.
Above: The iPhone Stand and Dock charges and syncs your iPhone and is made from ash wood in the US; $33 from Icolio on Etsy.
Above: Blue Lounge's Cable Clips keep cords organized and untangled; $10 for six small clips, four medium clips, or two large clips from A + R Store.
Above: Blu Dot's Juice Box Digital Dock organizes media while charging devices; $99 from Design Public.
Above: The Wall Cleat is a subtle way to wrangle in your long computer cord. Designed by Karl Zahn, the cleat is available through Boiler Design.