Four years ago, Ellen Prasse, an art teacher, and her partner, artist and writer Kate Oliver, who were living in a small Southern town, found themselves in a rut. Looking to change the course of their lives (both literally and figuratively), they bought a vintage Airstream, documenting the yearlong renovation process via their Instagram account @themoderncaravan. During that time, and throughout their subsequent eight months of travel, the couple found a community of like-minded people looking to simplify life and reduce their carbon footprint, all while maximizing their freedom and experience by living on the road. They quickly realized that there was a potential business, but, as Kate noted, "We'd need to do a second one first."
With their second Airstream under their work belts, Ellen and Kate decided to take The Modern Caravan on the road. Their business, creating custom-crafted interiors for vintage Airstreams, officially launched last January. "Within the first week, we had a dozen inquiries for potential renovation jobs, and by the second, nearly 30."
Photography by Kate Oliver.
Kate and Ellen gutted their current vintage 1977 Airstream, which they named June, after the month they officially started traveling for their business. "Our current Airstream project came to us in pretty rough shape," they admitted. Doing all the work themselves—they don't hire contractors—the couple stripped the trailer to its exterior aluminum skin and rebuilt the entire interior.
Kate and Ellen learned their construction skills as "little helpers" to their dads, both of whom built and/or renovated homes. But before launching their business, the couple used their second Airstream to really hone their skills. Working with Airstreams is different from any other kind of renovation, they say. "It involves an understanding of the way trailers shift and move as they are hauled, of electrical and plumbing systems, a careful consideration of materials and weight, as well as the nature and characteristics of old trailers."
Kate, who acts as lead designer for the Airstreams, sees her "expensive tastes" as a challenge, not an obstacle. "I really wanted walnut countertops and surfaces for our Airstream, but readymade, they were out of our budget. We made our own, and they're perfection—and we saved several thousand dollars in the process."
"When crafting a design plan, I carefully consider how we behave in the space," Kate says. "Tiny spaces are entirely unique in comparison to traditional homes I've designed. The practical aspects of the trailer interior are not to be ignored, and I begin by addressing the necessities first and foremost, such as the need for onboard water tanks and inlets."
Working with small spaces, Kate and Ellen note, is like a jigsaw of the practical and the aesthetic. Clean, modern lines and a minimal palette keep the space from becoming too cluttered, while natural materials add warmth, texture, and personality to the space.
Originally, the couple were planning to renovate an old tour bus or school bus. "We settled on an Airstream instead after sorting through all of our checklists: safety, accessibility to campsites and proper insurance, function, quality, and aesthetics. Airstreams are iconic: They are built to last, hold their value. We loved that we could unhitch our 'house,' leave it at a campsite, and go exploring or run into town for supplies, which gave us much more versatility while traveling."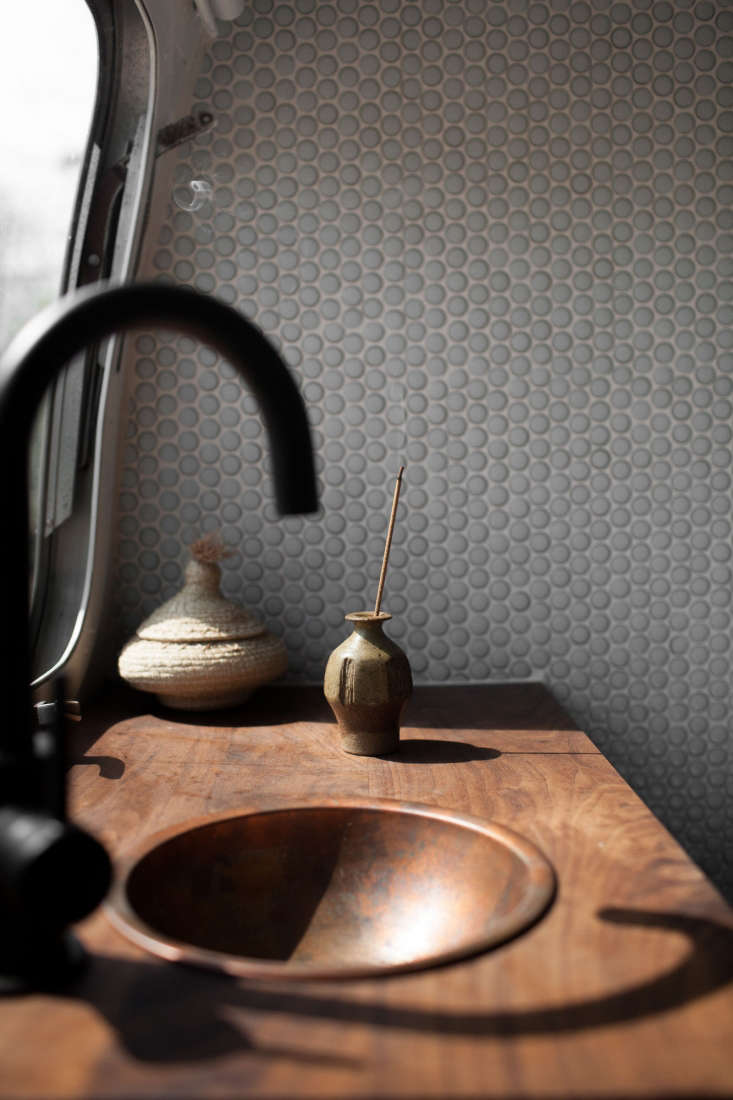 Honoring the history and durability of the exterior, the designers select similar interior materials that mature with use and over time. "The materials we choose aren't based on trend but chosen based on feeling."
The couple notes: "There is a perception that campers are associated with retired people or backroad junkyards. The way we build them out is changing that perception. We are making mobile tiny homes for folks of all ages wanting more out of life—modern, current spaces that become vessels for transformative living."
The Modern Caravan philosophy goes deeper than merely creating great spaces. "The progression to living tiny and creating a well-designed miniature space is a highly emotional, thought-provoking process that prompts us to reflect on how we live our lives and what truly matters. Our aim and hope is to inspire people all over the world to consider every choice we make, and to choose intentional and purposeful living. This starts with the design of the homes we inhabit."
N.B.: This post is an update; it was first published on Remodelista on March 31, 2017.
Dreaming of life on the road? Here are more inspiring mobile homes from modern designers: