As a child, London Terrariums founder Emma Sibley liked to design dollhouse-sized landscapes, arranging tiny rocks to form ponds and paving paths with pebbles.
In a Bermondsey studio where a hobby has grown into a business, Sibley creates terrariums (often with foraged local finds) for private clients, as well as for local restaurants and shops.
"We made our first terrarium using what we could source from our immediate surroundings; stones from our driveways, moss from the garage roof, cuttings from our house plants and hand-made tools from wine corks and garden sticks." she says.
Photography by Al Hartley courtesy of London Terrariums.
Above: Sibley and London Terrariums co-founder Tom Murphy moved the workshop into the studio last autumn.
Above: A Demijohn terrarium ($80) comes in a bottle sourced from a UK supplier. "Originally used for brewing beer and wine making, the Demijohn is the perfect vessel for a terrarium," Sibley says. "Both its iconic silhouette and 'ship-in-a- bottle' novelty make the Demijohn a beautiful living ornament in any home."
Above: Plants in the Demijohn include variegated Ficus pumila, Fittonia albivenis, variegated Hedra helix, and Leucobryum glaucum (cushion moss).
Above: One of Sibley's favorite sources for plants and supplies is the New Covent Garden Flower Market.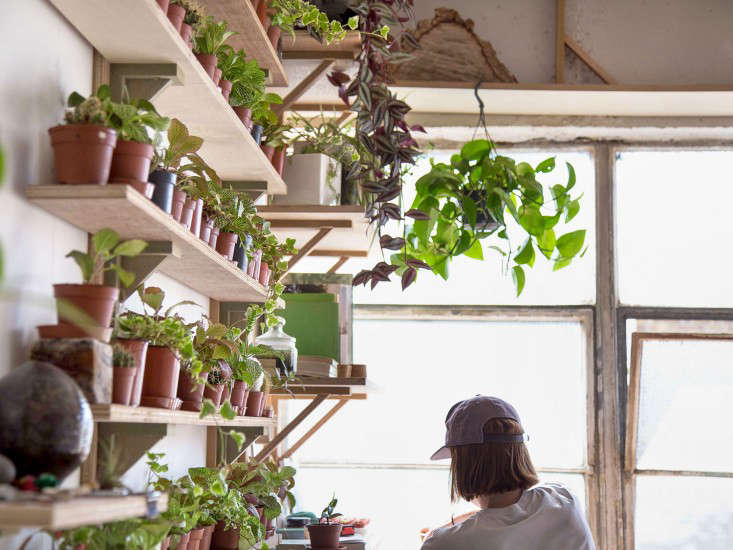 Above: Sibley favors leafy trailing plants and vines over succulents.
Above: A Boiling Flask Terrarium on a concrete base handmade by artist,Emily Iremonger is £150.
Above: Tools of the trade.
Above: Sibley's collection of handmade tools includes a cotton reel and a cork stuck to the end of a stick and corncob skewers.
Above: A handmade soil scooper.
Above: Sibley assembles a terrarium in a re=purposed glass bottle.


Above: To attend an upcoming workshop, see the calendar at London Terrariums Workshops.
For more of our favorite terrariums, see Clear Choice: A Glass Globe Terrarium by Designer Richard Clarkson.