This week we're launching a new series on kitchen cabinet doors, starting with our favorite (we'll admit it): the Shaker-style cabinet front. Here are the ins and outs:
What is a Shaker-style cabinet front?
Above: A dark green London kitchen from deVOL's Real Shaker Kitchen line mixes Shaker-style cabinet fronts with more traditional molding and tongue-and-groove paneling. Helen Parker, creative director of deVOL, says, "You can't possibly go wrong with Shaker cabinets."
First, a bit of history: The Shakers were a religious group that fled to the American colonies in the eighteenth century to establish a utopian society, which included making all their own furniture.  Simplicity, utility, and honesty were the hallmarks of Shaker style, as well as attention to form and proportion.
Technically, a Shaker-style cabinet front is a "five-piece door with a four-piece frame—two stiles on the left and right, two rails on the top and bottom, and a flat, inset panel," according to John McDonald, founder of SemiHandmade, a company that makes Shaker-style cabinet doors for Ikea cabinet boxes ("half of what we sell is Shaker style. I hate to use the word timeless, but they really are"). Adds Charles Denning, owner of Denning Cabinetry in San Francisco, "The doors are usually rectangular," he says, "because a door that is taller than the width is less likely to sag."
Every designer and architect we interviewed used the same word to describe Shaker-style cabinets: simple. The next most common word was flexible. "Shaker cabinets are not traditional, and they're not contemporary," says New York interior designer Fawn Galli, "so they can really work in any type of interior. Shaker style gives some interest and depth without being stodgy, old-fashioned, or complicated."
What finishes work well for Shaker cabinets?
Several experts reminded us that solid, natural wood—most often maple, cherry, or walnut—is the traditional Shaker look. But painted cabinets are increasingly popular, according to Parker of deVOL, who is especially fond of Shaker cabinets in dark colors.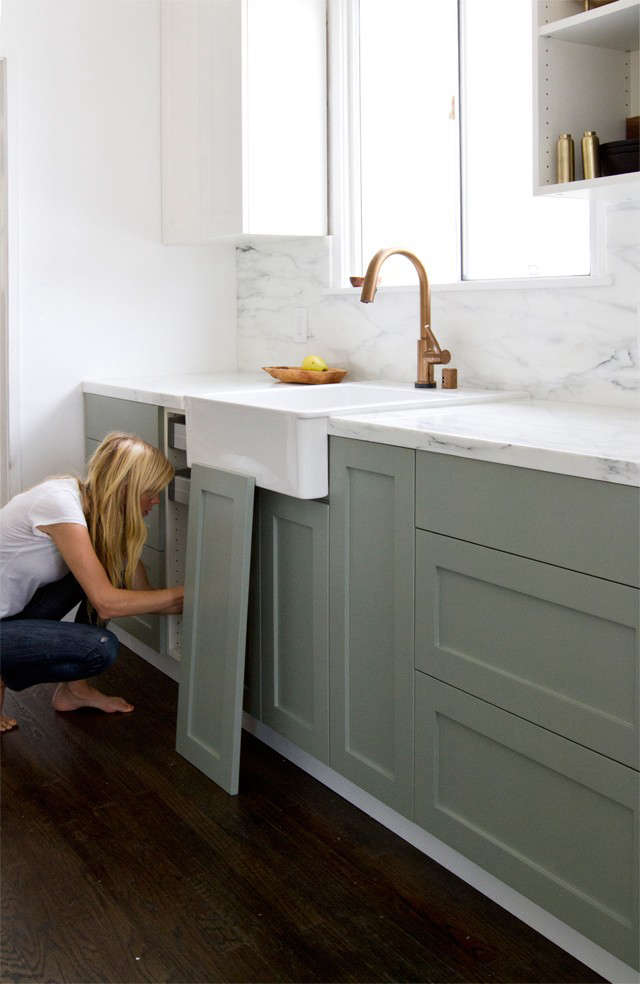 Above: Smitten Studio blogger Sarah Sherman Samuel painted her lower cabinets in Farrow & Ball's Pigeon but left the upper cabinets white. For her cabinet fronts, she used SemiHandmade's DIY Shaker line of cabinet doors that coordinate with Ikea cabinet boxes. Read how she did it in Ikea Upgrade: The SemiHandmade Kitchen Remodel. Photography courtesy of Sarah Sherman Samuel.
What kinds of cabinet pulls work best with Shaker cabinets?
At the moment, brass is king, according to our experts. (Galli recommends the unlacquered type.) If you're a traditionalist, the best choice is a wooden knob or very simple wood pull, notes Denning. Avoid anything too fancy or shiny, says Parker: "I think anything you choose that's understated is fine."
Above: Gray-blue cabinets in a Victorian-era London home from deVOL's Real Shaker Kitchen line. Concrete floors, subway tile, and brass pulls give the kitchen a more contemporary look. (See more in Kitchen of the Week: A Shaker-Inspired Kitchen in East Dulwich.) Photograph courtesy of deVOL.
Above: Interior designer Amy Sklar used Shaker-style cabinets in her own kitchen in LA's Silver Lake neighborhood, paired with solid bronze handles and pulls. "They were a splurge, but they feel good in my hand every time I open a cabinet and they patina so beautifully," she said. (Read more in Kitchen of the Week: Practicality in White Marble.) Photograph by Amy Bartlam, courtesy of Amy Sklar Design.
Can I mix Shaker-style cabinets with other styles?
Many kitchens mix five-piece Shaker cabinet doors with solid, "slab-front" door panels. (Several of the projects featured here mix the two.) John Troxell of Wood Mode notes that Shakers themselves would have used both, since "there was less work involved" in making a slab-front style. To him, the all-Shaker look is a more contemporary interpretation. "As the look has evolved," he said, "people are less concerned with the genuine ease of construction and simplicity. Instead, it plays into the architectural aesthetic that people are going for."
Slab-front door are a good choice on smaller drawers and ancillary cabinets, our experts told us. And there's a cost-savings in play. "Some people think it's too much to have all-Shaker cabinets in the kitchen," according to John McDonald, "and others do it because you can save some money with slab panels."
Above: New York interior designer Fawn Galli chose a bold yellow-orange—Farrow & Ball's Babouche—for a mix of Shaker-style and slab-front wood cabinets in a Connecticut weekend home. I wanted the kitchen to look "old-world but also fresh," she says. (See Bold Color in a Connecticut Country House, for more.) Photograph courtesy of Fawn Galli.
How do Shaker cabinets compare, price-wise?
Generally speaking, Shaker-style cabinets tend to be more affordable than more traditional door styles because of the very basic construction, materials, and proportions. "Shaker cabinets will keep the pricing a little more reasonable," says Wood Mode's Truxell. "That's probably part of their appeal."
But Denning says that it depends. "A custom cabinet in the Shaker style would not necessarily be more expensive than some other style of cabinet," he said. "There are many ways to interpret the Shaker style, and some makers will go for simplicity and utility. Others may focus on the subtle details that can make our work more time-consuming, but is better fitted to the particular client and surroundings."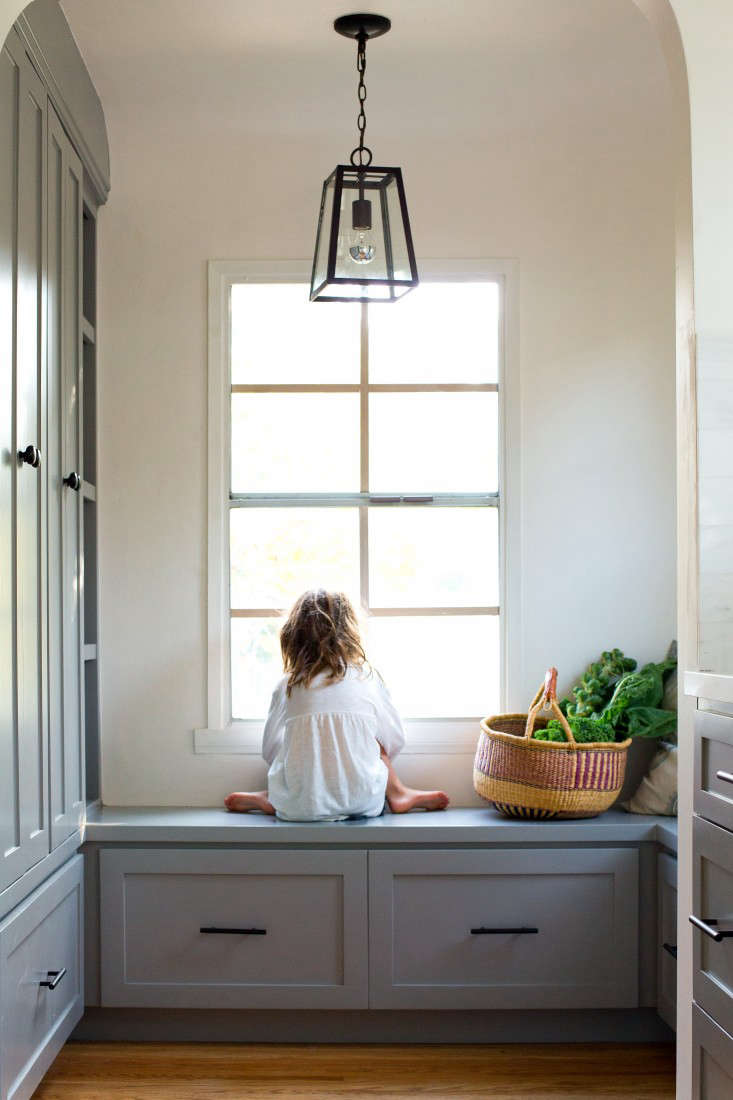 Above: Project M+ used custom Shaker-style cabinets in a kitchen overhaul in LA's Silver Lake. The cabinets are painted in Chelsea Gray from Benjamin Moore, with cabinet pulls from Lowe's. (See more in Before/After: A Cool and Confident Kitchen in LA by Project M+.) Photograph by Mimi Giboin.
Are Shaker cabinets best in the kitchen?
Shaker-style cabinets work well everywhere (in fact, "The Shakers used cabinets for storage throughout the home," according to Denning). DeVOL kitchen customers often ask for coordinating bathroom or storage cabinets elsewhere in their homes. "We like people to have an eclectic mix of things in their homes," Parker said, but coordinating cabinetry is a nice unifying look.
Above: Architect Gerry Smith designed custom wood cabinets (a mix of Shaker-style and slab-front) for a full remodel of a 1910 Brooklyn kitchen. He consulted with color expert Eve Ashcraft for the cabinet color; she chose Deep Silver from Benjamin Moore. (See the rest in The Architect Is In: A Brooklyn Brownstone Transformed, with Respect.) Photograph by Samuel Morgan, courtesy of Gerry Smith Architect.
How can I get Shaker-style cabinets on a budget?
Two of our experts specialize in giving their clients the Shaker cabinet look on a budget. "Everybody does the Shaker style," said interior designer Galli, who's a fan of Ikea's (they offer several versions). "I love them, personally, and I use them all the time." She especially likes to pair the door fronts with vintage hardware.
John McDonald's SemiHandmade offers customized Shaker cabinet fronts to pair with Ikea cabinet boxes for a part custom, part off-the-shelf solution. "I was a maker of custom furniture for a long time," said McDonald, "and it gives you everything you want, but it comes at a price."
But why not just use the Ikea door fronts that Galli uses? He points to a "D-groove" joint that Ikea uses, which makes a tiny indentation on the door front. "They've tried to make it look like a design choice," he says, "but there's a practical reason that they do that"—to account for wood movement. He may be picky, he admits, but to him, Ikea's doors just don't look right.
Above: Shaker-style cabinets in a North London kitchen by designer/manufacturer Plain English are painted army green (even the bin pulls), with exposed brass hinges. (See Kitchen of the Week: A Subtly Splendid Kitchen in North London for more.) Photograph courtesy of Plain English.
What decisions will I need to make when choosing Shaker cabinets?
The width of the four-piece frame is the biggest variable. deVOL's own frames range in width from about 3 to 5 inches, while Wood Mode's vary from about 2.25 inches to just over 3 inches wide. "It needs to look quite substantial without looking clunky or heavy," said Parker.
You'll need to decide whether you want to mix the Shaker-style doors with slab-front drawers or cabinets. And you may have a say in edge profiles, but most of our makers recommended squared edges with just a little bit of easing, to avoid a knife-sharp edge. (That will also lessen the chance of denting, notes Denning.)
Above: In this Venice, California kitchen, Simo Design wanted the American black walnut kitchen island to be the statement piece, and the cabinetry to be a backdrop. They chose Shaker-style cabinet doors, antiqued bronze hardware, and exposed hinges. Read more in Kitchen of the Week: A Striking Before/After in Venice, California. Photograph by David Gilbert, courtesy of Simo Design.
For more, see all our Remodeling 101 posts, plus: