Let's face it: Grout and caulk is not a sexy subject. But if you have tile in your home, you have grout—and some of the issues aren't pretty. You may be a person whose tile maintenance is so meticulous that you never have a grout problem. But for the rest of us who tend to neglect this aspect of our homes (trigger warning: mold), we're broaching the dirty subject and providing answers that show the way to leak-free, mold-free cleanliness.
To help us out, we sought the gentle guidance of Barbara Sallick, cofounder and senior vice president of design for the kitchen and bath brand Waterworks and author of The Perfect Bath, who holds firm opinions about these matters and isn't afraid to express them. The bottom line: Ignoring grout and caulk won't make it, or its attendant pitfalls, go away. Let's take a deep breath, and begin with a softball question.
Grout and caulk: What's the difference?
Both grout and caulk are used around tile, but they're not related, says Sallick. "Grout is the material that spans the crevices between the tiles and makes the whole installation waterproof. It's a natural product, generally made of ground-up sand and cement mixed with water. Caulk, on the other hand, is usually silicone-based, and it's flexible. Typically, you lay down a bead of caulk along the joint between, say, a tiled wall and a countertop or bathtub, to make the intersection completely watertight."
Even though grout and caulk are different, much of the advice that follows applies to both—whether they're in a bathroom or kitchen, on a wall or on a floor.
What's the best way to keep grout and caulk looking new?
To prevent stains, mold, and calcium buildup, particularly on grout, Sallick has three basic pieces of advice: Seal, clean, and ventilate.
"After it's installed, the grout must be sealed to make it waterproof," she says. "Your tile installer will know to do this—and if he doesn't, you'd best fire him instantly." Usually, the installer will seal the tile or stone once before applying the grout, then install the grout, and then seal it all again for ultimate protection. Sealing isn't a one-time thing—but we'll get to that.
Regular cleaning is a must to properly maintain grout and caulk. "I make sure my shower has a good bath once a week," says Sallick; the same goes for grout in the kitchen. Any all-purpose cleanser will do: "There are many on the market, and they all do a fine job. Only a good cleaning will prevent the mold and grime that can easily build up in a shower." Tip: White vinegar is good for removing calcium deposits on tile, glass, and fixtures.
Lastly, proper ventilation is key. "Especially in a bathroom, you need to have air circulating. That means leaving the shower door open, cracking a window, or turning on the fan. The tile and grout need to dry out after the shower or tub has been used."
Does grout need to be resealed?
It does indeed. Grout is porous, and it doesn't stay waterproof forever. Depending on how often the shower is used, the grout needs to be resealed, and that's something you can do yourself.
"Put it on your calendar, just like an annual doctor's appointment," suggests Sallick. "Say, start the year in January by resealing your shower, backsplash, any place you have grout." However, she warns, you should only apply sealer after a thorough cleaning: "If you see any spots, take a toothbrush and scrub them away. You only want to reseal a surface that's entirely clean."
Sallick isn't loyal to any particular sealer—she says there are many brands that do the job. "Use a foam brush or a clean cloth, and make sure you apply it evenly over the entire surface, both tile and grout."
Should I use a daily spray on grout?
When it comes to preventing the buildup of mold and grime in the shower in particular, many people swear by spraying down the shower each day. Not completely necessary, Sallick says: "If your shower is properly sealed, you don't need to spray daily—cleaning once a week is fine." But for a shower that gets a lot of use, or a bathroom that's not well ventilated, it can't hurt to spray the tiles regularly. You don't need an expensive product; it's easy to make your own. One tried-and-true recipe: 1 cup of white vinegar, 2 tablespoons of dish detergent (known to be a good grease-cutter), 2 tablespoons of liquid fabric softener or dishwasher rinse, and 3½ cups of water; shake to combine. If the vinegar smell puts you off, add a few drops of essential oil. (Another method: baking soda and vinegar, mixed into a paste. See Expert Advice: Editors' Top 23 Cleaning Tips for a few more solutions.)
Before spraying, use a squeegee to remove water drops and help speed the drying process.
My grout is already stained and discolored. How do I clean it?
If you're moving into a rental or haven't kept up with regular maintenance, you might have grubby-looking grout on your hands. If a regular cleanser doesn't do the trick, try a spray-on product with bleach (such as Tilex), and use a toothbrush to scrub stubborn spots. Hydrogen peroxide is also effective: Spray it on, let it sit, and then scrub. Repeat if necessary, then keep up with routine maintenance to prevent a big job down the road.
My grout is cracked and crumbling. What can I do?
Don't neglect this, because water seeping through cracked grout will cause the wall and floor to rot. You can't just put more grout on top of old crumbling grout, Sallick warns. Without a firm surface to adhere to, the new grout will fall apart in less than a year. The old grout needs to be scraped out, but Sallick advises against doing this job yourself. "It takes patience and care, because you can easily chip the tiles. You want a total professional who's done this job before—if you're the guinea pig, he could ruin your installation. Also, you should replace the grout only where there's a problem."
Note that your grout might be crumbling because either you didn't hire a really good professional to install it or you didn't maintain it properly (i.e., regular cleaning and resealing).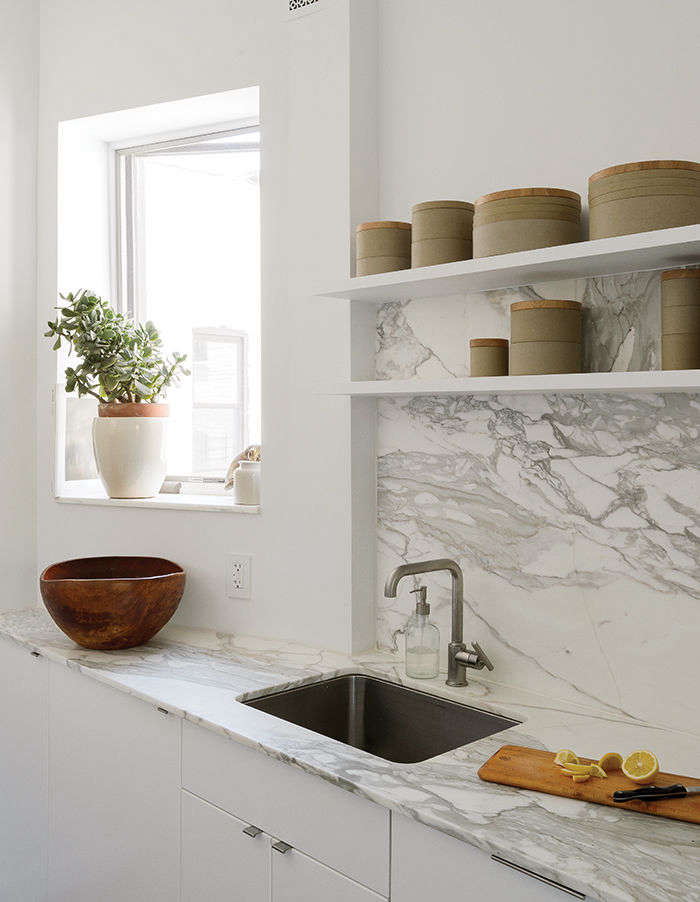 I've neglected my caulk and there's mold underneath it. What to do?
If you haven't effectively prevented mold built-up, your caulk may be beyond cleaning. This is another case where you have to remove the old caulk first, clean the area meticulously so no mold remains, and then replace it with fresh caulk. Again, it's probably a job for a professional.
Grout in the kitchen versus grout in the bath: Should I care for them differently?
Though, say, a kitchen backsplash isn't exposed to as much water, Sallick offers the same advice: Keep it clean. "I'm a big spaghetti sauce splasher, so I wipe down my tile backsplash every evening after I cook." She also recommends resealing the grout at the same time you're resealing in the bathroom: Get a date on the calendar.
What about grout on a tiled floor?
The same advice applies. Install it properly by sealing it twice, and then care for it by keeping it clean. Grout underfoot gets dirty much faster than on a backsplash. "If you're persnickety about the grout on your tiled floor, you need to take a brush and clean it to bring it back to the original color," Sallick says. It will always darken, which is a good reason to install dark grout to begin with: It'll show less dirt.
Is there anything else I should know?
When it comes to the threats of mold and mildew, Sallick says, "It's all horrible. You need to prevent it at all costs, and you can do that by keeping your bathroom and kitchen clean."
Her best news: "You shouldn't have a problem with your grout for at least 15 years if it's been properly installed and you've kept it clean and sealed. Grout is not an everyday thing that you need to think about." In sum: Do your due diligence, but don't let it keep you up at night.
N.B.: This post is an update; it was first published on Remodelista on February 1, 2018.
For much more advice on the care and keeping of the bath and kitchen, see our Bath Guide and Kitchen Guide. And for more weekend project ideas, see: