As obsessed as we are with hardware, one of our favorite types of cabinet pull isn't technically a pull at all—rather, it's an open hole or handle cut out of a flat-front cabinet door. To get the details on the technique, we turned to Remodelista Architect/Designer Directory members Medium Plenty of Oakland, California. Here's what principals Ian Read and Gretchen Krebs had to say.
Above: A showroom kitchen by UK furniture brand deVOL has cabinet doors of rough-sawn beechwood with circular cutout cabinet holes lined in copper. (See the rest in Kitchen of the Week: Sebastian Cox for deVOL in the UK.)
What are cutout cabinet pulls?
A cutout cabinet pull is a simple hole or notch in the cabinet face that functions as a cabinet pull and is most often part of a fully custom cabinet design. On budget installations, Read of Medium Plenty gets a woodworker to cut a pull out of an off-the-shelf or otherwise preexisting door.
The two most common shapes of cutout cabinet pulls are circular cutouts (or "mouse holes"), and U-shape (or "extended U-shape") handles. When deciding on style, size, and technique, Read works closely with the cabinetmaker: "Each cabinetmaker has a slightly different way of doing it," he says. "So we work with them to get the best solution."
Above: In a Melbourne kitchen by architect and stylist Sarah Trotter, black-stained birch ply cabinets open via circle cutout pulls. (See more in Kitchen of the Week: A Seventies Overhaul by Hearth Studio.) Photograph by Christo Crocker, courtesy of Hearth Studio.
What are the ideal dimensions of cutout pulls?
As a rule of thumb, Read recommends a 1 1/4-inch diameter for a circular cutout pull. "That would be big enough to use, but not so large that you'll have a view of the inside your cabinet," he said. For U-shape cutouts, three to six inches is right.
"The ergonomics matter," said Read—you should be able to open cabinet doors easily and intuitively, especially in the kitchen. "Avoid any design you can't easily access with two fingers."
Above: In the London kitchen of Brit culinary star Anna Jones, plywood cabinets have U-shape cutout pulls that join to form ovals. "I love the cutout handles," said Jones. "They're such a simple and clean little design tweak." (See more in Kitchen of the Week: Cookbook Author Anna Jones at Home in London.) Photograph by Jonathan Gooch for Remodelista.
Are there any cost savings associated with cutout pulls?
Unless you're eyeing especially pricey cabinet hardware, cutout pulls will be more expensive than hardware. Whether making something entirely custom or modifying an existing cabinet door, the extra labor required to cut and finish the cutouts will usually exceed what you'd spend on hardware pulls.
Above: U-shape cutouts combine to create vertically oriented ovals in this oak kitchen by Danish company KBH Københavns Møbelsnedkeri.
What are the best materials for cutout cabinet pulls?
This technique works best on MDF, says Read. Since it's solid core, once the pull is cut, sanded, and sealed, the door looks like one solid surface. Plywood doors require edge treatment and are more susceptible to warping. One exception: In a Berkeley, California, houseboat remodel, Medium Plenty cut circular pulls out of 1 1/2-inch red oak plywood. Though the interior of the ply was visible, the owner liked the look. (See more in More Boat for the Buck: A Cost-Conscious California Houseboat Remodel by Medium Plenty.)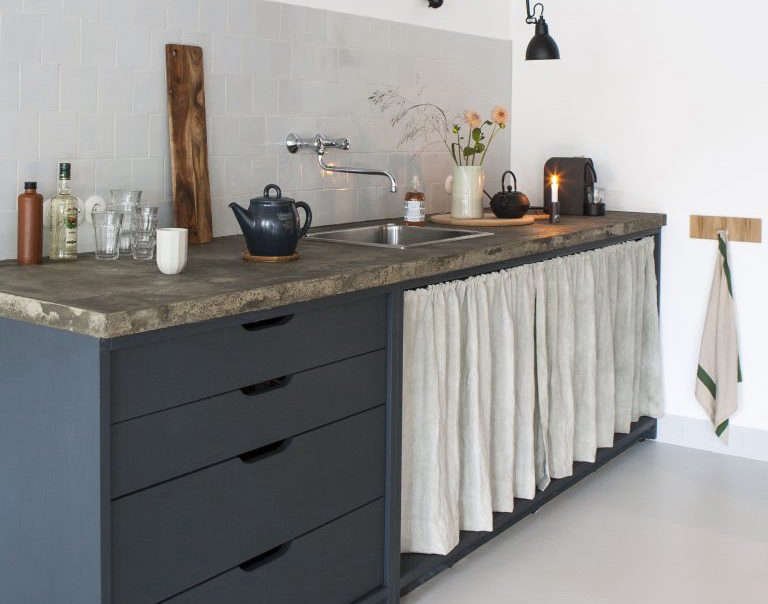 Above: Stained wood cabinets with elongated U-shape cutout pulls in the Dutch office kitchen of Jan de Jong Interieur. (See more in Kitchen of the Week: The Curtained Kitchen, Dutch Modern Edition.) Photograph by Anna de Leeuw, courtesy of Jan de Jong Interieur.
What about cutout pulls on sliding cabinet doors?
This can be tricky. Sometimes cabinet doors can warp, making them almost impossible to slide in a tight channel. And asking wood to slide against wood is not the most efficient approach. Medium Plenty uses wider channels with neoprene sliders or hard plastic strips to keep wooden doors moving easily.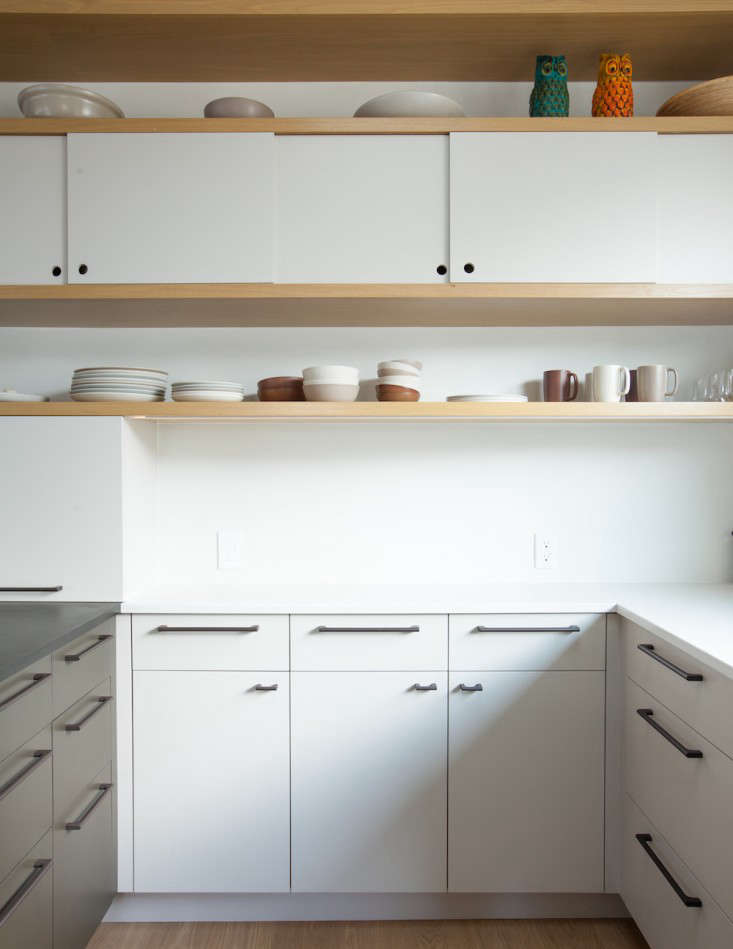 Above: In an all-white Bay Area kitchen, Medium Plenty designed a wall-mounted, white oak cabinet with sliding MDF doors and circular cutouts—a midcentury design reference to the credenzas of George Nelson. (See the rest in Kitchen of the Week: Oakland Family Kitchen by Medium Plenty.) Photograph by Melissa Kaseman, courtesy of Medium Plenty.
Do I have any flexibility with cutout pulls?
If you opt for cutout cabinet pulls and want to change them later (without swapping out the cabinet doors), a designer could find any number of solutions—like adding a piece of hardware that could serve as a "plug" to fill in the cutout. Read suggests using a contrasting material, "to avoid making it look like a scab," he said. "It would be a chance to get a little inventive."
Above: A variation on the theme: In this kitchen by Swedish firm Bedow Design Studio, U-shape gaps are cut out of a pine plywood frame—not the door fronts—to create a "pull" via the gap. The colorful cabinet doors are meant to be rotated seasonally. (See more in Kitchen of the Week: A Modular Kitchen in Stockholm with a Seasonal (and Swappable) Palette.) Photograph by Erik Undehn.
The Pros
When pulls are cut out of a cabinet door, there's nothing sticking out into usable space. "No walking by and snagging your clothing on the pull," says Read. For that reason, says Krebs, they're especially good for tight spaces.
Visually, they make less of a statement than cabinet pulls, depending on the style and size of cutout you choose. They're "clean and minimal," says Krebs.
Depending on the design, cutout pulls can add a midcentury modern look to your kitchen (if that's the look you're going for).
Above: Another twist on the concept: Here, spray-painted MDF cabinet fronts have circular cutout pulls backed by natural or smoked oak wood. The doors, by Danish company Reform, are meant to be attached to Ikea cabinet boxes. (See more in Kitchen of the Week: A Sixties-Inspired Danish Ikea Hack, Now Coming to America.)
The Cons
You'll have a peep hole straight into your cabinet and its contents, "and that's not always desired." You can cover it on the other side, but that will add both physical bulk and cost.
If you're having matching appliance doors made, you won't be able to use a cutout pull on those doors. Even a partial cutout—a recessed pull—won't give you enough grip to open a refrigerator or dishwasher door. So plan on a different style pull for appliance doors.
"We've had a few scenarios where a client's hands were too big to comfortably fit in the cutout, so it's not ideal for all," said Krebs.
It will generally cost more to fabricate cutout pulls than it would cost to outfit cabinets with hardware pulls. "Not massively more," said Read, "but it's not for projects on a strict budget."
There's less long-term flexibility with cutout pulls; you can't swap them out like hardware.
See more posts in our Remodeling 101 series, including: