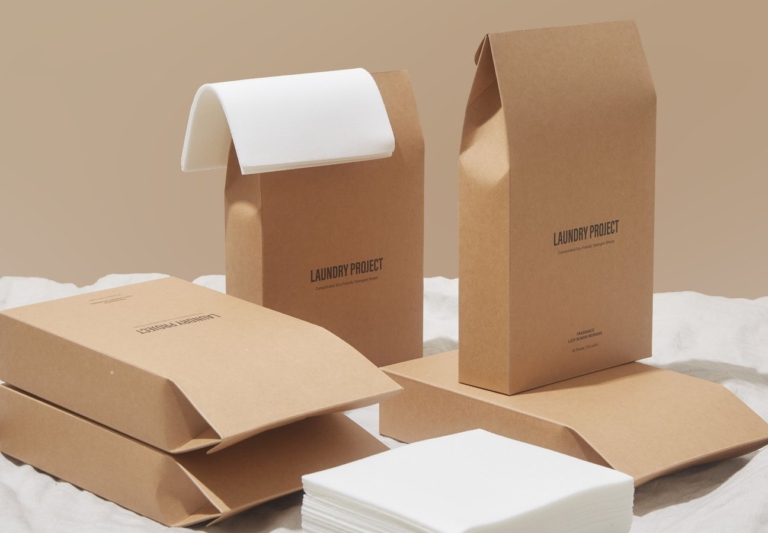 I've recently started doing laundry with a newfangled, ultra-concentrated detergent that looks like slips of paper. It's feels like paper, too, and is dissolvable in cold water—I simply toss a sheet into my high-efficiency machine's main compartment along with the dirty clothes, and have been very happy with the results.
Laundry detergent strips, it turns out, have been around a while—often packaged in plastic and touted as all-in-one detergent, stain remover, brightener. Of late, a number of brands the world over have jumped in with a cleaner look and green billing. They're blessedly plastic-free—all come in biodegradable or recyclable boxes slim and light enough to pack in your space kit. In truth, I don't know enough to weigh in on whether this engineered solution is all-around good and eco-friendly (I hope a nonprofit research organization such as the Environmental Working Group conducts a study). But I will say that the advertising is appealing: hypoallergenic, plant-derived, and free of parabens, phosphates, added dyes, and chlorine bleach. And so far, I like using detergent that's as thin as a potato chip.
Here's a small sampling of what's available. N.B.: most companies offer money-saving subscriptions and both scented and unscented options.

Above: Tru Earth Eco-Strips from Boston General Store are $19.95 for 32 sheets (half of one of these is enough for a full load).
Take a look at Laundry Rooms—we have a lot of favorites, including The Germantown Laundomat, an Eco-Minded Gathering Spot
More cleaning ideas: