Jean Prouvé's long-armed 1930s Potence light is one of the most copied designs of our day (see Five Favorites and High/Low for but a few examples.) And owning originals of the French engineer/designer's winged Standard chair and EM table is on every midcentury collector's wish list.
In the past decade, Swiss furniture company Vitra has reproduced a series of core collections of Prouvé's furniture available through DWR, among others. More recently, when jeans brand G-Star Raw needed fresh-looking office furniture to go with its Rem Koolhaus Office for Metropolitan Architecture-designed headquarters in Amsterdam, it teamed up with Vitra, whom it had worked with once before, on a new group of Prouvé's chairs, desks, and lights.
The collection comprises 13 pieces reissued with the blessing of Prouvé's family and tweaked to suit 21st-century heights (people are notably taller these days) and needs (yes, they're computer ready). And in addition to denim, G-Star is just starting to sell the pieces, as is Vitra. Inquire directly about prices and availability.
Photography via Dezeen.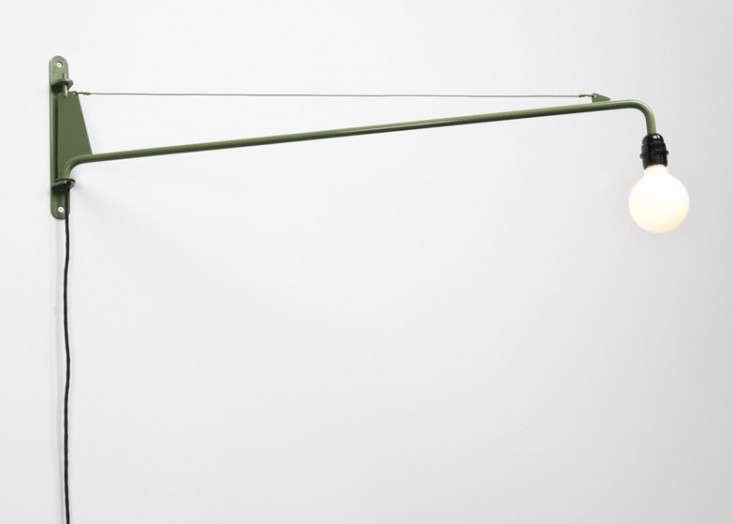 Above: Known as the Prouvé Raw Office Edition, the collection is cloaked in industrial greens synonymous with classic machinery. Shown here, the Potence light.
Above: Most of the pieces were designed by Prouvé 70 years ago for French corporations and universities. The Fauteuil Direction Pivotant is available with leather or fabric upholstery, both in black.
Above: Prouve pioneered the use of lightweight folded steel In furniture and architecture. Shown here, the Bureau Métallique of olive powder-coated steel with a white melamine top. It has a hidden power channel for cable connections.
Above: The Fauteuil Direction in leather with wood armrests and Prouvé's signature folded steel legs.
Prouvé was the son of a ceramic artist and initially trained to be a metal artisan. He opened his workshop in Nancy in 1924, specializing in furniture made out of sheet steel and went on to establish his own factory and later to design prefab architecture.
Above: The Bureau Présidence has a solid oak top (shown here in smoked oak); it's available in several color combinations, and with two drawers or three. An optional "electrification flap" in the back provides access to four power sockets.
Above: The Fauteuil de Salon Haut has an unmistakably Prouvé profile.
Above: The powder-coated Lampe de Bureau is offered in three greens: industrial (shown), olive, and antique.
Above: The Table Flavigne has a steel frame with legs positioned at 45-degree angles on the corners and an oiled solid oak top.
Above: The steel Bahut cabinet has sliding doors of diamond-patterned sheet metal and an oiled oak top and handles. The shelves on the interior are adjustable.
Go to At Home at the Top of the World to see Prouvé originals in Esprit cofounder Susie Tompkins Buell's SF aerie.