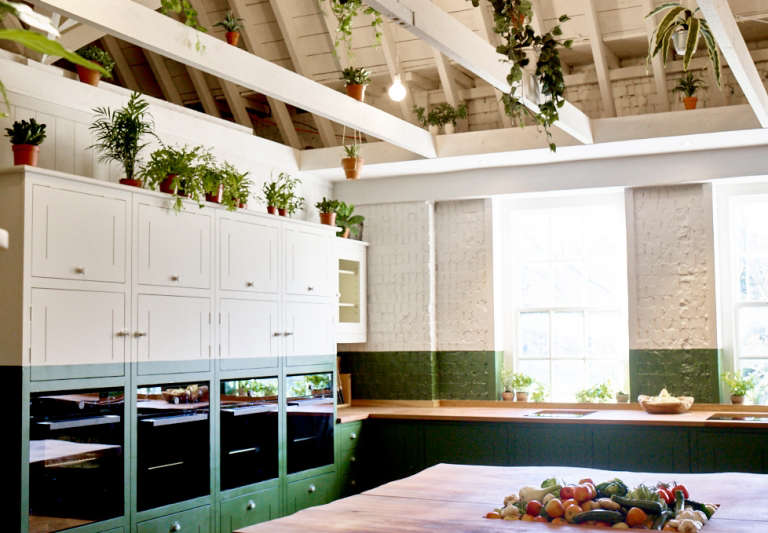 Something's cooking in Clerkenwell: Michelin star chef Adam Gray, in partnership with the Bourne & Hollingsworth Brasserie and Bar, is launching B&H Kitchen today, a new cooking school for Londoners. Situated on the top floor of the B&H building, which houses the brasserie and bar, the loft-like space is outfitted with British Standard cabinets and has six catering stations, a demonstration bench, and a communal dining table. In addition to offering cooking courses, the B&H kitchen will include pairing sessions of food, wine and cocktails, a Bourne & Hollingsworth trademark. For more info, go to B&H Kitchen.
Photography by Anya Holdstock.
Above: The simple utilitarian aesthetic of British Standard cabinets complements the exposed beams of the architecture.
Above: The designers achieved the look of a wrap-around backsplash by painting a strip of green, creating a two-tone effect.
Above: Exposed shelves display plants and crockery.
Above: The sleek glass-fronted ovens by V-Zug fit into the cabinetry.
Above: Potted plants are hung from the exposed structure of the architecture for a greenhouse effect.
Above: Sets of Zwilling knives for the knife skills course are stored against the painted backsplash for easy access.
Above: The B&H Kitchen offers a course on buying and using seasonal vegetables, a selection from the New Covent Garden Market is displayed on a cut-out in the live-edge table.
Above: A view of the parklike surroundings.
For more British Standard kitchens, see:
Christine is also the writer of new website Fabulous Fabsters, celebrating women who are FAB (Fifty and Beyond) and sharing their stories.