So many kitchen designers of late bypass above-the-counter cabinets to avoid an overly kitchen-y, old-fashioned look. But Workstead's solution for a Brooklyn family of five makes masterful use of floor-to-(nearly)-ceiling millwork. And there's nothing Betty Crocker about it. In fact, the cabinetry is so elegant, it works equally well in the dining area.
Photography by Matthew Williams.
Above: Situated on the parlor floor of a brownstone that required a complete reorganization, the formerly walled-off kitchen is now part of an open living space.
"Our clients requested an open plan that brings together the activities of a busy family while still providing extremely functional and discrete spaces," says Workstead project architect Ryan Mahoney.
Above: A monolithic island in quartzite (bisected with an oak breakfast counter) serves as the hub for cooking and gathering. Learn about the quartzite in Remodeling 101: A Marble Countertop, Minus the Maintenance. The floor is rough-sawn, wide-plank Hakwood oak, a sustainable Dutch timber from LV Woods.
Above: The kitchen sink is integrated into the island. The range and hood are from Blue Star and have a powder-coated finish in a shade akin to the deep brown quartzite, which was also applied to the range counters. The backsplash is a sheet of zinc. The hanging lights are Allied Maker's Bell Pendants.
Above: To subtly contrast with the floor and telegraph a more urban vibe, smooth wide-board oak (solid and veneered) was used for the cabinetry, which is the work of Markus Bartenschlager.
Above: The wood has a soap finish and linear Ear Cabinet Pulls in blackened steel, a design by architect Tom Kundig.
Above: The wall opposite the island incorporates a large pantry behind sliding doors and a hanging Step Ladder.
A new framed glass back door adds considerable sunlight to the room. "We wanted a stripped-down palette that focuses on texture and light," says Mahoney. The walls of the room are painted Benjamin Moore Aura Super White.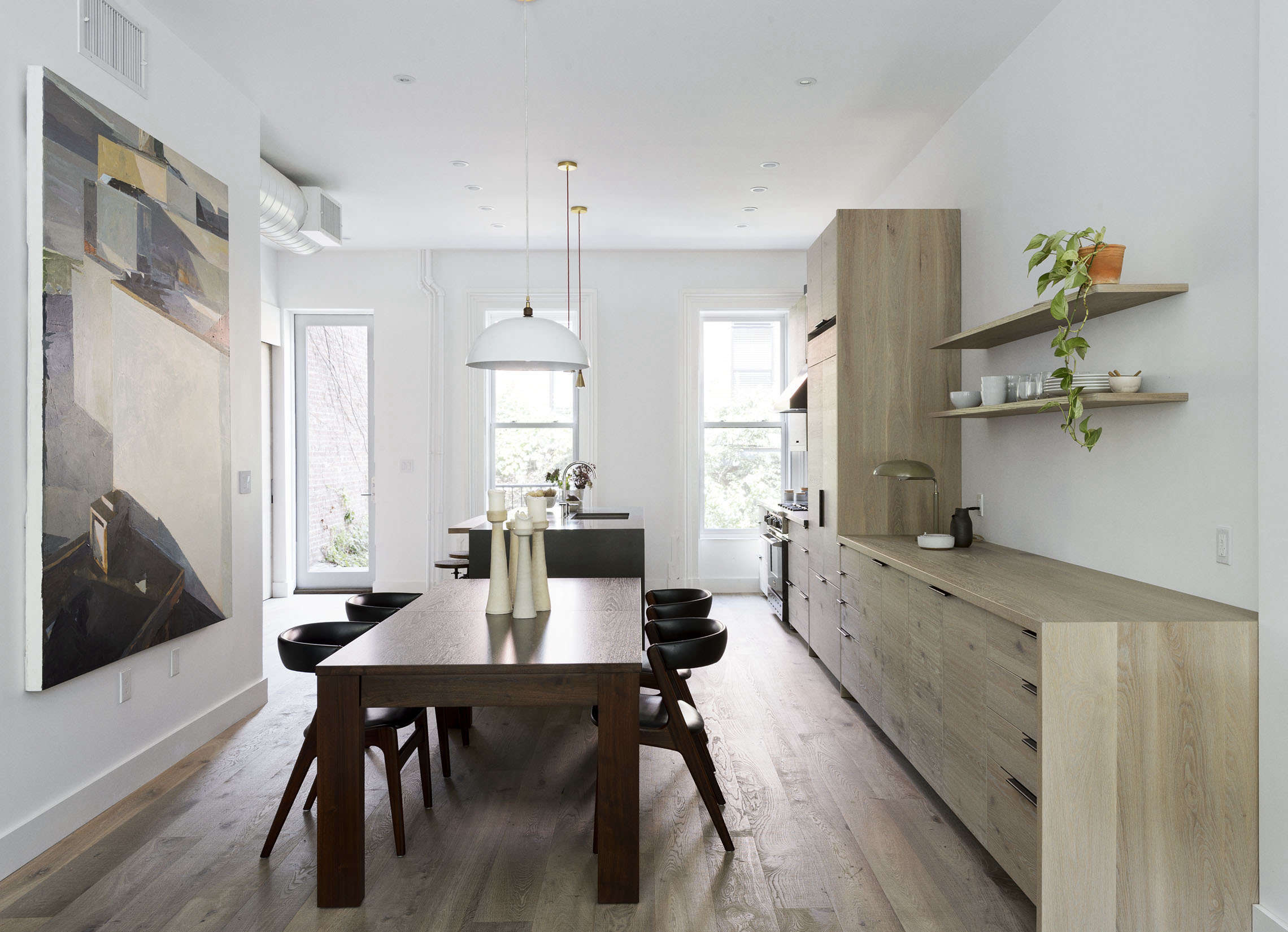 Above: The cabinetry extends into the dining area where it becomes a sideboard and staging area, here paired with open shelves. The table is a custom Workstead design built by Markus Bartenschlager, and the chairs are a vintage Kai Kristiansen design.
Above: The space opens to a living room with a painting by Robert Moody and Workstead Shaded Floor Lamp. Go to Brass Tacks to see more of the firm's signature lighting.
We've been following Workstead from the get-go; here are some favorites: