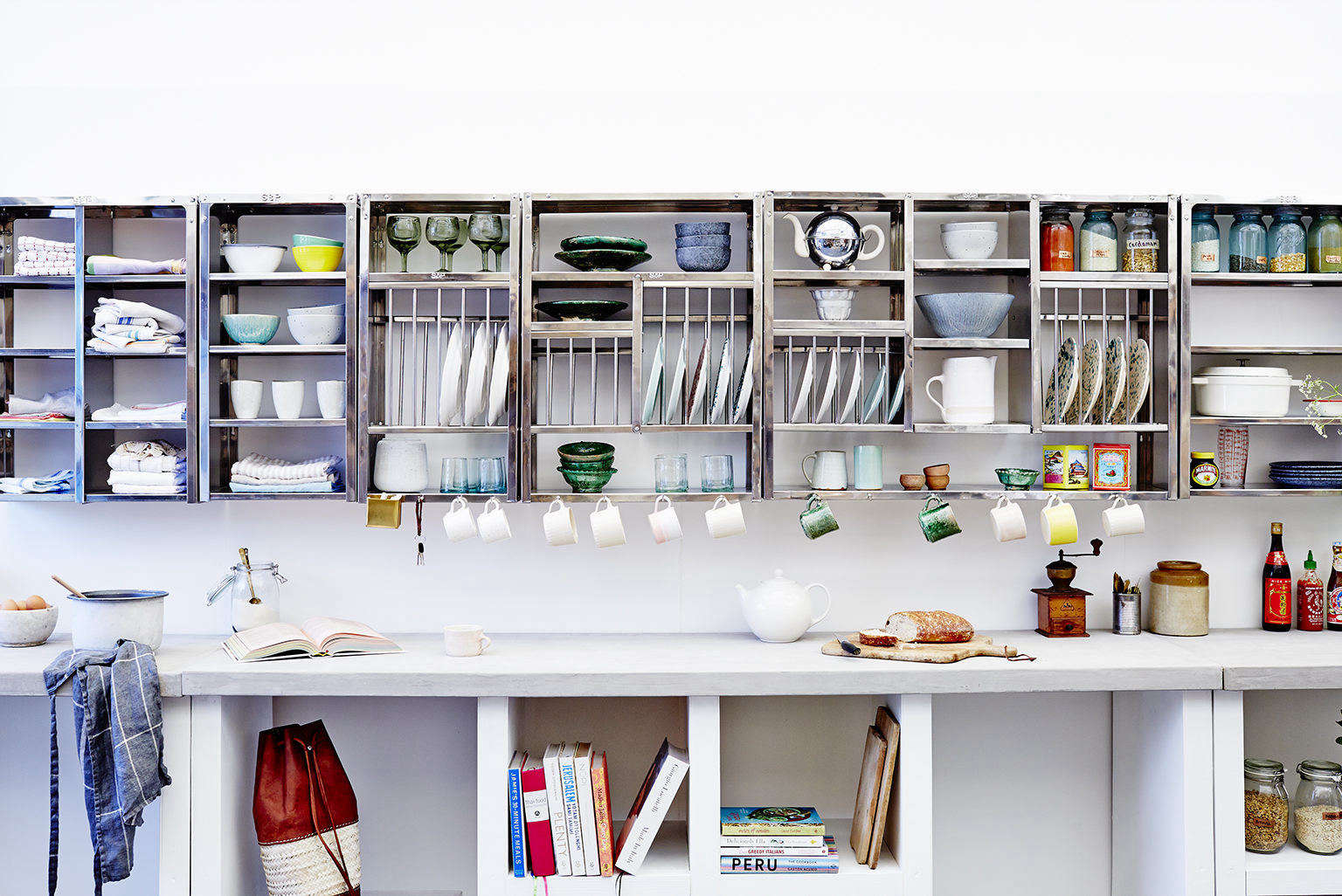 Like so many people on vacation, Jen and Nick Stovold spotted something unfamiliar—and shiny and useful—and commented that it would be a huge hit back home. At the time the British couple were traveling in Kerala, in southern India, and the compelling object was a wall-hung stainless steel kitchen rack, an Indian staple for drying and storing dishes in tight spaces. The Stovolds returned to their lives in London—she has a degree in interior architecture and, at the time, worked as a visual merchandiser, he was in finance—but several months later, they actually followed up on their idea.
"We took the plunge and booked flights to Delhi, where we trawled market after market to track down the exact racks we wanted to sell," says Jen. "We had a tiny budget, no plan, and absolutely no clue of how we'd export them; we bought thirty-five racks and literally figured the next steps out along the way." That was five years ago, and since then Jen and Nick, who grew up next door to each other, have devoted themselves full-time to their stainless steel storage company, Stovold & Pogue, now based in the small town of Wellington in Somerset, England.
We ourselves are longtime fans of these kitchen workhorses—see 5 Favorites: Space-Saving Dish Racks—and had wished they were more accessible. In our book Remodelista: The Organized Home, we illustrated our Art of Order Manifesto with a Stovold & Pogue rack. That tidy design is but one of the company's line of modular organizers, all sized to work together. Here's a look at the range, including the company's just-introduced powder-coated-steel colors, and the many ways the pieces can be put to use.
Photography courtesy of Stovold & Pogue.
Combination Dish Racks and Shelves
Shelves
The Complete Kitchen: Rack and Shelf Ensembles
Stay tuned: The couple plan to come out next with rack attachments, such as cutlery holders and slots for wine glasses—and ultimately to create a line of adaptable modular storage for every room in the house.
For kitchen wall storage around the world, take a look at Drip Dry: Kitchens with Wall-Mounted Dish Racks.
Browse our Dish Rack and Countertop Storage archives for more ideas, including Genius Low-Cost Storage Solutions from Japan and 10 Easy Pieces: Countertop Dish Drainers.