Welcome to Your Weekend Project, featuring how-tos and ideas from our archives for an organized and inspired home.
Have you already forgotten where you planted those tulip bulbs last autumn? And how exactly are you planning to locate that clump of wilted foxglove you cut back, without accidentally digging it up? Keep track of your plants—and your schemes for spring—by drawing a garden plan.
Keep It Simple
All you need is a piece of white paper (on which to plot the existing elements of your garden); a piece of tracing paper and tape (to add a layer for planned additions); a pencil (colored pencils optional); an eraser (you know why), and a measuring tape. Bonus points for gathering inspirational garden photos to spark ideas.
Need to Know
To draw your plan to scale, you will need to measure distances in the garden: the perimeter, the size of existing garden beds, and the size and shape of your trees and shrubs.
Step 1:
Jot down measurements on scrap paper.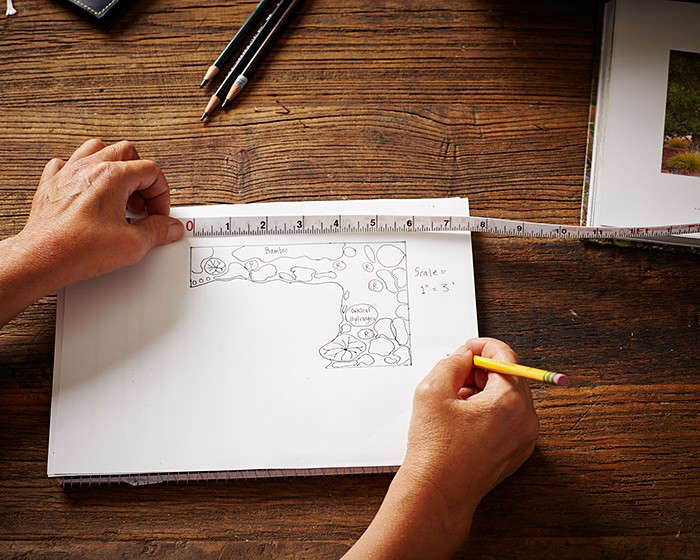 Step 2:
For an average size backyard garden (18 feet wide), we assigned a scale of three feet per one inch.
Step 3:
Outline the perimeter of the space on a sheet of white paper (you can use graph paper if you prefer) and sketch in existing plants and other permanent features (such as fences, grass, and paths).
Step 4:
Tape a piece of tracing paper on top. On the tracing paper, sketch the plants you plan to add to fill in holes in the garden.
N.B.: This post is an update. It originally ran on Gardenista on February 1, 2016. Featured photograph by Jonathan Levitt, courtesy of ASLA, from Lessons from the Land: Finding a Lost Landscape on the Coast of Maine.
See more of Gardenista's novice gardener how-to posts at Gardening 101.
And for more weekend projects, check out: