Welcome to Your Weekend Project, featuring how-tos and ideas from our archives for an organized and inspired home.
In England, on Friday evenings from February until November when the country's most-watched horticultural show Gardener's World airs on BBC2, we Brits all marvel as we ogle gardening guru Monty Don's fabulous outbuildings and, most of all, his brick-walled potting shed with its compost bins and neatly stacked piles of beautiful terracotta pots. Monty's numerous outbuildings are, like sheds across the country, a mishmash of styles (timber, tin, brick), but they are all deftly organized and fit for purpose—a mantra that anyone should follow no matter how big or small a potting space may be.
For any gardener who sows seeds and pots up seedlings on makeshift tables, the perfect potting shed is high on the list of dream garden additions, a peaceful place to plot and plan, a repository for all the gardening gubbins, and an outdoor retreat on stormy days. Read on to learn about everything you need to create your own.
A Potting Table
A practical workbench is at the top of the list of necessities for a gardener's shed, and while any old table will do, the perfect potting table should be a comfortable height to work at. Better still if it has raised sides to stop compost and other materials from falling onto the floor.
For a small shed, see The Gardenista 100: Best Mini Potting Tables.
Roomy Bins
Rather than having half-used bags of compost, sand, or perlite lying around, install sturdy lidded bins to keep everything within easy reach for use. Ideally these can be located underneath the work surface so they are ready for potting.
Gardenista editor in chief Michelle Slatalla also stores potting soil and mulch in a lidded steel bin; her Knodd Bins are $19.99 each at Ikea. See more at Steal This Look: A Mini Garden Shed in a Garage.
A Place to Hang Tools
Most gardeners boast more large tools than they'd like to admit—spades, forks, rake, loppers, brooms, hoes and much more—rather than leaving them in a chaotic heap in a corner install a pegboard, a row of hooks, or special storage racks that will keep everything off the floor and neatly stored. Racks and hooks can run either vertically or horizontally. A pair of hooks can also be used to keep bamboo canes, pea sticks and plant supports/stakes off the floor and neatly stored.
Plenty of Pots
A Wall of Shelves
Just like a kitchen, there can never be too much storage space for utilitarian garden sheds. They can be the most basic shelves made from leftover timbers, but make sure they are deep and strong. A plethora of pots will make smaller items labels, twine, scissors, dibbers, and small tools much easier to locate.
An Old Sink
Ideally a potting shed will have a water source and a sink big enough to accommodate pots and watering cans—a reclaimed butler's sink would be perfect for this as it's roomy enough to hold all manner of pots.
Pot Storage
Tumbling towers of pots are an annoying seasonal nuisance in summer, so an appropriate receptacle is essential. Boxes with sides, such as old fruit crates, will keep stacks of pots standing tall.
Garden Trug
Other containers such as baskets, trugs, and bags can be stored out of the way, hanging from roof beams or trusses.
Staging Table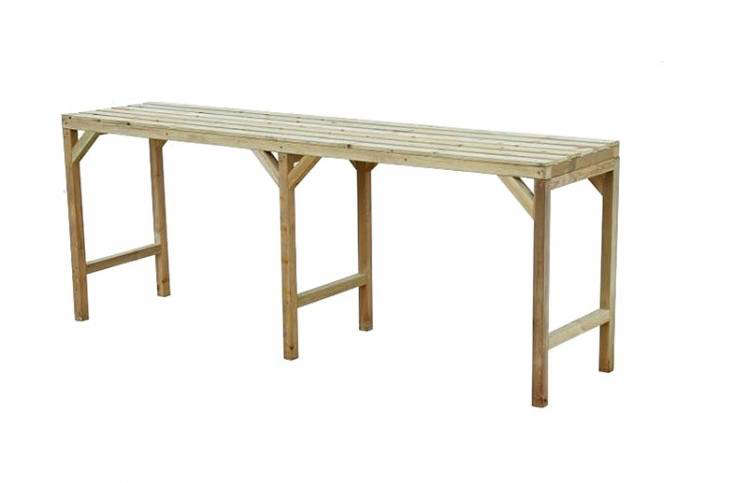 If you don't have a greenhouse and your potting shed has windows that get plenty of sunlight, then it's likely to become a makeshift growing area too. Secondhand greenhouse staging tables are easy to find on eBay or you can make makeshift tables with old boards. Old decorators' trestles with scaffold boards laid across to create wide sturdy shelves.
Creature Comforts
A potting shed may well be a utilitarian space, but for gardeners, it's a retreat where a few home comforts are just as important as pots and plant labels. A radio, a comfy chair, if you can fit it in, and a kettle to make hot drinks will make your shed a much more welcoming spot on stormy days.
N.B.: This post originally ran on Gardenista on January 8, 2018.
See more of our favorite ideas for organizing a potting shed: