I think we've all been there. Maybe you've just moved to the big city, or you grew up the youngest of many and drew the short straw when it came to sleeping assignments, but at some point in your life you've probably lived in a tiny bedroom. Which is not necessarily a bad thing. In fact, given the choice, I'd rather sleep in a cozy small room than spend my nights in a cavernous space.
The problem arises when small starts to feel claustrophobic. When we have too many things, or those things are too large, they can quickly overwhelm a space, displacing the feeling of the bedroom as a place of rejuvenation and retreat. Restoring a sense of order and calm in the bedroom involves using minimal elements to maximize the sense of space.
1. Choose a low-slung bed.
One of the quickest ways to achieve the illusion of a more spacious boudoir is to lower your bed  by investing in a low-slung frame. A low-profile bed quite literally leaves more room to breath above it, making the room look and feel bigger than it is.
2. Paint the walls, floor, and ceiling all the same color (preferably white).
The movement of light and air is another important factor in making a small bedroom look bigger. If you feel hemmed in by the four walls of your bedrooms, make them "disappear" by painting the entire room the same color, floor and ceiling included. Similar to the effect of being outside whereby the horizon and sky are indistinguishable, painting all sides the same color makes them pull away from each other, creating a more open feel.
3. Choose a lithe bed frame.
If you are trying to make a small room look bigger, put away the Restoration Hardware catalog, because big, chunky beds will overwhelm the space. Instead, opt for a bed with a more lithe silhouette. Think Shaker designs with sleek tapered legs or a delicate wrought iron bed. These styles will create a sense of air flow around the bed. So long as you removed the drapery, you could even go with a skeletal canopy bed, which emphasizes the height of the room.
4. Streamline your bedding.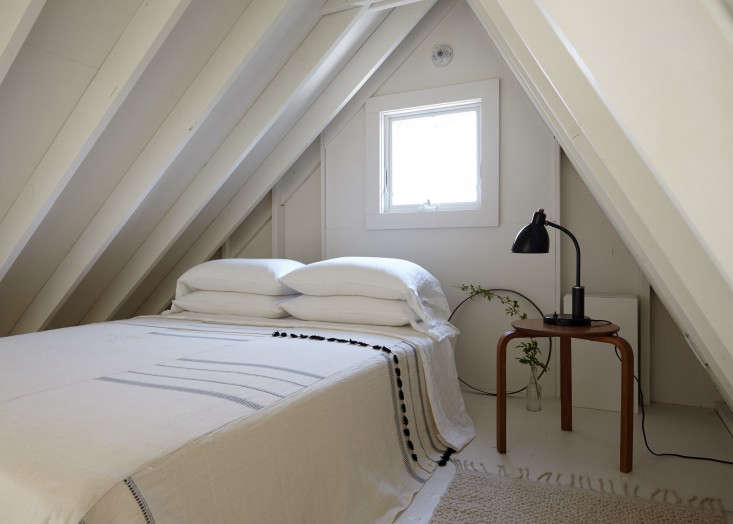 A small bedroom is not the place for voluminous quilts and layers of blankets. Simple bedding with clean lines and breezy fabrics like linen and cotton will keep your bedroom feeling fresh and open. For textured warmth without the bulk, try a vintage wool army or camp blanket.
5. Light your small bedroom with sconces (or hanging pendants).
To free up your bedside tables, take advantage of wall space with sconces. Minimal wall-mounted and hanging lights not only maximize potential bedside storage but also contribute to an airy, open feel.
6. Install floating bedside tables and shelves.
Boutique design hotels are often a great place to find small-bedroom inspiration. One of their favorite tricks is the floating shelf. When trying to achieve an airy feeling, it's hard to beat something that floats in the air.
7. Toss the extra pillows.
Ever walk through a department store and feel sorry for the salespeople who have to fluff all those accent pillows that take up half the bed? Minimal bedding is key to maintaining the illusion of space, and that means reducing the number of pillows on your bed to only those you actually sleep on. If you need more support at night, that's fine. Lay four standard pillows flat. If you need that accent pillow your grandmother embroidered, that's fine. Just keep accent pillows to one. OK, maybe two.
8. Buy (build) a bed with built-in drawers.
Minimize furniture in the bedroom with two-in-one pieces such as a bed with incorporated drawers. Ikea has several budget options. See all our favorites at Sleep and Stow: Bed Frames with Built-in Storage. Photograph by Matthew Williams for the Remodelista book.
9. Consolidate clothing in a large armoire.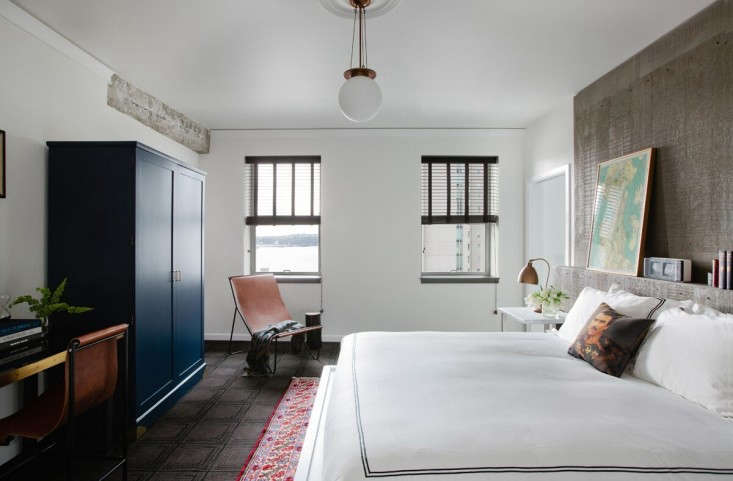 Adding a large piece of furniture may seem counterintuitive, but the idea here is to minimize the total number of pieces in the room. For example, if you share a room, finding the floor and wall space for two dressers can be awkward and make the room look busy. By taking advantage of the height in the room, you reduce clutter and maximize floor space.
10. Replace your headboard with a wall-mounted shelf.
Designing a small bedroom is a delicate balance between maximizing storage while minimizing the amount of excess in the room. One quick way to achieve this duality is to install wall-mounted shelving, either as a headboard or around the room. Like the floating bedside table, this shelf helps create the illusion of openness and air. Painting it the same color as the walls makes it further disappear while still providing a place for your things.
11. Use shades or shutters, or dare to go bare.
Heavy drapes can choke a small room. Diminutive spaces benefit from minimal window treatments such as shades, shutters, or nothing at all. The resulting unobstructed view not only allows more light into the room but also draws the eye outside, creating the illusion of more space.
12. Create an accent ceiling with paint.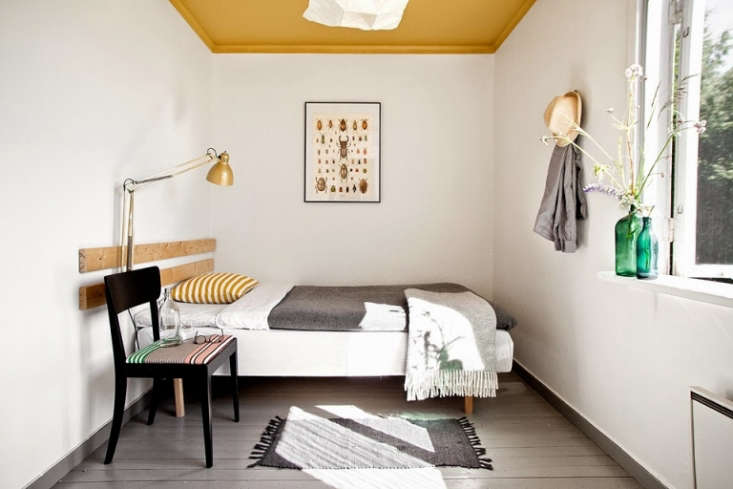 Anything that emphasizes the vertical or draws the eye up increases the sense of space in a room. A painted ceiling also makes the walls "disappear," enhancing the open feel.
Maximize your minimal home with more helpful hints for small-space design: