A slew of new "co-living" spaces, apartment-style complexes designed around shared space and shared activities, are tapping into adults' (specifically millennials') desire for community. The new adult "dorms" have communal dinners, movie theaters, Wi-Fi, and weekly cleaning (and, in the case of one that we know of, an on-site mixologist).
We asked Sophie Wilkinson, the head of design and construction at Brooklyn-based co-living start-up Common (which now has 14 locations across the US), for ideas on how to bring the co-living lifestyle to the college dorm or the first apartment scenario. Here are her tips.
Photography courtesy of Common.
1. Have a plan.
When you move in, whether to a dorm room or a new apartment, "Don't just let your room 'happen,'" Wilkinson says. "Be intentional about creating a beautiful and well-laid-out space. Really make it a home. Play around with different layouts in a sketch pad and jump on Pinterest with your roommate to agree on a design scheme that you both love. Consider colors, layers, textures, and wall hangings that work well together. That way your personal items won't clash!"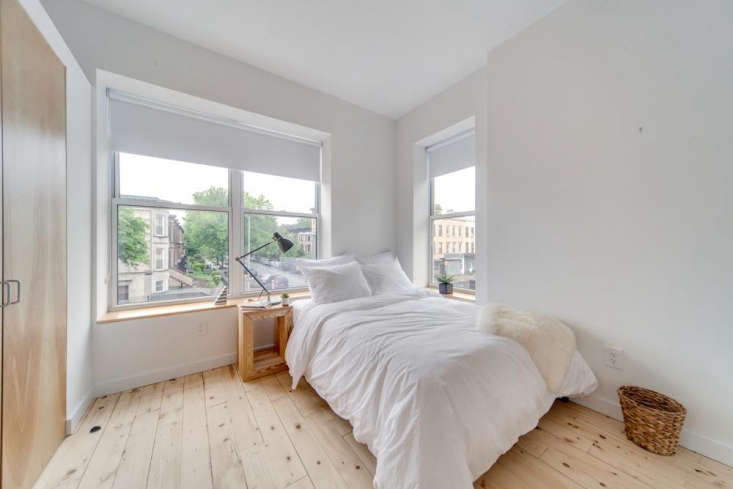 2. Think of your cinderblock room as a blank slate.
Unless you're one of the lucky few, chances are your dorm room or first apartment will come with a few unsightly features. "Cold tiles and awful vinyl floors can have a big impact on your space, and lots of furniture can make it awkward to fit a rug in the space," Wilkinson says. "Trying layering rugs for a warm feel. You can give old furniture a new life with some attractive fabric and a staple gun. Artworks and prints are the finishing touches: Find something special, or print out photos from home, and get them framed (DIY or sites such as framebridge.com)." Get creative with texture to combat the hard, practical shell you might be dealing with."
3. Splurge (and take advantage of shared costs).
Living with others has its up sides: "The great thing about sharing is you get to have something better for half of the cost to you (or a quarter, or fifth)," says Wilkinson. "If one piece of art, an awesome pouf, some great new curtains, or a Sonos system will really change the feel of your space, get it early, split the cost, and enjoy your beautiful room together for the whole year."
4. Steer clear of veneer: Choose materials that will last.
"When it comes to acquiring furniture (new or secondhand), think about how it will look after some wear and tear," Wilkinson says. "Solid woods, steel, and real linens wear well, while veneers and fake finishes will chip after a few months." Think about what you'll want to bring with you a few years down the road to your first apartment, and go from there.
5. Bring only what you need.
At Common, furniture (and even clothes hangers and cooking supplies) are provided. "Moving out of your childhood home is a great time to reassess what you own, and downsize. Coordinate with your roommates on things like blenders, toasters, cutlery, and dinnerware, and make sure you only have one set—double-ups clutter a small space quickly. Embrace 'quality over quantity' and 'experience over ownership.' Owning less stuff allows you more flexibility."
6. Forget the rules: Make standard dorm furniture work for you.
That standard-issue dorm furniture (extra-long twin bed, bureau, desk, desk chair) might seem prescriptive and inflexible, but Wilkinson encourages thinking outside the box: "Do you really use your desk? Or do you study best in a cafe/at the library/curled up on your bed? Think about using the desk surface as a tea station, a breakfast nook, or a place for your jewelry, makeup, and scent diffusers." Transform your bed into a lounge area during the day. Get creative.
7. Co-living doesn't have to mean no privacy.
Common provides private rooms for all of its inhabitants, but dorms (and even first apartments) don't always come with built-in privacy. If you're sharing a bedroom, create a divider with sturdy shelving, as seen here, or "try hanging a curtain for a little extra privacy," Wilkinson says.
8. Make your bedroom your sanctuary.
"Your bedroom is a vital escape from the outside world," Wilkinson says."It is a place to relax and recharge. Invest in quality bedding for a little personal luxury, and use table lamps to combat the effect of harsh overhead lights."
9. Smart storage equals streamlined co-living.
When sharing close quarters, keep most of your belongings—hair dryer, suitcases, next semester's textbooks—neatly tucked away. "Check your 'junk drawer' regularly and throw away rubber bands/paper clips/old pens that don't work. Be realistic about how much storage you need and get the boxes, drawers, and racks you need to put your stuff away properly. Get drawers that glide well and under-bed storage on wheels.  If you can't access your stuff, it isn't useful."
10. Don't neglect the details.
"Most of us get home, kick off our shoes, dump our stuff, and empty our pockets. Be thoughtful about what happens to all those things. Place a compact shoe rack by your door, dedicate a small shelf or basket to keys, sunglasses, and mail, and make sure you have a nice waste paper bin so scrunched up receipts don't litter your space. Use a shallow platter, a basket, or a simple box to collect 'like items' in. Corralling them in one place adds a level of polish rather than have everything sprawled out, and makes wiping surfaces easier."
11. Embrace life with your roommate(s).
The real key to co-living? The other people you're sharing a space with. "Layout, amenities and lighting" are as important as "the rituals, experiences and events that bring the community together," says Ryan Fix of co-living think tank Pure House Lab. Take the same premise to the dorm: "Embrace the connections you will make with your crazy roommates," Wilkinson says. "Stop and share coffee and chat. Invest in a big French press or a tea set and get some comfortable cushions and throw rugs for those late nights and long conversations." In other words, don't just co-habitate, but engage.
Not sure what to buy (and not buy) for your dorm room? See Beyond Bed, Bath & Beyond: 18 Dorm Room Essentials for the Back-to-School Set.
And for more dorm room ideas: