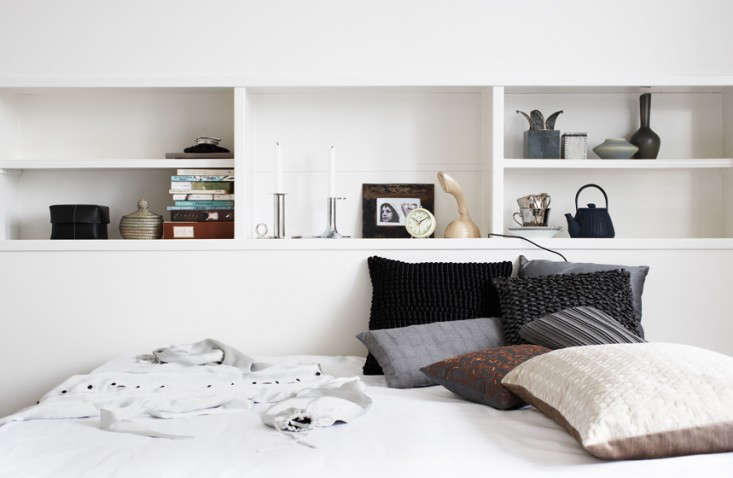 When I first moved to California, land of earthquakes, one of the first rules I learned was not to hang anything over the bed. This strikes me as a good solution: recessed shelving over the bed.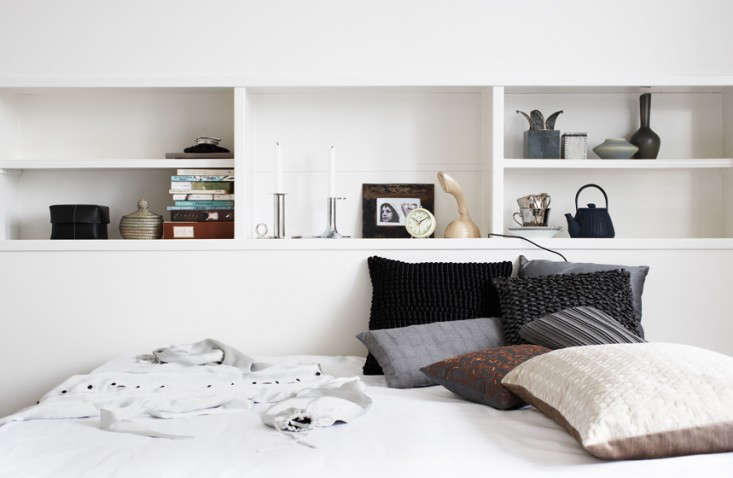 Above: Shelving above a guest bed from Tine K in Denmark.
Above: A shelf above the bed at Margiela's La Maison Champs-Elysées in Paris.
Above: A bed niche painted dark gray, via Design Ville.
Above: A simple bedroom in a London apartment via Airspace.
Above: An illuminated niche displays a collection of tribal pots in a South African beach house via French by Design.
Above: A bedroom in a Tribeca Loft designed by Stephen Roberts Inc. via Architizer.
Above: A bedroom by Danish firm Norm Arkitekter seen on The Contemporist. For more from the architects, see our recent post: Clever Kitchen Lighting from Copenhagen.
Above: An entire shelving unit is carved into the wall in an Australian beach house on Home Life via My Scandinavian Home.
Above: A clever storage niche via Vt Wonen.
Above: A bedroom featuring Design Within Reach's American Modern Bed in Maple and a maple-lined shelf overhead to match. Photograph via Design Within Reach.
Above: A concrete wall opens up lots of wall niche possibilities as seen in this masculine bedroom via The Style Files.
Looking for more traditional headboard ideas but won't compromise the smart storage? See our post 10 Favorites: Headboard Storage.
N.B.: This post is an update; the original story ran on May 8, 2009 as part of our Shaker Style issue.