It's a genius European idea that hasn't caught on in the US yet: the modular kitchen that you take with you when you move house. One of the nicest examples we've seen is Enzo Berti's Convivio kitchen for Italian furniture maker Lando. Berti's concept? A "kitchen in a living room," centered around what he calls the "domestic hearth." The line includes worktops, storage units, and more. 
Above: The Dolmen version of the Convivio kitchen is a freestanding unit with a black or white marble countertop and matte black or white tubular hood. In this version, walnut planks suspended on sawhorse legs serves as storage for pots and pans. 
Above: The white Dolmen countertop is available in either Calacatta Borghini marble or Carrara marble. Against the back wall are two Novella Up cabinets in oiled walnut. The doors have leather handles and fold out on stainless steel hinges to reveal two large inner shelves. 
Above: The second version of the Convivio, called Forgia, has a hand-brushed and hand-forged stainless steel countertop and hood. The wood shown here is larch in an oiled finish. 
Above: This Forgia worktop rests on an Inno dining table, featuring turned wood legs and a wood tabletop hovering on an internal metal frame. The wood is larch in a vintage finish.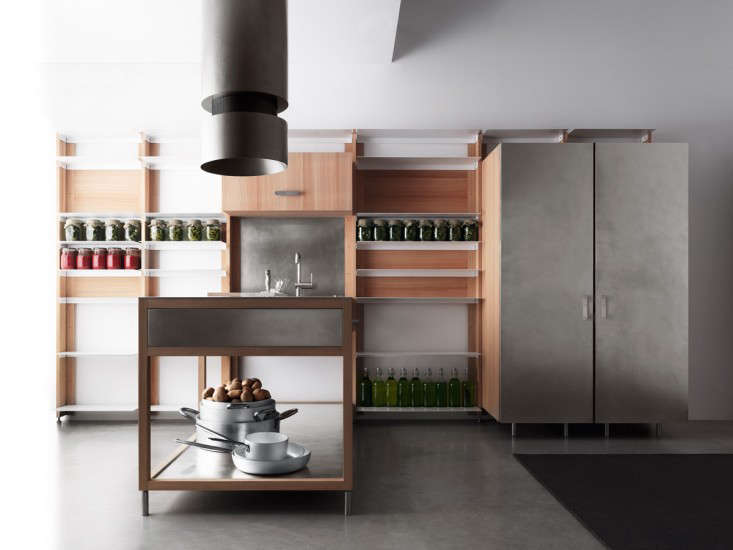 Above: The Forgia system can be freestanding or mounted against a wall. Here, the worktop is paired with Lando's Thema modular wall system, made of solid wood that can be outfitted with shelves, cabinets, and extra worktops and sinks. Like the Dolmen marble unit above, this workspace has a stainless steel panel beneath for keeping pots and pans within easy reach. 
Above: The grand idea of the Convivio system is that complementary tables, chairs, and benches can be added around the central "hearth" to create a customizable kitchen, living, and dining room in one. The Thema wall system is meant to extend into the living and dining rooms as bookcases and tableware storage, and can be configured with glass display doors or to hold a television. Lando's Canone chair–a reinterpretation of a traditional Alpine peasant chair with a leather seat–is held together by a single wooden peg and can be disassembled for storage and moving. 
Above: Both the stainless and marble versions of the kitchen feature four streamlined burner knobs on the side of the cooktop. 
Above: This Dolmen version uses an electric cooktop instead of gas and a counter made of matte black marquina marble. Optional wood cutting boards slide over and to the sides of the sink.