To be filed under: The Ultimate in Simple Summer Living. Marcia Mihotich and Durrell Bishop's tiny beach shack stands right in the sand at the mouth of the River Thames in Kent, England, and like its neighbors is little more than a wooden tent. The pleasing simplicity continues inside.
The couple happen to be two of London's most interesting creatives—Marcia is a graphic designer and illustrator (her clients include Donna Wilson, The School of Life, and Studio Mama, whose own shack is just two doors away) and Durrell is an interactive product designer at Line-us. Not surprisingly, they took a hands-on approach to their getaway. On tackling the remodel themselves, Marcia says, "It means that you often don't quite finish everything, but it's much more fun and you do get to know how everything works."
Photography by Marcia Mihotich and via The Modern House.
The house was built in 1954, a detail the couple learned from a stamp on the wood in the ceiling. "We also came across a photo from the fifties that showed our house as fairly recognizable as it is today," says Marcia. " I don't really know about the inside, the previous owners had made it very much their own and we did the same." Photograph via The Modern House.
The house is 30 square meters (approximately 323 square feet) and entirely sheathed in "shuttering ply," a dense construction plywood that the couple selected because they wanted a grainy pattern. The simple windows and French doors are all new.
"In the UK most plywood is birch ply, which is quite grain-free and uniform," explains Rachel. "We like the grain and shuttering ply has a more pronounced grain and is also more affordable. But there are many different grades of shuttering ply and we found a timber supplier in Rochester where we could choose one we liked and then order the amount of sheets we wanted from the same batch. If the wood is from different batches, the patterning can be very, very different, which doesn't look so good if you want to have a continuous surface."
The kitchen is equipped with a small under-the-counter fridge and an Ikea combination stove and microwave (shown here), as well as an electric burner, but most cooking takes place outside on the grill. The portrait is a 50 pence (64 cent) car boot sale purchase.
The cabinet pulls are loops of rope from a sailing shop "just because it's fairly indestructible." Photograph via The Modern House.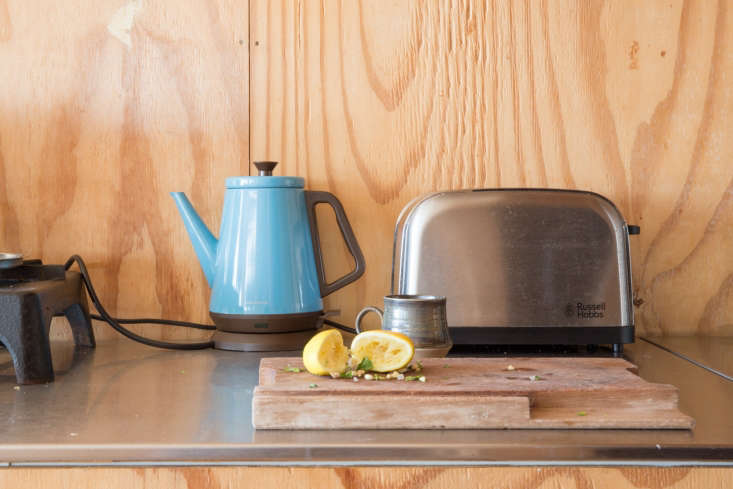 Summer isn't over yet. Here's more seaside inspiration: