When it comes to bedroom design, certain bedroom layouts work better than others, especially when it comes to pursuing harmony and restful sleep. What happens, though, if you turn your bed 180 degrees and place it in the middle of the room, facing a window (or two). We're admiring this type of bedroom layout, but do we dare to jump on the turned bed trend?
Here are 10 bedrooms featuring this unusual furniture configuration.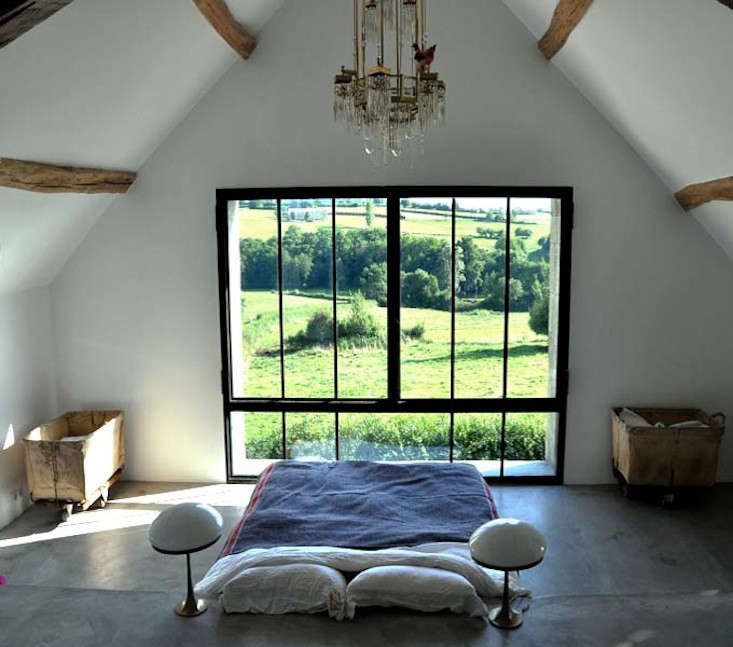 Above: A rustic farmhouse in Bourgogne, France, featuring a bedroom with a turned bed facing a large window. Sourced via Desire to Inspire.
Above: The Sentosa House in Singapore, designed by Nicholas Burns, has an enormous bedroom with a bed placed in the middle of the room.
Above: An Atherton, California, home by Turnbull Griffin Haesloop Architects uses a custom headboard as a partition that doubles as drawers on the reverse side.
Above: A penthouse in Melbourne with a bed turned facing the outdoor patio. Sourced via Decoist.
Above: The bedroom of Spanish designer José Gandí­a-Blasco has a headboard that doubles as a desk. He also chose to turn his bed to face a large window. Sourced via International Architecture and Design.
Above: Owners Fiona and Tony Hooper turned to architect Sheila Narusawa to overhaul their Harbor Cottage in Maine. Narusawa created the lofty master suite out of three small bedrooms. She anchored a turned bed to an island in the center of the room, allowing the area behind to serve as a dressing area/office. To learn more about the remodel, see A Cottage Reborn in Coastal Maine. Photography by Justine Hand.
Above: A storage/desk piece has dual-function as storage and a headboard for a turned bed in a Dutch home. Photography via VT Wonen.
Above: A storage unit functions as a headboard in a bed placed in the middle of the room. Photograph via UK design site House to Home. For more bed storage options see, Sleep and Stow: Bed Frames with Built-in Storage.
Above: A bedroom featuring a turned bed with a wide headboard that double as storage and hall divider. Sourced from Jas Design Build in Seattle.
Above: The guest rooms of Montagne Alternative in Switzerland have beds with a headboard/console table in the middle of the room facing a view of the Alps.
We've got you covered when it comes to enhancing sleep:
You need to login or register to view and manage your bookmarks.